Last year Tyler Sheridan was nominated for an Oscar for his original screenplay Hell or High Water (2016) which was directed by David MacKenzie to being one of the years best films and an Oscar nominee for Best Picture.
This year Sheridan has directed his own screenplay to Wind River, which is an electrifying new film that explores the politics of a Native American Reservation and its disdain for outsiders. The film is like Hell or High Water (2016) in that it explores a part little known in America, but does so with frightening honestly and intensity. The film offers no easy presentations of any of the characters, and builds to a climax like a ticking time bomb, we know it will be terrible, but we have no idea of how horrific it will truly be.
While out hunting a mountain lion that has been killing livestock, Cory Lambert (Jeremy Renner) comes across a dad body in the snow, frozen in the mountain snow. The dead girl was the best friend of his own deceased daughter and the crime rattles him. As a wildlife officer who hunts dangerous predators on the Reservation, he calls the crime in and waits for the FBI to show up, knowing the locals will not be impressed.
They are even less impressed when the agent is a woman, Jane Banner (Elizabeth Olsen) who to them appears green but is anything but. Their investigation shows the young woman was raped before she was killed, which fuels something in Lambert to want to find the killers even more. "I'm a hunter" he whispers to the dead girls father as though re-assuring him he will find whoever did this. Realizing it might have been his own daughter had she been alive, he becomes an unstoppable force working with Banner.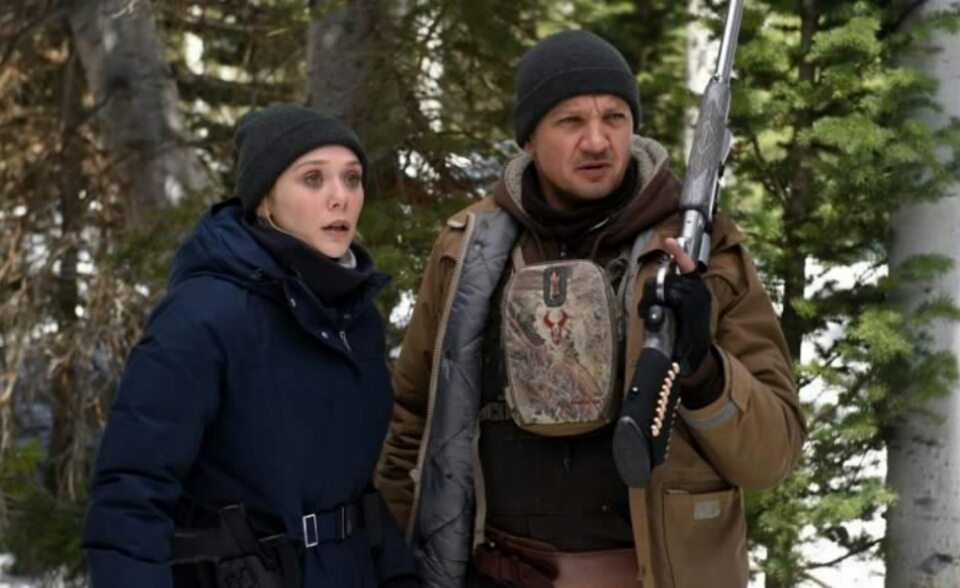 The hunter tells the agent that is through the land they will find their clues not from the barely speaking Natives, who hold her in contempt the moment they see her. Only the chief of police on the reservation does much talking to either of them, portrayed with wit and an edge by the great Graham Greene.
They dig in and what they find is both appalling and shocking, much of it seen through the eyes of Banner, who becomes the eyes of the audiences.
Renner is astonishing in the film, portraying his hunter with a single-minded cold fury. He is obsessed with finding the killers and becomes a man possessed to do so. The actor has been impressing audiences for years earning two Oscar nominations, The Hurt Locker (2009) and The Town (2010), along the way and a third is not out of the question for this powerful work. Intense, remarkably focused he is like a bomb waiting to go off.
Olsen is one of the most remarkable actresses of her generation but no one knows it yet. She has mastered something very few actors ever accomplish which is that she listens, and you can see her listening and formulating thoughts and responses. She is present in all of her scenes whether focus is on her or not, and when working with an actor that has done the same, she soars.
Our very own Graham Greene is as always a solid presence in the film, dignified, trustworthy, bringing some of the magic he brought to Dances with Wolves (1990) to this performance. He should have won the Academy Award for that performance in Costner's epic, and it is good to see him working again in a major film.
Sheridan emerges a major new directing talent with this film, brilliantly allowing the landscape to become a secondary character. More he treats all the characters with respect. One of the years best films and an Oscar contender.
Rating: 4/5