'Rick and Morty' fans are waiting eagerly, with slight angst for the episode 6 of the fourth season. But worry not! Today, we are not only going to talk about when will Rick and Morty season 4 episode 6 release, but we will also delve into various theories about what could the next chapter of the show be about. So, sit tight and make sure you read all our wild — and sane — guesstimates on how the show will progress once it comes back.
Rick and Morty Season 4 Episode 6 Release Date
The season 4 of the show premiere premiered on November 10, 2019 and aired till December 15, 2019 before going on a break. The good news is that fans of the show may not have to wait for long. According to several sources, Rick and Morty Season 4 Episode 6 is most likely going to release sometime in April 2020.
You can trust us. @adultswim #rickandmorty pic.twitter.com/HaPXN7mJyO

— Rick and Morty (@RickandMorty) December 16, 2019
We are still awaiting a confirmation from Adult Swim and the makers, but it is clear from the release pattern of previous seasons that the show usually takes a break of about six months. Which is why we believe season 4 will come back at the latest by April. With the return date information out-of-the-way, let's now focus on the various theories and spoilers around the show.
Rick and Morty Season 4 Spoilers and Theories
The success and popularity of 'Rick and Morty' is a result of multiple factors. Firstly, the series' cynical and nihilistic worldview has been met with empathetic fervor from millennials. Moreover, its outlandish, swiftly paced and bite-sized self-sustained narratives in each episode brim with tons of creative, world-building potential.
Moreover, 'Rick and Morty' is also one of those shows that says a lot more by leaving blank spaces and Easter eggs for fan armies to dissect. Hence, while the series took a mid-season break, Redditters and forum-experts had their task cut out: to analyze, scrutinize and theorize predictions for the second half of the fourth season. We have rounded some of the most compelling fan theories and predictions from other sources which might actually come true in the upcoming episodes of 'Rick and Morty.' Beware: Spoilers from multiple dimensions lurk ahead.
Continuity
'Rick and Morty' does not have a larger, on-going narrative. Each episode is about a different adventure with a self-sustaining plot. However, there is quite a large (endless, actually) fictional universe in which the series takes place: one with multiple alternate dimensions, parallel realities and intermingling timelines.
So far, the series has mostly been helter-skelter when it comes to placing its episodic stories in an interconnected narrative timeframe. However, the showrunners shared their intent on serializing the show: "the season finale of season four is really good. We get canonical, we get serialized."
This is surely exciting news as it would mean the 'Rick and Morty' universe being able to expand indefinitely, but also logically. Viewers would be able to have a more streamlined memory of the universe rather than a jumbled up one.
Evil Morty?
A theory by the Reddit user, u/AnWitlessWit has become quite a conversational topic for 'Rick and Morty' fans. It suggests that Evil Morty, as seen in Season 1's 'Close Rick-Counters of the Rick Kind' would have a bigger role. In that episode, viewers witnessed the multiple alternate realities: each with its own version of Rick and Morty.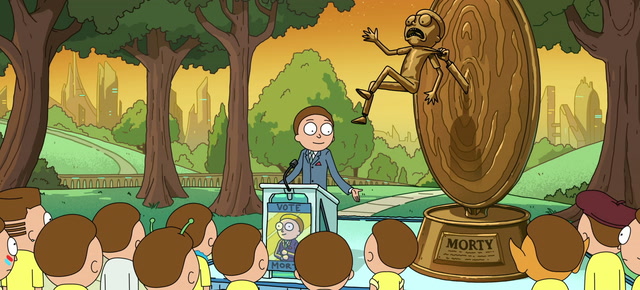 Moreover, in the seventh episode of the third season, fans were able to notice Easter eggs that apparently confirmed that "Candidate Morty," who wins the presidential election of the Council of the Ricks is actually Evil Morty. Hence, fans think that Evil Morty is going to have some form of a tussle for power with Rick since Candidate Morty ran a campaign along the lines of inclusivity and equal treatment for the Mortys from all dimensions.
Conclusion
To conclude, if one were to merge the two speculations above, it would yield quite an exciting theory regarding the future direction of the show's plot. It is unlikely that Evil Morty's quest would be depicted in just one episode (if it actually is). However, even if the Evil Morty plotline does not end up fleshing out too principally, it could still be a great lens to explore the vast universe of 'Rick and Morty.' It could turn out to be an effective exposition technique.
If the showrunners want to canonize 'Rick and Morty,' they would have to revisit older episodes or at least allude to them. The series is known for being quite meta-aware and revisiting previous stories would not feel out-of-place for sure. Moreover, such a plot arc would also be ripe for major revelations like how the Rick shown on the show became "the Rickest of all Ricks." Moreover, fans would certainly enjoy viewing alternate versions of Rick and Morty going on adventures of their own.
Read More: Best Rick and Morty Episodes