"Do you believe in God? God doesn't care."
The opening line of the much talked about Netflix original series, 'Sacred Games', mouthed by the eclectic Nawazuddin Siddiqui, immediately casts a dark foreboding shadow for those confused venturing into what kind of show it was. This is vintage Kashyap, whipping up a frenzied cocktail of thrill, violence, religion, the underworld and politics with famed director Vikramaditya Motwane (Udaan, Lootera, Trapped), one of my personal favourites. The result may make you frown or giddy with excitement, but one thing is for sure. As hard-hitting as it is, it will make you pause and think.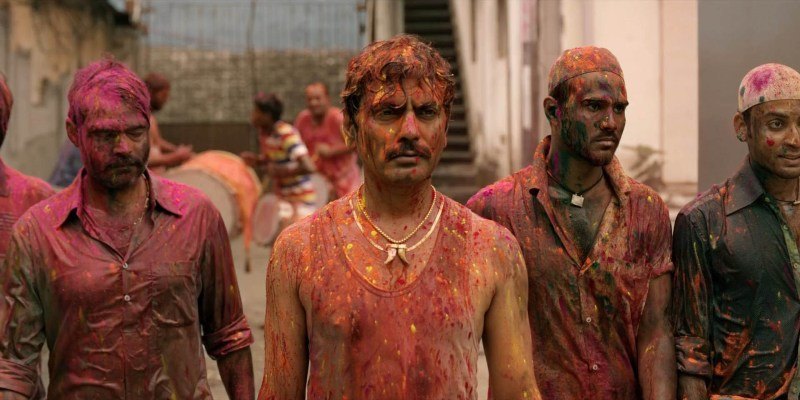 With the release of the first Indian Netflix original series, one that was a high stakes bout and had high hopes bound to it, Anurag Kashyap and Vikramaditya Motwane seem to have finally broken the dry spell of lack of quality Indian original content, and that of the collective local subconscious marred by years of crappy soap operas and drab storytelling. While the reach and accessibility of the series itself can be argued, given Netflix India still being viewed as a privileged medium, the supposed death of torrents and the show itself being restricted to audiences 16 and above, I would have it no other way.
The years have seen a lot of independent content creators come up and take the mantle forward in terms of quality television content, some excellent offerings at that too. However, none have achieved the same level of attention, publicity and scale that 'Sacred Games' boasts of, and for right reason. Considering the fact that the Indian population has been ratified by statistics to be the most binge watching group of people on the planet, 'Sacred games' HAD to be a cracker of an entry into the Netflix arena of digital media, in order to create a global impact, the magnitude of which it is making now. That being said, I see no better than Phantom to have taken it up, and boy, am I glad they did!
The makers felt that the digital medium was "liberating", and I completely concur. Two to three episodes in, it would begin to seem Kashyap specifically picked 'Sacred Games', the 2006 novel by Sharad Chandra to adapt to the small screen, given that the contents of the novel are premade ingredients for a Kashyap film: the profanity, the sex, relentless, no holds barred socio-political and religious commentary, the murk of the Bombay underworld, the rise of an underdog and a conflicted good guy; it's all there.
An added relief to Kashyap's merit is no hassles in certification, an authority that is infamous for its run-ins with Kashyap and other filmmakers seeking liberation in content. The makers, thus unsurprisingly, put this creative license to great use. The series, as a result, is laden with nudity, scenes of intercourse, gut-wrenching violence and abuses that are jarring and somewhat entertaining local slang in their own right. Add to it, Vikramaditya Motwane's (the show's co-creator and co-director with Kashyap) subtlety that is a bit more hammered up here, owing to the nature of the content. To its merit, the two separate types of directions actually prove to be a potent, sometimes explosive mix.
Synopsis: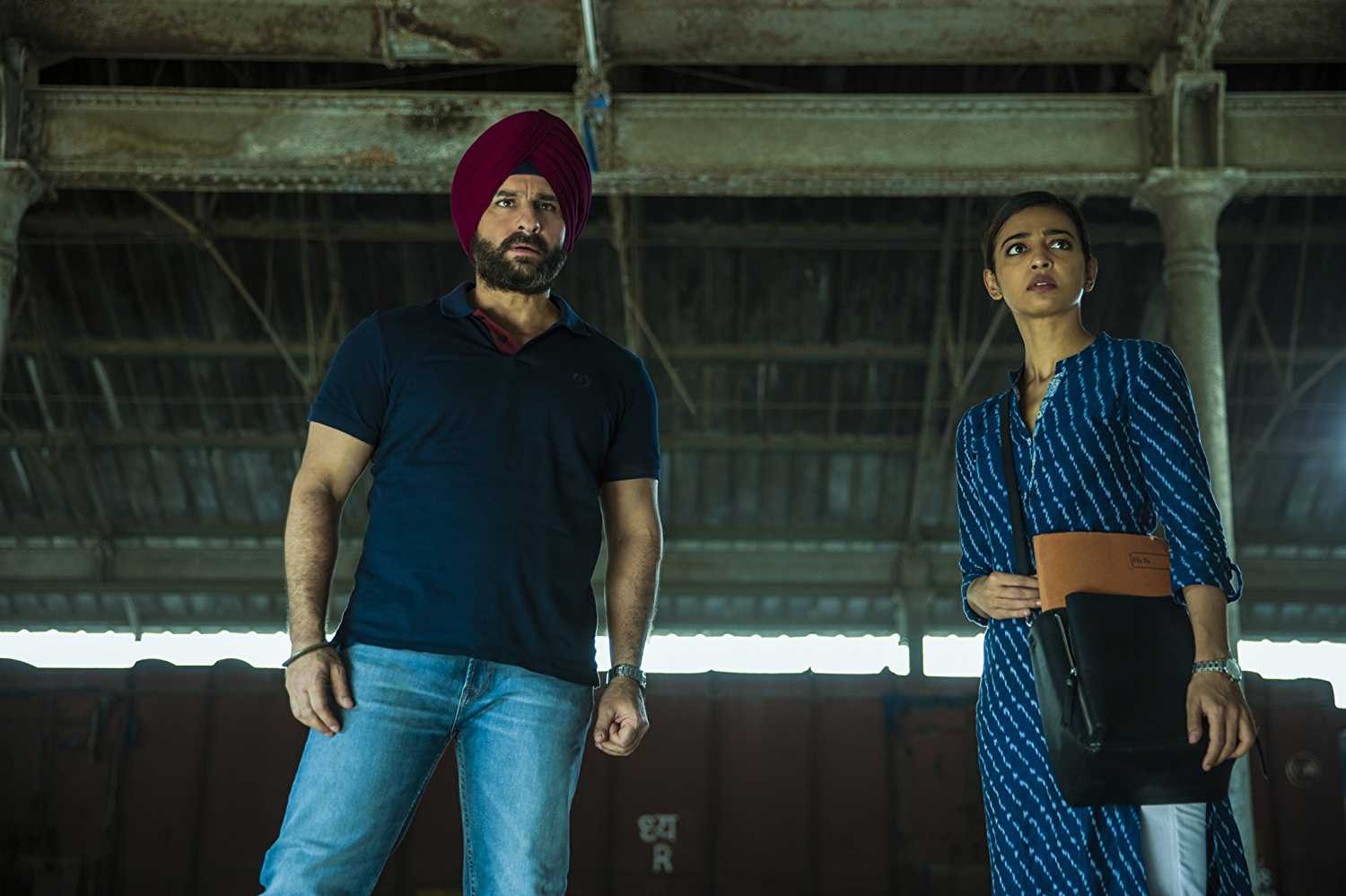 'Sacred Games' is based on Vikram Chandra's 2006 novel of the same name. The plot revolves around an honest, weighed down cop Sartaj Singh (played by Saif Ali Khan) and a resurfaced crime lord, Ganesh Gaitonde (Nawazuddin Siddiqui) whose ominous tip-off about the city of Mumbai being in danger sends Sartaj on a spree of discoveries, deep into the Bombay underworld. Gaitonde's journey from a small crook to the notorious crime lord, the events that transpire in the wake of the tip-off in the present day, the people Sartaj encounters, their ulterior motives and the deep-rooted histories they have with the city and each other form the rest of the story.
The Good: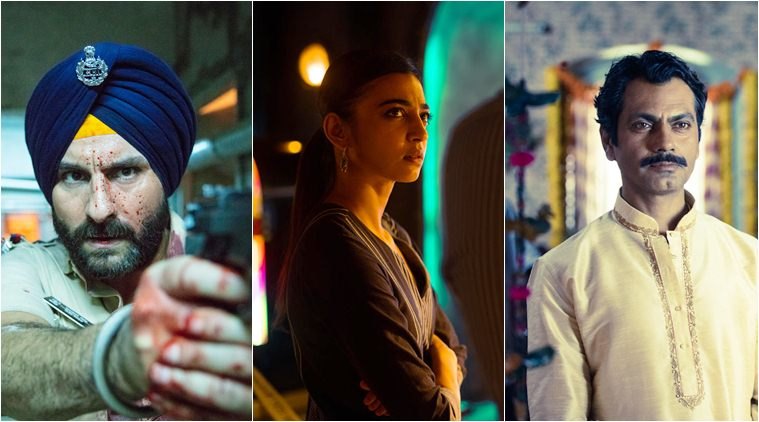 It is tough to highlight the goods in a production wherein almost all the factors come together as an ensemble to cohesively deliver something this eccentric and entertaining. If however, I am to do it, I choose to start this off with the fantastic duo of Kashyap and Siddiqui, commendably doing most of the heavy lifting here. For Kashyap, it would seem like he picked up the excellent facets of 'Black Friday', 'Gangs of Wasseypur', even 'Bombay Velvet' in parts, and the more recent 'Raman Raghav 2.0', polished them together without the restrictions of the CBFC, and served them on a hotbed. Nawazuddin Siddiqui's performance, complementary to Kashyap's direction, is crackling and ballsy. One sees shades of Faizal Khan from GoW here and there, but Ganesh Gaitonde is a character with lesser pathos and more garbed conviction than him, and Siddiqui brings it out effortlessly.
Saif too shines in some well written moments. It is a balanced and controlled performance, one that is filled with a lot of inner contemplation for the character. It is in stark contrast to the kind of roles he has done in recent times and outshines almost all of them by a good measure. Naturally, the bits with Saif in the present day when he is not chasing leads may appear slower compared to Gaitonde's story that leaps years in one go. However, in the more than able hands of Vikramaditya Motwane, it remains just as endearing and grows upon you when the ends start tying up.
The supporting players on many occasions outshine the leads by miles, and that is a tough feat in itself. Kudos to some brilliant acting discoveries for bringing the characters of Bunty, Subhadra, Kukoo, Isa, Chota and Bada Badariya, Malcolm, Parulkar, Katekar, Kanta Bai, Paritosh and a colourful host of others to life, carefully balanced between veterans like Neeraj Kabi, Pankaj Tripathi and Girish Kulkarni, and some serious, bang for your buck undiscovered talents.
A fair share of the credit for the glory achieved, along with the direction and performances, would also go out to the writers: Varun Grover, Vasant Nath, and Smita Singh, who, apart from skipping minor developments, manage to keep the essence of the literary source intact, more or less. Also adding to the feisty proceedings of showering praises, a word for the outstanding score and opening music for sacred games, originally composed by Alokananda Dasgupta.
What's more to like? For the more seeking eyes, the production design is top-notch. Most of the locations are real, apart from some of the jazzy clubs and elitist lounges recreated from the Bombay of the 80s, with Kashyap also squeezing in a tense signature chase or two through the chawls and alleyways of Bombay, an absolute delight to watch I must add. The title designs are informed and exquisite, and a closer look at the logo of sacred games, and of each episode, will give you well-served information on what the plot of the episode is about.
Verdict: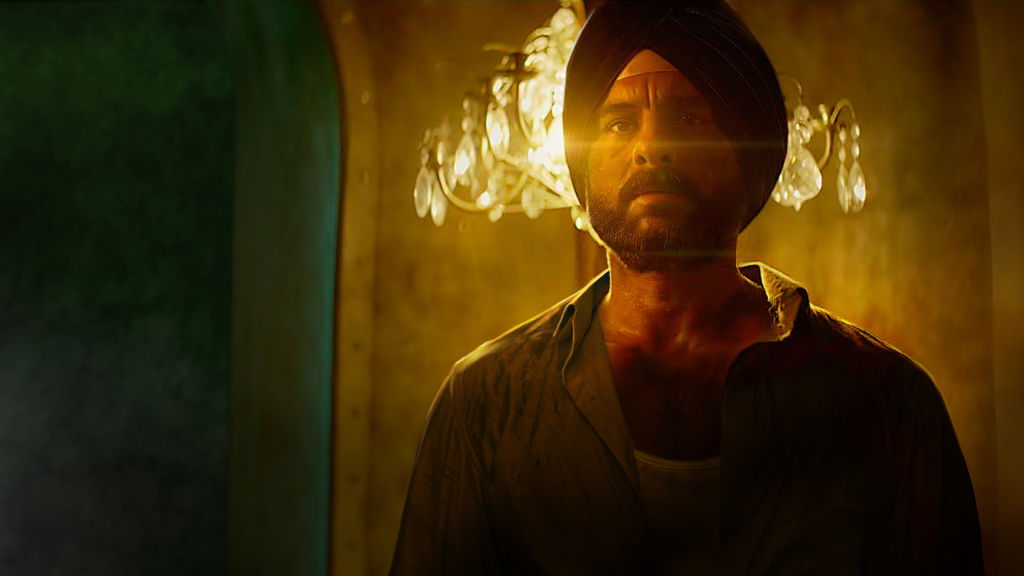 With the occasional lapses in pacing and screenplay, and some of the directors' indulgences completely forgiven, 'Sacred Games' is ridiculously binge-worthy and a must watch, especially to laud the talents of the team in bringing together mostly all thematic elements from a complex novel. Its unforgiving commentary on the political state of the country back in the 80s and early 90s, its dramatic retelling of how Bombay came to be Mumbai through the eyes of a resurfaced gangster narrator, its unbiased views on religion as being something that is ironically constraining and liberating at the same time, its views on society and social life, and a breakneck thrill that lurks around, fully making itself visible only in the final episode of the series. Still need more reasons to watch it?
The finale leaves a lot to be desired, and a ton of responsibilities and loose ends to tie for season two. That being said, Season One is, in itself, a fully packed 8 episode explosive that stands tall, simply as a story well told in layers, pacing between as lavish as a British breakfast spread at times, and leaving you gasping for breath at others. Call it Kashyap's long due second coming after Gangs of Wasseypur.
Rating: 4/5