'Sacred Games' is about Bombay. I have to admit that I like Bombay more than Mumbai. The difference does not just lie in the nomenclature. It lies in the times and the colors that have come and gone by over the years. Bombay is not just another city. It is more of an entity that has grown up and evolved as much as the people of this country. And that transformation has underneath it, a host of stories, tales, myths and what not. Bombay was a brilliant cauldron which immersed in itself every single emotion that a human being feels : greed, jealousy, ambition, power, love, betrayal. And it had a place for every other person in its belly : actors, gangsters, prostitutes, businessmen, politicians, pimps, low life addicts, power brokers, journalists and so on. Strangely, all of them were virtually connected in this ghost like city which had place for the elite in its brighter quarters and its dark old alleys held regard for the downtrodden.
Bombay became Mumbai somewhere down in the late 1990s when probably the crime syndicate shifted gears to foreign lands. Although shreds of the old days still lurk around the corners and the new city has been galloping breathlessly yet the old days were brilliant. There was violence, crassness, bloodshed and mafia: all in bad taste but it was brilliant. The criminal underbelly of Bombay had its hands pretty much in every pie and had this invisible presence around the country and even abroad. Bombay was, and probably is, a kind of subcontinent in itself and had a flavor like the Banarasi Paan: distinct and killer, which could easily outmatch the rise of American Mafia in the neighborhoods of New York and the liquor dens of Chicago. Probably it has not received the kind of coverage its other counterparts have.
The Hindi Film Industry, quite ironic since the Bombay Mafia had quite deep roots in the industry itself, has produced quite a number of films that give us an insight into the intricacies of the Bombay Underworld. Some of them have been exceptional : 'Parinda (1989)', 'Satya (1998)', 'Vaastav' (1999) and 'Company (2002)' to name a few. But each of them has suffered two basic problems. First problem is the industry itsel : the format is such that they have to tell a story with conviction in just two hours and also include lame songs and romance to cater to audiences who otherwise would not care enough to watch them. It is quite difficult to deal with a topic as detailed as this in such a limited time. Second, the ecosystem in which such films are made is rife with questionable censorship and lack of suitable means to reach international audiences.
'Sacred Games' is one such online TV show streamed on Netflix which not only overcomes the above two problems but also tells the rich and brilliant story of the labyrinths of Bombay and its sordid nooks and crannies. It is perhaps the best attempt at dealing with the subject.
The Plot and the Characters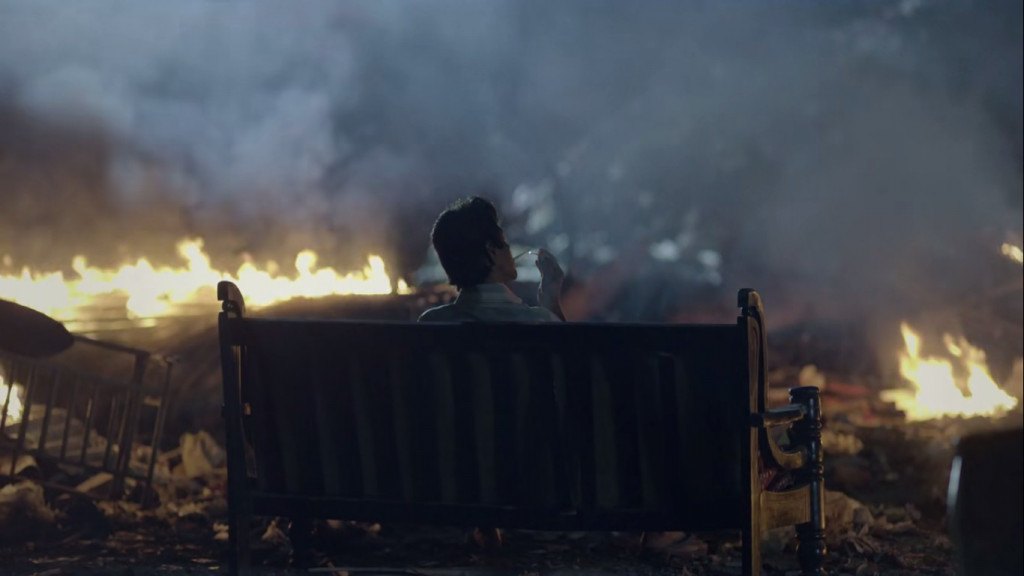 'Sacred Games' is about Bombay and what happens in it around a certain period of time. The storyline is non linear with splashes of the erstwhile chapters of a crime lord and a present day chase to save Mumbai from an imminent threat. 'Sacred Games' follows Ganesh Eknath Gaitonde, a dreaded gangster, who suddenly appears in Mumbai after 15 odd years. He calls up Inspector Sartaj Singh, a middle-aged policeman with a below average service record and a broken marriage, to inform him of an imminent danger to the city in 25 days. What happens next is a wild goose chase that shakes up the entire system. Interlaced within this gritty action is Gaitonde's own history of how he makes it to the top of the mafia starting his life a nobody.
At its core 'Sacred Games' is dark, depressing and crass. Violence, Sex, Drugs and Religious Bigotry find detailed attention in it. Yet the story has a mythical vibe to it. It tends to grow on the minds of the audience given the sheer intensity of the world it transports its viewer to.
A good thing about the show, however, is the Netflix medium which is liberating at its best. There is no censorship on the medium, which is a double-edged sword. It allows the filmmakers, Anurag Kashyap and Vikramaditya Motwane, to give considerable attention to their subject and the freedom to craft their cinematic vision. However, that has caused considerable crassness, gore and violence to seep in which is a fine line to walk: Audiences could appreciate or reject this with equal ease.
The show's characters are flawless and this makes it easier to serve the plot to the audiences since it tends to get dull at times. The attention to detail is another aspect which the show has catered to. The evolution of Bombay from the 70s to the present time is worth appreciating. The novel Sacred Games, on which the show is based, itself was quite evocative, weaving images of burgundy shoes, a green sofa and sequinned sarees to the distinct marathi flavour in the dialogues spoken by the constables. The detailing lends itself well to the screen— be it the kada worn by Sartaj Singh, or the long-collared, full sleeved shirts sported by Gaitonde, reminiscent of the '80s.
The presence of Nawazuddin Siddiqui as Ganesh Gaitonde is menacing and he consumes the entire space in his scenes. His art of storytelling is mythical and his crass abuses add flavour to the kind of profession he belongs to. His intensity and his belief in himself creates the vital ground upon which the whole drama unfolds.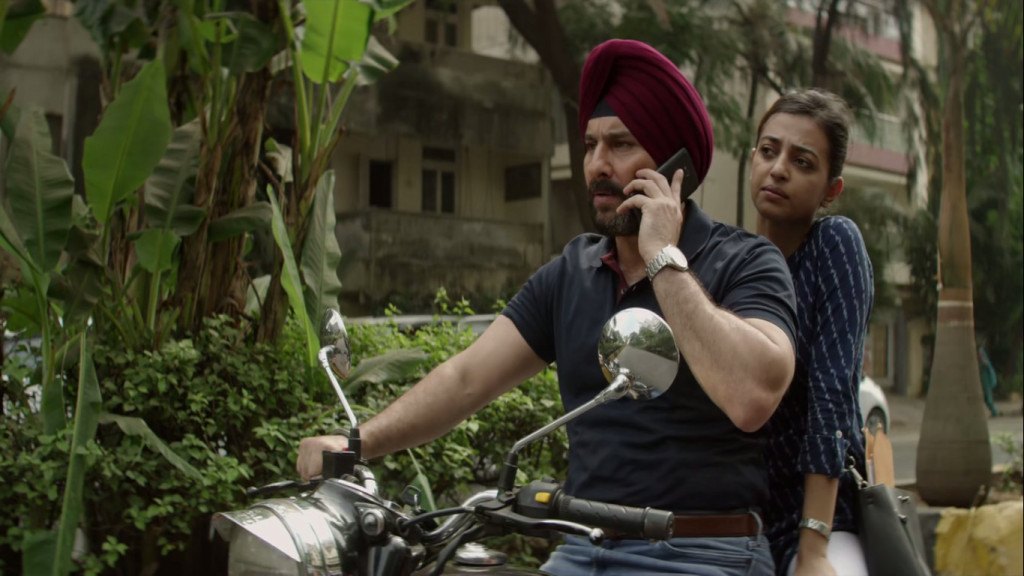 Then we have Sartaj Singh, an Inspector of Mumbai Police, in his middle age with a broken marriage. Rather plump for the profession he is in, he is resented by his colleagues and enjoys little respect in the department. Sartaj, an honest cop dealing with the failures of the system, finds himself in the midst of a turmoil when Gaitonde enters his life. Many small characters add the necessary edge to this complex Bombay story : the mildly corrupt yet empathetic Constable Katekar, the hot headed Hindu gangster Deepak "Bunty" Shinde, the cold assassin Malcolm Mourad, the mature and know-it-all DCP Parulkar and the devout religious fanatic IFS Trivedi.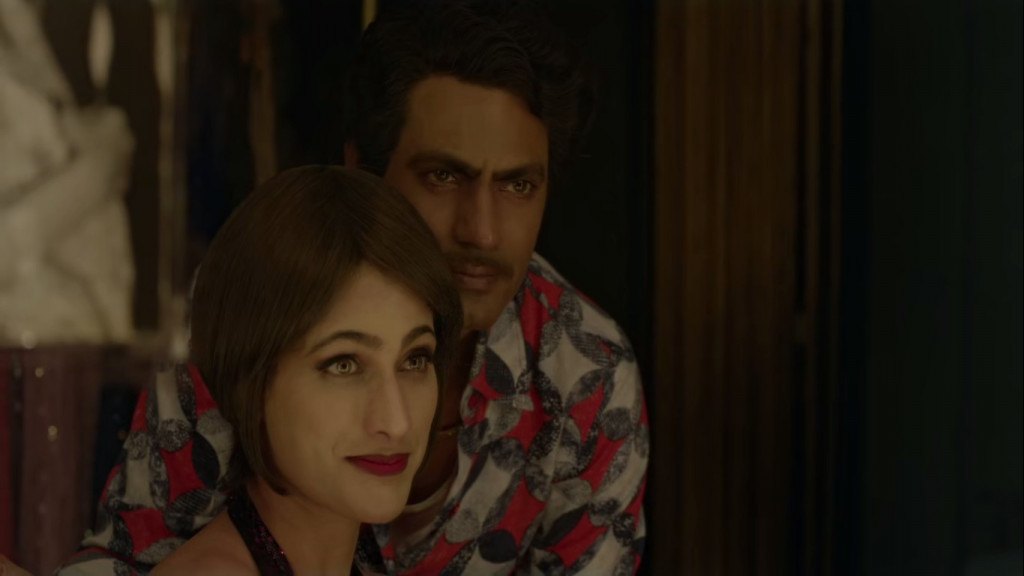 The show's portrayal of its women is quite admirable. Most of these are strong characters who give their male counterparts a run for their money. RAW agent Anjali Mathur is courageous, determined and adamant to serve in the field. Kuckoo, the glamorous transgender has a strange magical attraction and she makes her suitors prove their mettle. Zoya Mirza aka jamila is the quintessential Bollywood actress but has a dark past of her own and is willing to stake anything to have her own way. Subhadra, Gaitonde's wife, is quite vulnerable around him but has a strong will when it comes to lead Gaitonde on the right path. Kanata Bai has a fierce temper but has a lot of acumen when it comes to deal in the illegal business.
The Ending
A lot of confusion arises because the end is just the beginning. The first season covers roughly one-quarter of the book and the show is all set for a new season. To understand the ending we need to understand the Trivedi Conundrum. IFS Trivedi is the mastermind behind the sinister events that are bound to happen to Mumbai. Initially, Trivedi is shown to be a devout Hindu bureaucrat with some radical religious ideas which he shares with his Guruji and he even approaches Gaitonde to aid him in his work. However, Gaitonde refuses. Trivedi shares a close working relationship with Bipin Bhosale, a wannabe politician, who goes on to become the Home Minister. Gaitonde is severely tortured by Inspector Parulkar (who goes on to become the DCP in future) at the behest of Trivedi and Bhonsle so that Gaitonde agrees to their sinister plans. These events happen around the year 1992.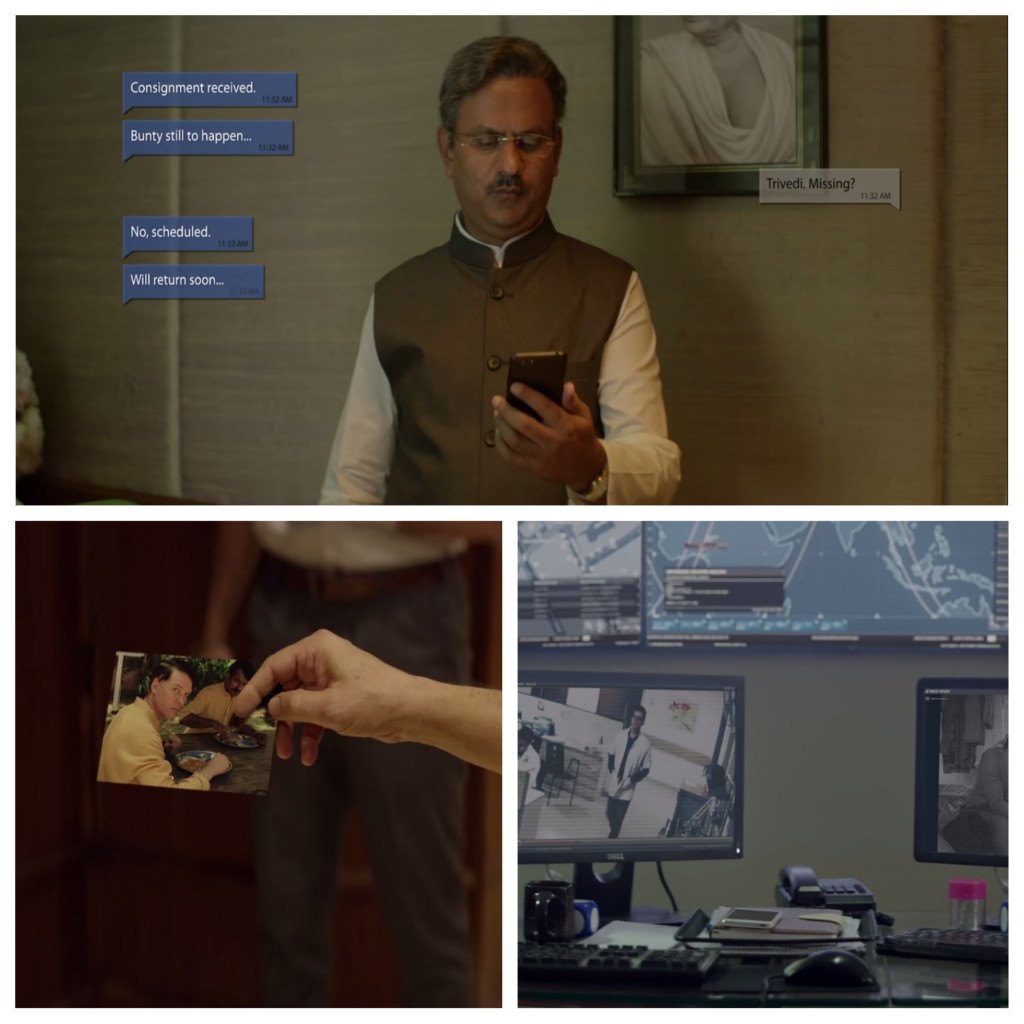 Fast forward to the present time. Bhonsle is the Home Minister and Parulkar is the DCP in Mumbai Police. But Trivedi is missing. His house is under surveillence of the police but he is not found. Also, Gaitonde has tipped Sartaj Singh that after the deadly events only Trivedi would survive and Gaitonde himself would save him, adding to the mystery. DCP Parulkar seems unaware about the whereabouts of Trivedi but it seems unlikely as he was a close aide of Bhonsle and Trivedi earlier.
Bhonsle is aware about the missing of Trivedi as he is informed by his hired assassin Malcolm Mourad that Trivedi is scheduled to return soon. This makes it apparent that the missing of Trivedi is a part of some plan. Also, when Anjali Mathur goes to the house of Trivedi she is confronted by Murad which indicates that Murad was tipped by an insider. Additionally, upon hacking the mail of Bhonsle, a photograph of Murad and Gaitonde is found which indicates a conspiracy involving Gaitonde, Murad, Bhonsle and Trivedi.
Bhonsle's NGO Blue Global, which supplies water to drought affected areas is found to transport a big consignment of weapons provided by Bunty, Gaitonde's aide, to a place which gets caught by the Police. Upon an enquiry, Bhonsle blabbers about an imminent danger to the country and defends his act as a way to protect the nation.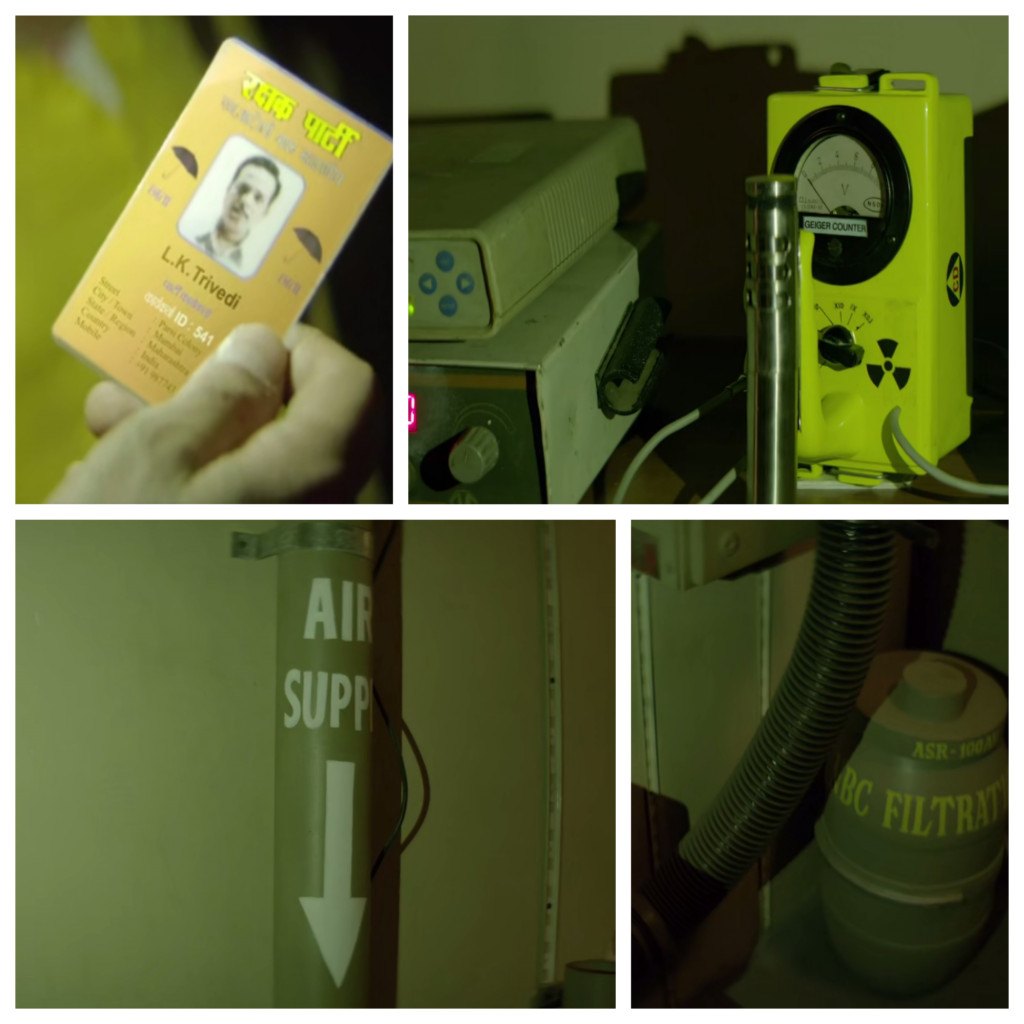 Finally, Sartaj discovers an underground bunker, undeneath Gaitonde's hideout, where he finds an unconscious man who he identifies as Trivedi by an identity card around his neck. When he looks around he finds a huge stock of water and food items. Also, he finds air supply, gas masks and a Geiger Counter which is used to measure levels of radioactivity. It seems evident that the place is meant to survive a nuclear attack. This leads us to the conclusion that the imminent threat about to destroy Mumbai is a nuclear attack. But it also leaves certain unanswered questions which will be answered in the next season. Some of them are: Is Trivedi dead or just unconscious? Most probably he is dead because it has been more than 10 days since Gaitonde died and no one else knew about the place. He has probably died of suffocation cum starvation because Gaitonde would not have killed him since it was Gaitonde who wanted to save Trivedi.
But why was Trivedi being tortured by Gaitonde ? Most probably because Trivedi betrayed Gaitonde. Why is there a nuclear threat and why are weapons being stockpiled by Bhonsle ? Maybe the nuclear attack is just a front to start a communal war against Muslims. What is the betrayal Gaitonde keeps talking about ? Maybe he was not in the favour of turning Mumbai into a communal battleground. These and many other questions will be answered in the next season of 'Sacred Games'.
Read More: Mindhunter, Explained