In Hulu's 'Saint X,' an idyllic vacation turns into a nightmare when 18-year-old Alison Thomas goes missing on the day before she was to return home with her family. Based on the book series of the same name, the show explores the aftermath of Alison's death through her younger sister, Claire. She was only seven when Alison died, which has left her with many questions about what happened to her sister.
Twenty years later, Claire (now going by Emily) crosses paths with Clive, the man she believes has the answers she needs. In the first three episodes of the series, we see the events unfold over three timelines, stretching through decades of backstories into the childhood and adult life of the people impacted the most by Alison's death. Here's what the ending means. SPOILERS AHEAD
Saint X Episode 1, 2, 3 Recap
Alison Thomas arrives on Saint X island with her family for a week-long vacation before she goes to college. Things seem to go well for the few days the family spends in the resort, but then Alison goes missing on the last day of their vacation. Twenty years later, what happened to her remains a mystery. Her sister Claire, who now goes by Emily, becomes obsessed with finding out what happened to her when she meets Clive Richardson.
During their vacation, Clive was one of the young boys who worked at the resort. He'd been a shy and unassuming man with a son to provide for until he was suspected of Alison's murder. His childhood friend, Edwin, also fell under suspicion. The flashbacks reveal that Edwin and Alison flirted with each other. Clive disapproved of it, and tried to warn Alison to stay away from Edwin. Meanwhile, she also developed an interest in Tyler, another boy who'd come to the resort for a vacation before going to college.
Alison's dead body was found floating in Faraway Cay, a waterfall in the middle of the forest, a couple of days after she went missing. However, nothing could explain how she got there and what killed her. In the present day, Emily decides to finally solve that puzzle by getting in touch with Clive. Against the advice of her friend, who warns her of spiraling into a dark well of obsession that won't bear her any good answers, she starts stalking Clive.
The day they accidentally met, Emily dropped her phone in Clive's cab. She met with him again under the guise of getting her phone back. After stalking him for a few days, she figures out where he lives and what his regular haunts are. She plans to become his friend, gain his trust, and then make him spill the secret he has been keeping all this while.
Saint X Episode 3 Ending: Did Clive Kill Alison?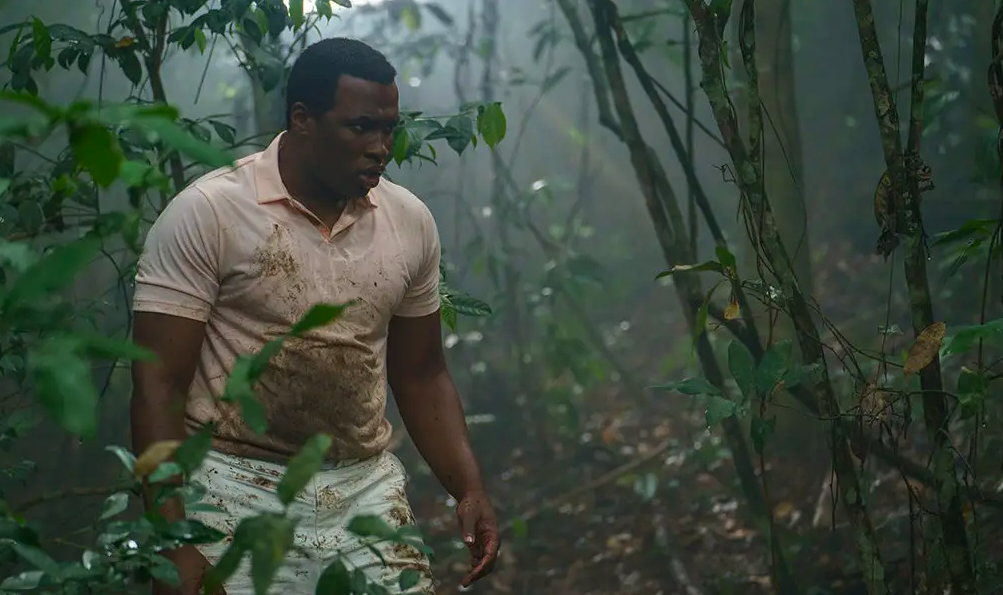 As Emily becomes obsessed with finding out what happened to Alison, we get a peek into the past, and several details emerge about what might have happened the night that Alison went missing. When the case was investigated, the cops arrested Clive and Edwin, but they were released soon after. Because the case isn't solved, Alison's parents believe that the local police are trying to cover up the murder because they don't want to ruin the reputation of their island.
Years later, when Emily sees Clive again, her memories resurface, and she realizes that Clive is one of the only people who knew what happened that night. With the truth so close to her reach, she becomes obsessed with getting to the bottom of it. She wants Clive to tell her everything, but knows that if he finds out she is Alison's sister, he will run away and never talk to her again. So, she decides to befriend him, and make him trust her just like he made Alison trust him.
While Emily comes up with a way to befriend him, Clive seems to be going through some tough times. While he has come to New York, he doesn't seem to be doing so well. He maintains a steady relationship with alcohol and is wary of everyone around him. He is also haunted by the goat witch. He hears someone calling out his name, Gogo, which is how people addressed him back home. In the final scene, he has a dream of the goat witch. Considering how terrorized he feels, could it be a sign of something deeper in his mind? Could it be the guilt of what he did to Alison? Did he kill her?
The night Alison went missing, a cop arrested Clive and Edwin for drunk driving. The cop noticed that the boys were uncharacteristically silent. This wasn't the first time he was arresting them, but on previous occasions, they'd try to come up with excuses or laugh around, trying to get themselves out of the situation. This time, they didn't do any of that. The cop wondered if this might be because they'd done something horrible. When Alison is nowhere to be found, Edwin and Clive are the first to be interrogated. However, the timeline of their whereabouts reveals that they couldn't have killed Alison.
In a flashback, we discover that Edwin has feelings for Sarah, the mother of Clive's son. Edwin tries to keep Sarah away from Clive, but things don't turn out as he wanted, and Sarah and Clive end up together for some time. We are yet to find out more about their dynamic, but it is possible that Edwin still has feelings for Sarah. The way he keeps telling Clive to stop thinking about her and focus on his life, it looks like he doesn't want things to work out between them.
It is possible that Clive found out about Edwin's feelings for Sarah on the night of Alison's disappearance. This is why they were not in a chatty mood when the cop picked them up. There is another thing that could have soured their mood. Earlier, Edwin mentioned dealing cocaine to make more money. Clive was unapproving of this venture, but that didn't stop Edwin from getting some of it. Perhaps, it was the cocaine that led to an argument between them. Maybe, Edwin gave it to Alison, which led to her death.
One way or another, Clive was involved in the events that led to Alison's disappearance. He might not have killed with his own hands, but he did something that makes him feel guilty even after all these years. This guilt is eating away at him, and eventually, he will have to get it off his chest, possibly to Emily.
Read More: Is Alison Thomas Based on a Real Murder Victim? What Happened to Her?