It is said that films are a reflection of society. This sentence cannot be further from the truth in Bollywood with regards to the sexism that is showcased in Indian movies. Right from the portrayal of patriarchy, misogyny and objectification of male and female bodies through item songs, sexism is rampant in the industry even in today's day and age. Back in the day, in the 50's and 60's, actresses were made to wear ass pads for obvious reasons. Then in the 80's and the 90's stalking, songs about touching and groping became the norm.
Today, this would pass off as totally unacceptable and just when we begin to think that sexism has taken a downturn, a new wave of cinema is shoved into our faces that showcase that sexism is still very much alive in Bollywood. Since it is impossible to list down all the movies because there are so many, the list fairly contemporary. Here is the list of most sexist Bollywood Movies. Also, though I am not big on banning movies because of their content but a few of these are so bad that they should never have been released.
12. Hum Aapke Hain Kaun (1994)
As much as his previous project, Maine Pyaar Kiya (1989), Sooraj Barjatiya's follow up to the romantic musical reeks of sexism. Hum Aapke Hain Kaun is a true example of what the society really thought of women even as recent as the 1990's. The story is fairly stereotypical; Rajesh (Monish Bahl) and Pooja (Renuka Shahane) get married in the big fat Indian wedding way. In the meantime, their respective siblings, Prem (Salman Khan) and Nisha (Madhuri Dixit) fall in love. When Pooja dies in an unfortunate incident, the respective families decide that Nisha should marry Rajesh in order to take care of his new born child. Nisha's absence of consent is taken as a 'yes' and Nisha becomes the typical sacrifice-for-all Indian girl. Nisha does end up marrying her love though, in a very apparently dramatic finale.
11. Akele Hum Akele Tum (1995)
Though a light hearted watch, one can't help but notice the sexist approach this film takes as it portrays the struggles of two struggling singers in a big city. As such, the story follows Rohit (Aamir Khan) and Kiran (Manisha Koirala) who marry and then typically Kiran's ambitions take a backseat with household chores and managing a kid. She is almost coerced into giving up her career and eventually she leaves Rohit to become a film star. The basic problem with the representation of the two sides is the POV of the two protagonists. Kiran's struggles in the first half of the film are trivialized whereas Rohit's struggles are given a more emotional touch to them which emphasizes the notion that a woman's problems are lesser than those of a man's.
10. Hum Saath Saath Hain (1999)
This cringe fest of an excuse that passed as a blockbuster in 1999, won't stand a chance in today's new found feminist movement. Again, the story is straight forward but with too many characters and their romances inter twined. This is a movie where being a home maker is glorified to such a level that it is the sole responsibility of the women in the house. Flawed cultural norms were further perpetuated where women eat after the men, where the husband is the ultimate gift from God, where girls are expected to be coy around men they fancy because that is a sign of good virtue and culture, and also where the guy insists on taking the entire family (about 15 or so) for is honeymoon without ever consenting with his wife. There are too many instances where blatant traditional sexism is flaunted and the movie and is one of the worst of the lot.
9. Dilwale Dulhania Le Jaayenge (1995)
DDLJ is hailed as the best romantic Indian movie ever made. It is definitely true that DDLJ was a trendsetting film in terms of a 'modern love story'. But when you look into the depths, one realizes that the film oozes sexism in every way and reminds us of the societal boundaries that an Indian woman is not supposed to cross. For the first half of the movie Raj Malhotra (Shahrukh Khan) harasses Simran (Kajol) to an annoying point but magically they fall in love. Simran's husband has already been decided by her father. When Simran tries telling Raj that they should run away, Raj convinces her that unless her father practically hands her over to him (as if she is a trophy), he won't accept her as his wife. In one of the scenes, Simran's mother tries consoling her by telling her that an Indian woman does not have the right to choose anything in her life, least of all her own husband. Only an utter layman would say that the film is not sexist and patriarchal. Yet it is considered one of the greatest movies in India.
8. Dabaang (2010)
Every Salman Khan movie released after Dabaang should probably be included in this list. This testosterone filled action flick was Salman's comeback and though it is a solid entertainer (some may disagree), it has a degree of sexism and objectification which led to a whole new slapstick sexist genre. Salman's character, Chulbul Paandey harasses the film's leading lady (Sonakshi Sinha) and even coerces her father into giving his daughter's hand to him by showing his clout. Dialogues like 'pyaar se de rahe hai rakh lo, warna thappad maarke bhi de sakte hai' is one such example of the underlying sexism in the film. What makes it worse is the item song (Munni) where Malaika Arora Khan is wearing practically no clothes and is dancing around drunk men who are salivating after her body. Though a catchy number, it does nothing to add any value to the movie and could have been avoided.
7. Cocktail (2012)
One doesn't really feel anything wrong with the movie when you watch it for the first time but on a re watch and a bit of observation you realize the sexist attitude of the makers. The movie is about a typical love triangle between Meera (Diana Penty), Gautam (Saif Ali Khan) and Veronica (Deepika Padukone). Veronica is shown to be the 'bad girl' who wears what she pleases, parties when she pleases and sleeps with whom she pleases. Meera is the exact opposite, or say 'the good girl' who is bound to her Indian traditions (whatever that means) and Gautam is a happy go lucky fellow, for whom no societal rules apply. Coming to think of it, there is nothing really wrong with what Veronica is doing with her life. When Gautam's Mom visits him, he lies out of his teeth and introduces Meera as his girlfriend even though he is with Veronica. There can be a lot said about many more sexist instances in the movie but all I can say is that it's a pity that the movie is directed by Homi Adajania, the same guy who made the strongly feminist video with Deepika Padukone and forced us to think otherwise.
6. Race 2 (2013)
Directed by Abbas Mustan, this ensemble cast starrer was a multi crore hit film when it came and all in all it's a good entertainer. Every character in the movie has some part to play in the plot (yes, even the female leads are more than just eye candy). But where things go wrong is when Cherry (Ameesha Patel) enters the picture. She is the assistant of Robert D'Costa (Anil Kapoor) and her only job in the film is to show skin and take verbal, unwitty and sexist abuse from Robert. The age old concept of the brainless bimbo is on full display here when Robert says that 'upar waale ne tumhe aage aur piche bahut kuch diya hai, lekin upar kuch nahi diya'. It is cringe worthy to think that a movie having such influential stars agreed to do something like this.
5. Raanjhanaa (2013)
There are so many things wrong with the portrayal of men and women in this film. But sadly, this is what happens in rural India and at times even in cities. The story is about Kundan (Dhanush) who has always had one sided love for Zoya (Sonam Kapoor). He bugs her and stalks her to a point where she has to resort to slapping him for stalking her. But eventually she gives in to his love 'because of his consistency of affection'. This just goes on to encourage the youth of the country to harass someone in the hopes that the girl will eventually say yes to them. The rest of the film is a dark romantic film which does have a few sexist innuendos (how he sacrifices his love for Zoya because she is in love with someone else) but stalking is by far the worst act in the film and it's a big no no in today's society.
4. Sultan (2016)
Another Salman Khan testosterone filled quest. The movie is shamefully patriarchal and still propagates the 'no means yes' behavior debate. Sultan, after being rebuked by Aarfa (Anushka Sharma) because he is a small time wrestler, takes it up full time and becomes a champion. Aarfa, who is also a champion wrestler, falls for him and when selected for the Olympic games gives up her childhood dream of becoming a champion because she is pregnant. Even her father (also her coach) blames her for getting pregnant and she resigns herself to her reality in a typical patriarchal fashion. The film basically panders to the narrow minded, often butt hurt male ego in our society of which Salman himself is a big example.
3. Ragini MMS 2 (2014)
I don't really get why people pay money to watch Sunny Leone get half naked in every film she acts when there are other ways of admiring her beauty (ahem!). To come clean on this issue, I have the utmost respect for that woman but where me and many others have a problem is that she is exploited in Bollywood for one sole purpose : to cater to the ogling men in the movie theater. Honestly, it is not a terrible horror film, but Sunny's (Sunny Leone) every move in the film is sexualized to a certain degree including a completely unnecessary scene where she mimics getting an orgasm.
2. Grand Masti (2013)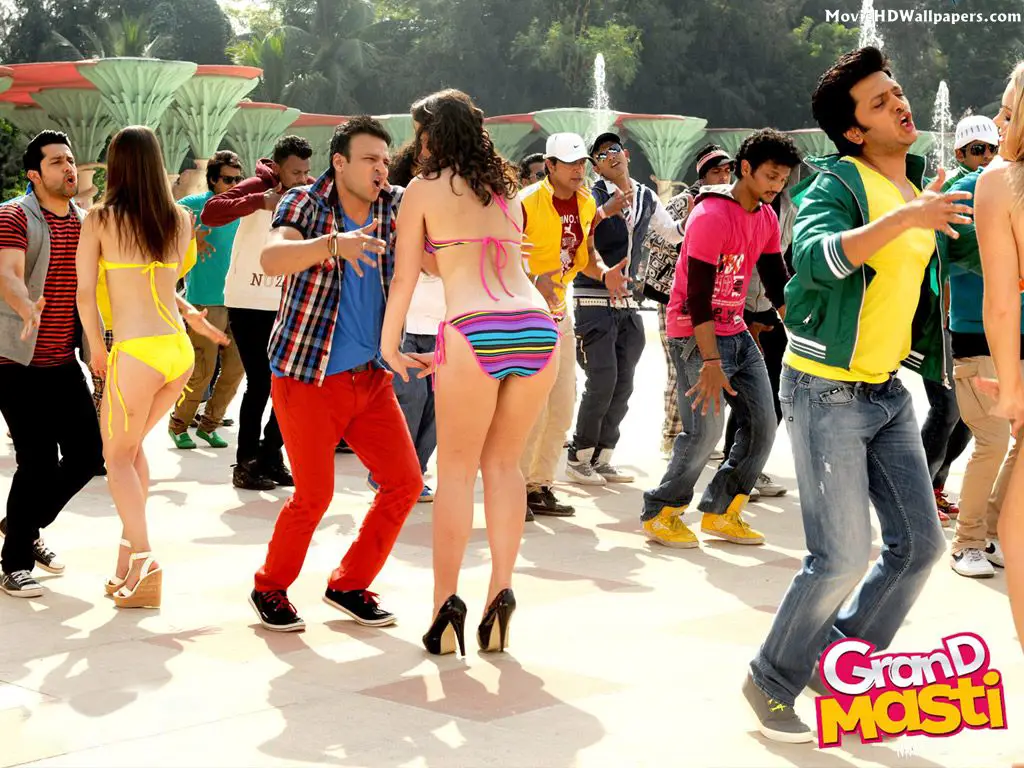 The second installment in the so called Masti trilogy is as bad as the other two. Now, don't get me wrong here. I am all up for adult comedies but the movie has so little in terms of script, that they have had to rely on the female body and a plethora of clichéd jokes to rake in money at the box office. Three married men (Vivek Oberoi, Aftab and Riteish Deshmukh) leading unsatisfied sex lives decide to go to their college reunion to get some action but things don't go as planned. That is pretty much to it in the film but there is plenty of unnecessary skin show and the world would be a whole lot better without Grand Masti.
1. Mastizaade (2016)
This might just be the worst Bollywood movie of that year. An adult comedy, the film solely relies on Sunny Leone's body. To top it all, she has a double role. The movie is all about cleavage and hip thrusts as Tushaar Kapoor and Vir Das try woo their respective dames. There is no coherent story and the scenes feel like they are stitched together randomly. The movie is an epitome of blatant sexism, objectification, misogyny and homophobia and probably deserves to be banned, not because of its sexual nature but because there is no cinematic value backing the all too beautiful Sunny Leone.