The generally peaceful town of Bedford, New Hampshire, witnessed a terrifying murder on July 28, 1988, when expecting mother Sharon Johnson was found murdered at a construction site. While the brutality of the murder shocked even the most experienced police officers, the further investigation soon revealed a sinister plot fueled by hatred. 'Bear Brook Podcast' season 2 chronicles the gruesome homicide and takes the viewer through the efforts to bring the perpetrator to justice. Let's dive into the crime's details and find out more, shall we?
How Did Sharon Johnson Die?
A Bow, New Hampshire resident, Sharon Johnson, was just 36 at the time of her death. People who knew her described her as a kindhearted and caring individual who loved helping others in need. Besides, Sharon treated everyone around her kindly and was known for her charming and friendly nature. She worked to support herself and her family, and reports mention that she was about seven months pregnant at the time of her murder. However, because of her amicable personality, Sharon did not have any known enemies, which made her sudden demise all the more shocking.
On July 28, 1988, law enforcement officers in Bedford were informed of a woman's body discovered in a sandpit at a nearby construction site. Once first responders reached the location, they found the victim lying in a pool of blood and immediately declared her dead. Later, the deceased woman was identified as the expecting mother, Sharon Johnson. An initial medical examination noted several injuries all over the victim's body and clear evidence of asphyxiation.
Subsequently, an autopsy found evidence of multiple stab wounds before concluding Sharon was stabbed and strangled to death. They even affirmed that she was pregnant at the time of the murder and were confident that she fought valiantly for her life. Besides, while the brutal crime left most police officers shocked, the nature of the homicide indicated that Sharon was attacked by at least two assailants, who overpowered her before killing her.
Who Killed Sharon Johnson?
The initial investigation into Sharon Johnson's murder was challenging as the police had no leads or witnesses to work with. Although they thoroughly searched the construction site and canvassed the area around it, they found nothing that could point at a potential witness. Detectives even went door to door hoping for a witness, and several of Sharon's acquaintances were interviewed. Still, people mostly talked about her amicable nature and how she had no known enemies who would harm her in such a brutal manner.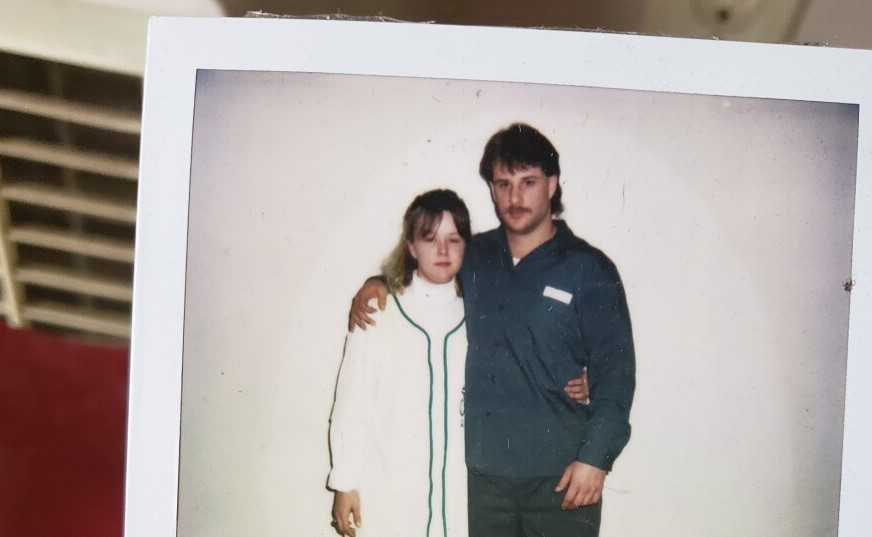 Besides, the victim's friends had no idea why she was even in Bedford in the first place, as she worked in Manchester, New Hampshire, and was on her way back home on the day of her murder. When the police interviewed several of her co-workers, they insisted that July 28 was a typical day at work. They admitted having met Sharon at the workplace and claimed she was her usual self. They also revealed that she planned to shop for baby clothes at the Mall of New Hampshire in Manchester before returning home that evening.
Yet, the police failed to find any witnesses at the Mall of New Hampshire, and the investigation stalled for a bit. On the other hand, Sharon's husband, Kenneth Johnson, appeared devastated at his wife's death but insisted he had nothing to do with the homicide. With time the police learned that he and the victim had been married for around three years. Though the marriage was happy at first, he soon became quite controlling. In fact, some of Sharon's acquaintances stated that Kenneth believed she was cheating on him. But with no evidence to tie the husband to the crime, the police couldn't charge him with murder.
Even though the case sat without progress for several months, the police continued their investigation until it led them to a teenager called Anthony Pfaff. He was 18 at the time of Sharon's murder and did not take long to confess to the crime, yet his statement made authorities realize the complexity of the crime. When questioned, Anthony mentioned that he was contacted by Sharon's husband, Kenneth Johnson, who asked him to kill his wife. In turn, the former reached out to 19-year-old Jason Carroll, and the two kidnapped the victim while she shopped for baby clothes at the Mall of New Hampshire.
The pair then brought the 36-year-old to the construction site in Bedford, where they stabbed and strangled her to death. Anthony even claimed Kenneth was present on the scene when Sharon was attacked; he abused her verbally before accusing her of cheating. Based on his statement, the police apprehended Jason Carroll, who confessed to his role in the crime. With enough evidence, detectives began looking into Kenneth Johnson and learned that he was addicted to gambling, which made him face a few financial issues. However, when confronted, he claimed that someone named "Bob" had killed his wife and even insisted that the latter owed him some money.
Still, further investigation proved that "Bob" did not exist, so cops arrested Kenneth once Anthony claimed he paid them for killing Sharon. Surprisingly, the latter and Jason recanted their confession before any of the accused could be produced in court, making it difficult for prosecutors to plead their case. Hence, in 1991, Anthony Pfaff was acquitted of all charges, whereas the prosecution decided to drop the charges against Kenneth Johnson.
On the other hand, Jason Carroll was convicted of conspiracy to commit murder and second-degree murder after two jury trials and was sentenced to 46 years to life in prison in 1992. Although he has since tried to get his sentence overturned or reduced, the court hasn't accepted his petitions. As a result, Jason remains incarcerated at the New Hampshire State Prison for Men in Concord, New Hampshire, with a parole eligibility date of 2029.