It is said that a true piece of art stems from real pain! One glance at François Truffaut's 'The 400 Blows' (1959) establishes this conjecture beyond all reasonable doubts. Not only did this film put the nascent French New Wave on a firm footing but also projected Truffaut as the brand new face of contemporary cinema. A truly sincere and deeply personal piece of work, Truffaut dedicated it to his spiritual father and internationally acclaimed film theorist André Bazin. The then 27-year-old's aspirational transition from a hotheaded critic to an exciting filmmaker couldn't have been better scripted. If we are to get down to what the movie is all about, we would discover that it is about juvenile and adolescent delinquency that is often driven by societal and parental neglect. Distinctly autobiographical in nature, Truffaut's own childhood was troubled and on similar lines.
Is the story a tragic one then? Well, yes and no! Yes for we witness the slow and gradual degradation of a talented teenager into a petty criminal. No because the movie is also about hope, hope that is both intense and therapeutic. Antoine Doinel, the protagonist, is someway a stark representation of the society itself, a society that hides its own failures behind rules, punishments and judgements. The film flows like a river and takes the audience along a journey of hope, despair, empathy and even sheer anger. Doinel's mother is uncaring and self-centered, his step-father hardly bothers about his existence and his teacher has marked him as the eternal troublemaker. There is nothing about Doinel's immediate surroundings that elicits hope, he is virtually relegated to a position of no importance within his own family, he is always pinpointed for wrongdoings at school and the moment he fakes his mother being dead to avoid imminent corporal punishment; he is identified as a liar. There is an undercurrent of paranoia that runs deep into the movie, something that creates a sense of delusion and persecution.
In his attempt to return a self-stolen typewriter from his step-father's workplace, Doinel is caught and handed over to the police where he spends time along with prostitutes and criminals. When his mother refuses to accept his responsibilities, the judge sends him over to a correctional centre bereft of any sympathy or compassion. A woman psychologist tries to analyze his supposedly apparent lecherous psyche and prescribes solutions. However, Doinel is not to be caged by the apathetic tyranny of the remand home. He finds out a lax moment and runs away from the home and reaches the beach only to take a peek at the sea, something that he has always aspired to do. The camera zooms in onto his ecstatic face, he looks straight at the camera and the frame freezes. This frozen frame has been the subject of many a cinematic discussions across the world.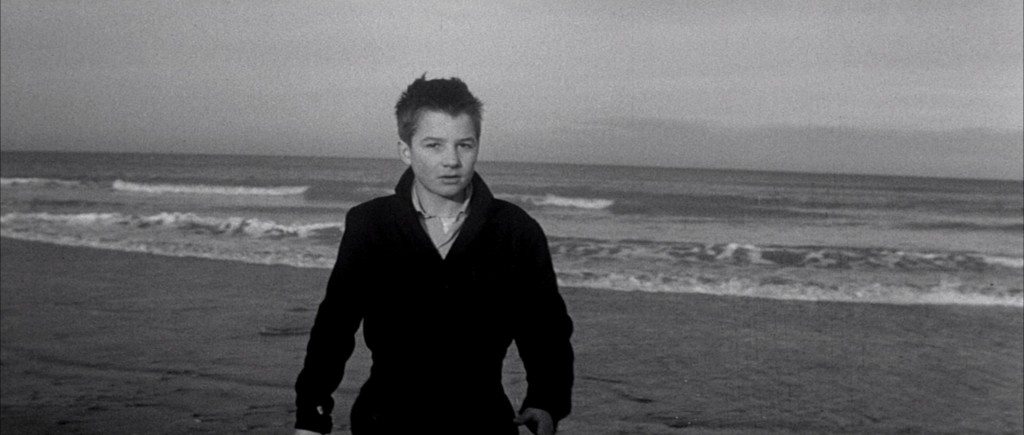 Someone rightly pointed out that the French New Wave is the intersection between classical films and contemporary films. The sheer freedom with which the camera moves in 'The 400 Blows' is indicative of the bold attitude of the filmmaker, a true auteur in the making then. The fluid cinematography by Henri Decaë is probably an apt representation of the magic that black-and-white visuals could create on screen. While there are distinct moments of mirth in the movie, like the one when the entire family goes out for a movie, the all-encompassing aura of melancholia drapes the otherwise bright world created by Truffaut. Although Doinel has transgressed, he has a deep love for the renowned 18th-century French novelist and playwright Honoré de Balzac, so much so that he plagiarizes one of Balzac's works while writing a school essay. In a way, this incident could be considered to be an allegorical representation of Truffaut's own life. Although irregular at the school, he was a voracious reader and a passionate cinemagoer.
One of the most defining moments of the film comes when Doinel is shown to be carried away by a police carrier along with thieves and prostitutes and he looks out of the vehicle, sad and confused. One way of looking at the movie would be to consider it as a statement against the French society's way of dealing with adolescents. The film very well establishes the rather daft strategy followed by the then society to deal with juvenile delinquencies.
Jean-Pierre Léaud, who would go on to act in a number of other Truffaut movies, plays the role of Doinel with a flair that is hard to match. In an irony of sorts, it seems Léaud is playing himself, much more than just being the cinematic surrogate of Truffaut. More than the acting, Léaud appears to extend the meaning of acting. For a boy, who was only about 14 during the shooting, this is no mean feat. Claire Maurier, playing the role of Gilberte Doinel, Doinel's mother, seems unconcerned and cold. She is projected to be preoccupied with material prosperity and hardly has the time to look after her son's affairs. It is fairly apparent that she considers Doinel to be nothing more than just an undesirable accessory. Albert Rémy, who acts out the part of Julien Doinel, Doinel's stepfather, is more than just a handful. He is shown to be good in parts and generally easygoing but doesn't have any real feeling towards his stepson.
It is another thing that 'The 400 Blows' has a peculiar thematic similarity with Ritwik Ghatak's 'Bari Theke Paliye' that was released just a year back in 1958. However, it is difficult to imagine that Truffaut's debut rendezvous had anything to do with this uncanny similarity. 'Bari Theke Paliye' was based on a Bengali novel of the same name penned by renowned author Shibram Chakraborty. This only shows that the fundamental human traits remain the same and aren't restricted by petty and man-made national boundaries.
Considered to be one of the defining moments of cinema, 'The 400 Blows' went on to bag the Cannes Film Festival Award for Best Director in addition to getting nominated for the Palme d'Or in 1959. It was also nominated for the Academy Award for Best Writing in 1960. It is pertinent to mention here that the Sight & Sound magazine poll ranked it as the 39th best film of all time in 2012.
When critics would take a careful relook at the history of 20th-century cinema, 'The 400 Blows' would go down not just as a great movie that reshaped cinematic barriers but also as a human document that poignantly captured the pitfalls of a society standing at the crossroads of decadence.