With Toronto and Telluride film festivals in rearview, we have officially entered the Oscar season. We took a wild shot at predicting the next year's nominees right after this year's Oscar ceremony, and believe it or not, you will find several of those names and titles in this list of predictions too, proving that sometimes you can trust the talent and pedigree blindly when it comes to the Oscar race.
Having said that, this year is turning out to be particularly strange. We are well into September, and yet, we don't have a single film — that has been seen — that can be called Best Picture frontrunner. Usually, we have one or more solid Oscar contenders emerge out of Telluride and Toronto — like 'Birdman' last year, or '12 Years A Slave' and 'Gravity' the year before that. This year, both the film festivals failed to produce a single film that completely blew everyone. Only 'Spotlight' managed to generate a universally positive response, but that's hardly comparable to the rapturous responses that 'Birdman' and '12 Years a Slave' received.
So, here we are, in September, without a slam-dunk frontrunner. What does that mean ? It means, we will have to pick a film that nobody has seen as the frontrunner. Going by rumors, 'The Revenant' is "definitely the shit", and therefore, our early frontrunner. We'll see how that changes once critics have seen the film.
There are always good reliable sources like Hollywood Elsewhere and Awards Daily that I trust when it comes to getting a sense of the pulse of the industry during the awards season, but when it comes to making Oscar predictions I trust my gut instinct more than anything else. With that said, let's get into the business of making actual predictions, which by the way, I enjoy doing more than watching the actual awards ceremony itself.
(Note: In this article, I am predicting the 8 major Oscar categories. The technical categories, I am leaving for the business end of the year)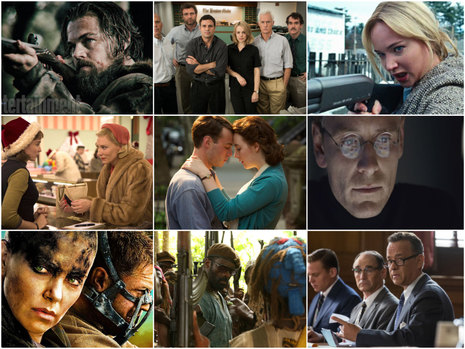 Best Picture
1. The Revenant
2. Spotlight
3. Joy
4. Carol
5. Brooklyn
6. Steve Jobs
7. Mad Max: Fury Road
8. Beasts of No Nation
9. Bridge of Spies
10. The Danish Girl
11. The Hateful Eight
12. Room
13. Youth
14. Truth
15. Son of Saul
16. Star Wars: The Force Awakens

Insight: As crazy as it might sound, but if 'The Revenant' turns out to be as good as the rumor mills are claiming it to be, Alejandro González Iñárritu can take back-to-back Best Picture prize. But what if 'The Revenant' turns out to be damp squib (ala 'Unbroken last year) ? Well, in that case, we might have to look at either 'Spotlight' or 'Joy', the latter of which is again unseen. 'Spotlight' received very good reviews out of Telluride and Toronto, and also seems to be easily likeable movie. Some are comparing it to 'Argo' because of its across-the-board likability. But we all know why 'Argo' won. First, it made Hollywood feel good about themselves and second, the snub of Ben Affleck caused the Academy to rally for the film. 'Spotlight' is not a Hollywood story, and neither is its director as charming and famous as Affleck. So, it will have to rely completely on its merit, and hope that other contending films fall apart.
Other than that, we have films like 'Carol' and 'Brooklyn'. Both have been unequivocally loved by those who have seen them, but truth be told, they lack the home-run quality of a Best Picture winner. I am also predicting 'Mad Max: Fury Road' to make a solid comeback in the race, once critics start giving away their awards (just like 'The Grand Budapest Hotel' did last year).
Best Director
1. Alejandro G. Iñárritu, 'The Revenant'
2. Todd Haynes, 'Carol'
3. Thomas McCarthy, 'Spotlight'
4. David O Russell, 'Joy'
5. Cary Fukunaga, 'Beasts of No Nation'
6. George Miller, 'Mad Max: Fury Road'
7. Danny Boyle, 'Steve Jobs'
8. Steven Spielberg, 'Bridge of Spies'
9. Quentin Tarantino, 'The Hateful Eight'
10. Lenny Abrahamson, 'Room'
Insight: If 'The Revenant' wins Best Picture, rest be assured Alejandro González Iñárritu will take Best Director prize too. Todd Haynes has directed several great movies in his career and is well-respected, so he is well-placed to be among top 5. If 'Spotlight' turns out to be a major force, McCarthy will earn the nomination spot. Russell's placement will depend on how good 'Joy' turns out to be, but going by his recent form, it is a risk to bet against him. Many a times, the directors branch likes to throw the 5th spot to someone with bursting talent and exciting future, and therefore, Cary Fukunaga will have the best shot to take that spot.
Best Actor
1. Leonardo Di Caprio, 'The Revenant'
2. Johny Depp, 'Black Mass'
3. Michael Fassbender, 'Steve Jobs'
4. Eddie Redmayne, 'The Danish Girl'
5. Bryan Cranston, 'Trumbo'
6. Michael Caine, 'Youth'
7. Tom Hanks, 'Bridge of Spies'
8. Mark Ruffolo, 'Spotlight'
9. Abraham Attah, 'Beasts of No Nation'
10. Géza Röhrig, 'Son of Saul'
Insight: Can you believe it ? Leonardo Di Caprio, after years and years of doing phenomenal work, is still waiting for that elusive Oscar. Will this be his year ? I think so. But wait .. Johnny Depp also hasn't won an Oscar. Yes, the Academy may be tempted to finally reward him, but, in my opinion, it would be extremely difficult for Depp to win, because 'Black Mass' would be forgotten by end of the year, and therefore, won't be a Best Picture nominee, and that matters in the Best Actor's race. Outside of Depp and Leo, we have a rising, but equally talented actor: Michael Fassbender. His time will come, but it may not be this year. Redmayne, who won last year, could have repeated the feat had 'The Danish Girl' been a tour-de-force. It's not, and therefore, he will have to contend with a nomination. Last place is up for grabs, but at this point let's go with Bryan Cranston.
Best Actress
1. Charlotte Rampling, '45 Years'
2. Jennifer Lawrence, 'Joy'
3. Brie Larson, 'Room'
4. Cate Blanchett, 'Carol'
5. Carey Mulligan, 'Suffragate'
6. Saoirse Ronan, 'Brooklyn'
7. Charlize Theron, 'Mad Max: Fury Road'
8. Lily Tomlin, 'Grandma'
9. Maggie Smith, 'The Lady in the Van'
10. Cate Blanchett, 'Truth'
Insight: 2015 without a shred of doubt has been the best year ever for women in films. And this is clearly reflecting in the above list of contenders. When was the last time Best Actress line-up of potential nominees looked stronger than Best Actor. Never, ever.
Charlotte Rampling, an industry veteran, gives a beautiful performance in an extremely moving film. That should be enough to stop Jennifer Lawrence from winning her second Oscar. In 2012, Emmanuel Riva, another veteran actress, came very close to beating Lawrence. This time, though, Rampling might be better positioned considering Academy would be reluctant to give Lawrence another Oscar so soon.
Blanchett gave two great performances this year, so she should secure one spot among the nominees. The last two spot will be a fight between three young actresses: Mulligan, Larson and Ronan.
Best Supporting Actor
1. Michael Keaton, 'Spotlight'
2. Idris Elba, 'Beasts of No Nation'
3. Tom Hardy, 'The Revenant'
4. Joel Edgerton, 'Black Mass'
5. Samuel L. Jackson, 'The Hateful Eight'
6. Paul Dano,'Love and Mercy'
7. Bradley Cooper,'Joy'
8. Seth Rogan, 'Steve Jobs'
9. Robert Redford,'Truth'
10. Jacob Tremblay,'Room'

Insight: It seems like Michael Keaton may not have to wait for long after he lost the Oscar last year to Eddie Redmayne. Idris Elba can be tough competition, but that will depend on how well 'Beasts of No Nation' plays to the Academy. Tom Hardy will surely get some spillover love for the continuous good work he has been doing. Edgerton is extremely good in 'Black Mass' and should be able make the cut. Fifth spot is up for the taking, and some consistent drum-beating may earn Paul Dano the fifth spot, but at this point of time, I think it is more logical to place bets on a performance in a more high-profile film i.e. Jackson in 'The Hateful Eight'.
Best Supporting Actress
1. Rooney Mara, 'Carol'
2. Alicia Vikander, The Danish Girl'
3. Kate Winslet, 'Steve Jobs'
4. Jennifer Jason Leigh, 'The Hateful Eight'
5. Rachel McAdams, 'Spotlight'
6. Jane Fonda, 'Youth'
7. Helena Bonham Carter, 'Suffragette'
8. Amy Ryan, 'Bridge of Spies'
9. Joan Allen, 'Room'
10. Elle Fanning, 'About Ray'
Insight: Let's give the award to Rooney Mara already. The top three are almost locked. Winslet and Vikander play the typical female-supporting-male roles but hold their own against the male leads in their respective films. 'The Hateful Eight' trailer indicated that Leigh will have a strong presence in the film, so she occupies the fourth spot. The final spot is open and could go to anyone, but I think the whole 'Spotlight' love will manifest into McAdams earning an unexpected fifth slot — not very different from how Jacky Weaver got into this category a couple of years back for 'Silver Linings Playbook'.
Best Original Screenplay
1. David O Russell, 'Joy'
2. Josh Singer & Tom McCarthy, 'Spotlight'
3. Quentein Tarantino, 'The Hateful Eight'
4. Pete Docter, Josh Cooley & Meg LeFauve, 'Inside Out'
5. Matt Charman, Ethan Coen & Joel Coen, 'Bridge of Spies'
Insight: David O Russell has been looming over the Academy like a shadow since last four years without actually winning anything. Could this be his year ? At the very least, he can expect to win the relatively weak Original Screenplay slate this year. Tarantino should also easily make into top 5 unless 'The Hateful Eight' turns out to be a disappointment. But then, Tarantino has yet to make a truly disappointing film.
Best Adapted Screenplay
1. Alejandro G. Iñárritu & Mark L. Smith, 'The Revenant'
2. Aaron Sorkin, 'Steve Jobs'
3. Phyllis Nagy, 'Carol'
4. Cary Fukunaga, 'Beasts of No Nation'
5. Nick Hornby, 'Brooklyn'
Insight: Alejandro González Iñárritu won three Oscars this year. He can take that tally to six next year. Sorkin will be strong contender to win, but a cold, verbose movie like 'Steve Jobs' may have a difficult time pleasing everyone.