Our media has a long history of being ableist, despite how inclusive we think it to be. The biggest example of this is an almost complete erasure of disabled people on-screen. This is shocking considering that disabled people make upto 20% of the American population. In an interview, comedian and disability advocate, Maysoon Zayid, revealed:
"We are by far the largest minority in the world. We are 20% of the population and we are only 2% of the images you see on American television and of those 2%, 95% are played by non-disabled actors."
This is precisely why there is a need to include people with disability in conversations about inclusion. It becomes equally important to become aware about and understand their history, their struggles, and their activism. Netflix's 'Crip Camp' then, offers a much-needed history lesson through its inspiring tale of civil rights for the disabled in America.
'Crip Camp' takes us back to the late 1970s to Camp Jened, a "hippie" camp that was started in the 195os for disabled children. It was the space that gave these children their first taste of freedom. The documentary, produced by Obama, begins from the camp and shows how it ultimately resulted in a "disability revolution".
'Crip Camp' offers a heartwarming, hilarious, and inspiring narrative that's never been seen before. In case you want to know more about the real story behind the documentary, we're here to help. Here's everything you need to know.
The True Story Behind 'Crip Camp', Explained:
'Crip Camp' traces the birth of the disability civil rights movement to hippie-run Camp Jened that was a safe abode for teenagers with disability, ranging from polio to cerebral palsy. The retreat was located in Catskills in New York, and was started in 1950s, and functioned until the 1970s.
Jim Lebrecht co directed the film with Nicole Newnham. But what becomes particularly interesting is that Jim was one of the many teenagers that spent his summers in Camp Jened while he was growing up with spina bifida. In an interview with News Day, Lebrecht stated:
"At (Jened) everybody had something going on with their body — it just wasn't a big deal, which reveals the astonishing ways in which a camp for disabled teens sparked a revolution…The wild thing is that this camp changed the world. And nobody knows its story."
Jim Lebrecht attended Camp Jened in 1971, at the age of 15, and it had a life-changing effect on him. It was a space that gave teens with disability a sense of freedom where they could just go around and smoke, sing, play baseball, hook-up and talk to each other. Jim revealed that it was at the camp that he met his first girlfriend. Interestingly, at a time there was so much free love in Camp Jened, that it led to a crab breakout.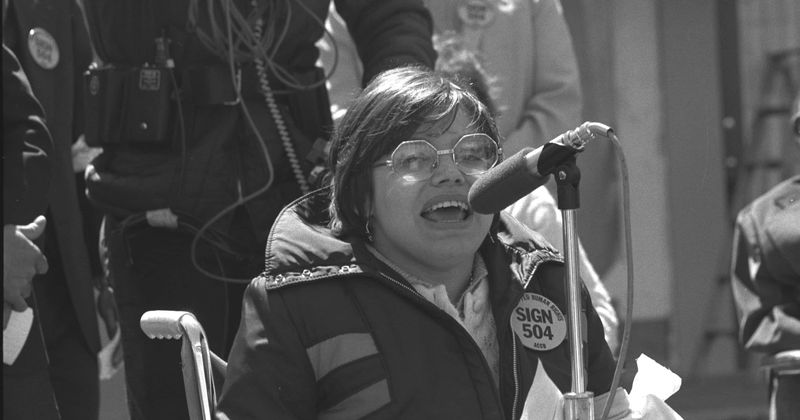 Camp Jened gave these kids a sense of normalcy that was not available to most at home. It was the first place where they truly felt liberation, and eventually sparked the Disability Action movement that would change the course of history. The camp was run by several counsellors, one of whom was Judy Heumann. Heumann had also attended Camp Jened from the time she was 9 till she was 18. It was also in the camp that she met Bobbi Linn and Freida Tankus, all of whom went later went on to work as disability rights activists.
Judy Heumann is one of the greatest contributors to the disability civil rights movement in America. The documentary follows her time in Camp Jened and how she takes the revolution to the national stage and founds the civil rights organization, Disabled in Action, in 1970.
The documentary makes use of recollections by Heumann and Lebrecht, but introduces us to many more inspiring individuals. 'Crip Camp' also makes use of archival footage of Camp Jened from 1970s. For this, the filmmakers reached out to People's Video Theatre, and found Howard Gutstadt, the person who had spent his time filming the life in camp around the time. People's Video Theatre was an experimental filmmaking group from the 1970s that also covered New York's first women's liberation march, and its first gay pride.
'Crip Camp' juxtaposes these archives with recollections from former campers, as mentioned above. It also features Gutstadt recollection of the camp, and several other individuals including Denise Sherer Jacobson, who works with disability rights education, and her partner Neil Jacobson, both of whom have cerebral palsy. Along with the testimonies of these inspiring individuals, the film also features Camp Jened's former director, Larry Allison. In an interview with Guardian, Nicole Newnham revealed their motivation behind making the feature.
"From the beginning, we've known that this was an overlooked and incredibly powerful story out of civil rights history and we wanted it to get its due…And we wanted people to take power from this story of a small group of people, individuals coming together to create change and make the world a better place."
Read More: Best Political Documentaries on Netflix