If anyone were to ask me to describe this year's Midnight Madness: People's Choice Winner at TIFF, Vasan Bala's crazy, eccentric and zany action comedy 'Mard Ko Dard Nahi Hota' (released internationally as 'The Man Who Feels No Pain') in one line, I would simply quote a dialogue from the film, occurring somewhere along the two-thirds mark of the movie. A distressed mother, advising her daughter, Supri (an excellent Radhika Madan) on escaping from an abusive relationship, "If you think too much, you'll begin to see logic in the plan", she says. This is what I felt the essence of the film was; throw logic out the window, kick back with a tub of popcorn, and enjoy as you discard any and everything you consider conventional about a film plot. Isn't that the primal reason we go to the movies, to have a good time? To be entertained?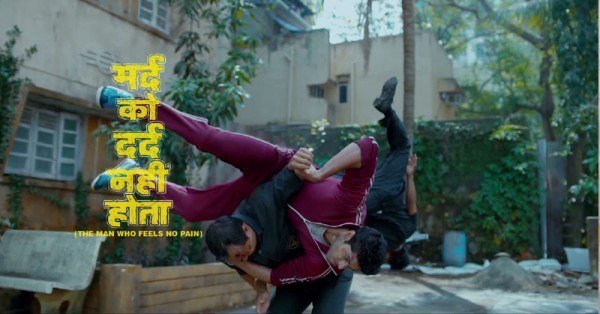 The film, deriving its name from a dialogue from Amitabh Bachchan's 1985 classic 'Mard', is the story of Surya, a boy with a rare disorder called Congenital Insensitivity to pain (Google it later, as the film says) because of which he literally cannot feel any damage being inflicted upon his body. His only weakness: Dehydration. To add to the mix, the boy has grown up on a generous dose of the potboiler brand of Bollywood action cinema from the 80s, and martial arts movies from the east, the likes of which are considered cult classics now. He considers it a staple, so much so, that he continuously mouths the films' titles or dialogues in completely odd situations, landing some hilarious punches. "Paap ko jalakar raakh kar dunga!" (I will burn sin to ashes), he says on one occasion, standing on a rooftop. "Geraftaar", he shouts on another, both being names of extremely popular pulp films from the 80s.
I honestly would have found the film completely ridiculous at points had I not been completely blown over by the director, Vasan Bala's confidence in what he was doing. That confidence is infectious, and you are quickly sucked into the quirky, slo-mo world that the director creates in the form of Surya's imagination, populated with black and white flashbacks (life recaps), over-the-top sequences, and action that would make a healthy big budget Bollywood production shy away. Although used mostly in a quasi-comical sense, the fight sequences are crisp, well-choreographed and look gorgeously mounted in slow motion. That the protagonist can't really express visible pain adds all the more fun to the already zany proceedings.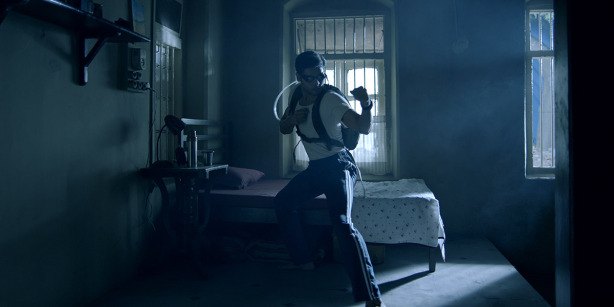 The music is another big ace in the hole for the film, perfectly complementing all the crazy happening on screen. Bala, here, conceivably takes a page from his frequent collaborator Kashyap's handbook on how to use music in films, where the score becomes more about the essence of the scene, rather than elaborate sing and dance sequences. The fights are an added delight to watch with the songs.
Bala's vision is completely and ably supported by his cast and crew, all delivering excellent performances. The film virtually belongs to Abhimanyu Dassani who debuts confidently as Surya, and fights like a charm: the months of martial arts trainings show. Admittedly so, the child artist playing a younger Surya is a scene stealer, and one of the many reasons the first half is more enjoyable than the second. Radhika Madan is a revelation in her role, emotes effortlessly and gets a fair share of screentime for kicking some serious ass. Mahesh Manjrekar appears to be having a ball of a time playing Surya's grandpa, the one who introduces him to the kind of potboiler cinema he later develops an affliction for. His one liners are killer, and his delivery is on point. Also commendable is Gulshan Devaiah, who appears in a double role: Master Mani, the Karate Man Surya fantasizes to become like, famous for knocking out a 100 black belt masters while on crutches (you HAVE to watch out for the scene in which Surya discovers 'The Death Match' VCR), and Jimmy, his evil twin brother, a local mob boss who despises Mani because he is a "cliché psychotic villain". He plays both parts with wit and visible determination, and the interactions between the brothers are hilarious as a result.
However, a completely eccentric film like such doesn't come bereft of its set of problems. The plot gets increasingly thin towards the end, although the funny bits and the slo-mo action keep it going. A shorter runtime and some trimming around the edges wouldn't have hurt either. The film walks a very thin line between getting it right and overdoing the zany, eccentric parts. While it mostly does get it right, eventually it also tips over to the other side more than once, especially in the second half.
With films of such a nature, the audience usually hesitate and don't give in for the ride at least until the first act of the film. With MKDNH, the director ensures that you give in right with the stunning opening scene. Conversely, it ends up losing some steam as you approach the final act. Yet you give in all the same, all because you see deftness in Bala's craft and earnestness in effort, despite a minimal budget that shows. It's a potentially good idea that could have been squandered in less able hands. Although, I also accept that it would have flourished in better hands as well, but that is true for every film now, isn't it?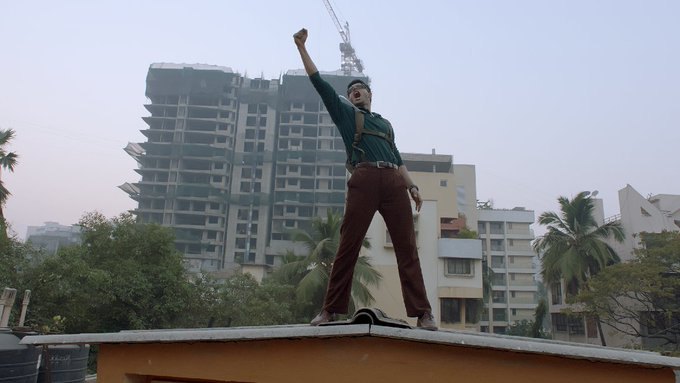 For what you get, MKDNH is wholly and completely enjoyable, and if there is one thing that the film promises, it's that you would be entertained. The film is Vasan Bala's love letter to the Bollywood of yore; unsubtle, over the top and passionate, and is intended to be watched as such. In fact, suspension of disbelief is the only way I believe one can truly enjoy the film. Any other way, or a more closed mindset and you might just lose the idea of it all: to have fun.
Rating: 3.5/5