When you think of a hero that you deeply admire, a middle-aged pharmacist holding your prescription over the counter won't exactly be who you had in mind. Let's just say that will change this February with Netflix's latest offering.
'The Pharmacist' centres around Dan Schneider, a father grieving the loss of his only son. Overcome by trauma, Schneider puts himself on the frontlines, diligently fighting against a deadly epidemic that continues to evolve and destroy. The series is quietly revolutionary in the ways it sheds light to a side of the drug epidemic that we have largely been blind to; the Big Pharma. But more importantly, it offers a much needed empathetic portrayal of the issue, bringing us face to face with the enormity of the grief and loss that engulfs our society. SPOILER ALERT!
The Pharmacist Recap: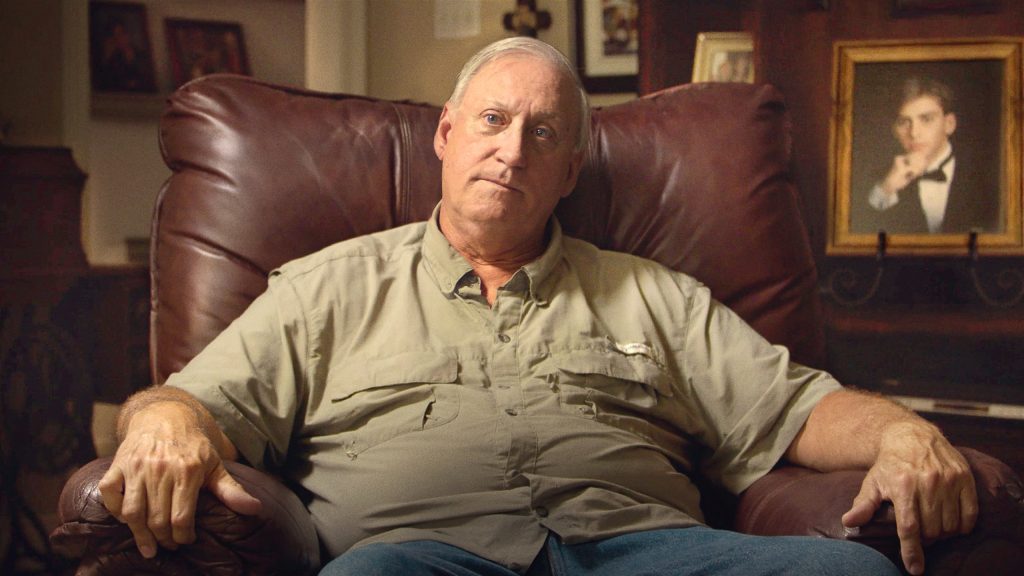 'The Pharmacist' introduces us to Dan Schneider, who we learn is a pharmacist by profession but a civilian hero by his actions. The tragic death of Dan's son, who is his namesake, in April 1999, sets him on path of justice. New Orleans, at the time, was the homicide capital of the country, especially because of drugs, and kids with access to guns. Dan Jr. is randomly shot dead in Lower 9th Ward, an area with a reputation. The police are incompetent, and even disinterested in trying to find the person responsible.
As a way of channelling his grief, Schneider decides to get to the truth himself. He goes door to door looking for witnesses, recorded conversations, calls up people living around the area. Finally, he finds an eye-witness, Shane, who, after a lot of persuasion, testifies against the murderer, a 15-year-old drug dealer, Jeffrey. Life goes on for Dan, and he returns to work.
But he soon begins to realize the excess of Oxytocin prescriptions in his pharmacy, that too from healthy, young people. Schneider senses a terrifying pattern as over 95% of these prescriptions are coming from a single doctor, Dr. Jacqueline Cleggett. He notices the emerging signs of an opioid epidemic. Fearing what drug abuse did to his own son, he decides to fight diligently, almost obsessively.
Cases of overdosing on these meds begin to surface as several innocent people land up in hospitals, and even dead. While doctors, particularly Dr. Cleggett in this case, end up becoming dope dealers in white coats. Schneider, determined to put an end to this, begins his own investigation and seeks help from the authorities. Despite finding Schneider menacing, the authorities are eventually able to suspend the doctor's practice with his help. But Schneider soon realizes that Cleggett is just one fish in the sea.
The Pharmacist Review:
'The Pharmacist' is definitely not your typical true-crime docuseries. It is much more than just the reality of the crime, it is about what is at stake for us as a society as it continues to erode. The four-part docuseries portrays the journey of a grieving father in his path to seek justice. Not only for his boy, but for his community as he sees numerous lives being destroyed at the hand of a single pill. 'The Pharmacist', then, is that rare sighting of a phoenix that emerges when there is a need for change. It is breath of fresh air in the current pool of true-crime narratives that largely focus on the murderer than the ones who survived it.
Dan Schneider is that survivor. And he devotes himself to a cause that could cost him his life. Grief does that. It can have a maddening effect, especially when it is the loss of one's own child. So, call Schneider diligent or obsessive or even a maniac, he does get the job done. This may actually make it difficult to like or rather feel connected to the person. At least, I personally felt the way during the initial parts of the docuseries. I couldn't find myself completely accepting Dan's ways, and some parts left me feeling restless.
The first chapter, in general, had that effect on me. The series definitely requires patience. Both Jeffrey's bit, and later, Jacqueline's bit in the docuseries left me feeling somewhat frustrated. But if anything, it makes you feel a minuscule dose of the same restlessness that the family of victims must have experienced. Because in reality, when you're looking for answers, they're either none, or they're never enough. It's astounding to see close to no guilt or regret in the eyes of the perpetrators be it Jeffrey lying to Dan, or later with Jacqueline and ultimately the Sacklers. But it also makes sense given how the capitalistic American society functions.
Lucky for us, 'The Pharmacist' meets us halfway as it progresses. Both Schneider and his ways really grow on you. His purpose matters. I won't say that the docuseries is particularly entertaining. But it is certainly inspiring, informative and necessary. Visually, and even structurally, a few things didn't work for me. The narrative often feels repetitive.
The show is ultimately about Schneider's investigation and his journey towards justice along with all the potholes and dead-ends that come on the way. His story is an incredibly important one that needs to be heard. But despite his struggle and his efforts, the drug epidemic continues to rage and destroy. 'The Pharmacist', then, is a much needed call for help, and for answers as no solution or answer feels strong enough. So, if not us, then who? If not now, then when?
Rating: 3.5/5