It is, indeed, true that movies often tend to glamorize pretty much every theme they touch, regardless of how horrific it is. Take war dramas, for example. They serve as a warning against war and very well remind us of all the brutal realities of such scenarios. Baked into the very existence of humans, war is one inescapable element that, fortunately, not all of us may get to experience. And that's where war movies come in. They tell us tales of horrific times of war, reflect our attitudes towards them and then allow us to learn from it. 'The Silent War', which has been adapted from a comic book by, is another fictional war drama that not only reflects on the artistic impulses of its creator but also reflects on the times and places in which it is set in.
Set during the Spanish Civil War in 1944, somewhere towards the end of the Second World War, 'The Silent War' portrays the war that was fought between the Spanish Loyalists against Adolf Hitler's "fascist" Nationalists. After the Resistance and allied forces are finally able to overthrow the Nazi occupation from France, a Spanish guerilla group draws inspiration from this and sets out to attack General Franco's rule and reclaim their land. With this, they set out to execute a sabotage action where they intend to destroy the regime's infrastructure. Unfortunately for them, things go completely downhill when they're interrupted by the Spanish army and in the end, except for two, all the other members of the rebel group wind up dead in action.
One of the survivors, Vicente Roig, gets arrested before he can escape while the other one, Anselmo Rojas, escapes in the nick of time, but is left deaf with no food, no clothes, and no weapons. In the events that follow, Captain Bosch comes to know that one of the rebels has managed to escape and hires a high-end assassin to get him killed. Meanwhile, out of desperation, Rojas is forced to get in touch with his old flame who now happens to be the wife of his arrested ally. As he begins to further delve into his new reality where Bosch's men are always on the lookout of him, he learns to survive in a world where he can't trust anyone but himself.
Although its entire setup does not sprawl across several locations, like most good war movies out there, 'The Silent War' has mesmerizing visuals that very well allow you to have an immersive sensory experience. So here is everything that you need to know about The Silent War filming locations.
Where Was The Silent War Filmed?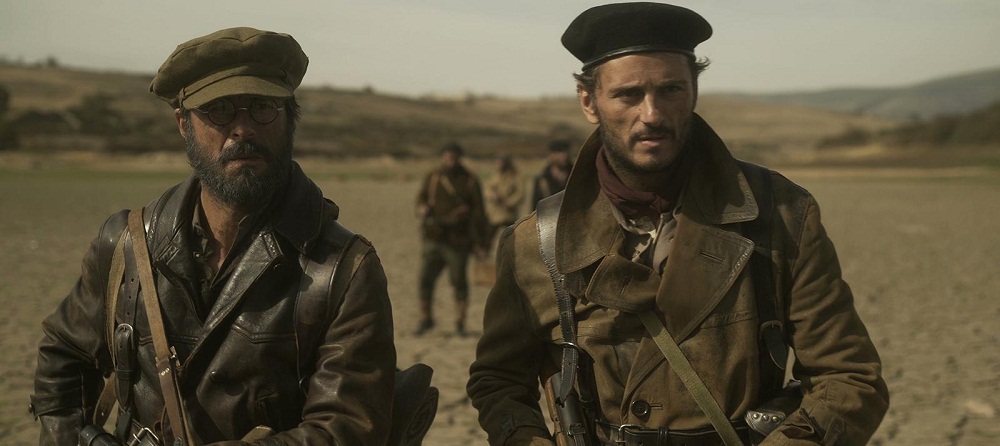 Despite being fictional for the most part, 'The Silent War' creates more of a personal and emotional experience for you through its wilderness skirmishes of Civil War militias that are set in the backdrop of bleak war-torn landscapes. The film naturally reinforces scenarios that perfectly capture its hard-hitting themes and its photography and lighting have been done in a way that gives it a very comic appeal, just like its original material.
Spain
Nothing much has been revealed about the filming locations of 'The Silent War', however, we do know that almost the entire film has been shot in Spain. And since it depicts all the events surrounding the Spanish Civil War, the Southwestern European country serves as the perfect location for the filming of the movie. In an interview, Romanian actress Olimpia Melinte, who plays the role of a merciless sniper named Darya Sergéevich, claimed that after being away for quite some time, she had to return to Spain for the filming of 'The Silent War'. Apart from this, several Hollywood movies like 'Vicky Cristina Barcelona' and 'Tomorrowland' have also been filmed in Spain.