Based on the book series of the same name, Netflix's 'The Witcher' follows Geralt of Rivia and his journey through the Continent as he battles humans and monsters. His story entwines with that of Princess Ciri of Cintra, who discovers that she possesses the Elder Blood, which makes her incredibly powerful. Their paths collide with Yennefer of Vengerberg's, a formidable character who has been through a tumultuous journey of her own.
Another character who plays an important role in Geralt's journey is Jaskier. A bard who forges a friendship with Geralt and writes songs about him, Jaskier's character evolves through the seasons as he becomes more involved in politics and war on the Continent. One of the things about him that has kept the viewers guessing his sexuality. Skirting around its true nature, the third season finally confirms it. Here's what you need to know about Jaskier. SPOILERS AHEAD
Is Jaskier Bisexual?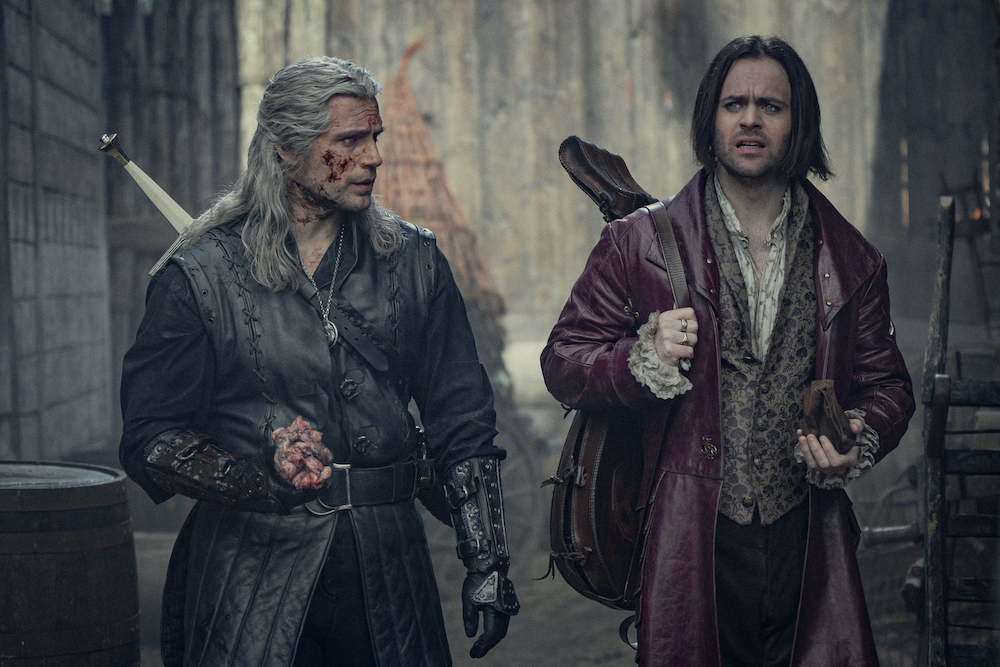 The first two seasons of 'The Witcher' focus on Jaskier's building reputation as a bard, but by the third season, he also becomes well-known for his promiscuity. Traveling across the Continent, he has sexual relationships with a lot of people. A conversation with Vespula reveals that Jaskier has had many sexual encounters over the years, which includes but is not limited to "men, women, dwarves, and polymorphous," to which Jaskier says that he doesn't regret any of them.
It confirms that Jaskier is not heterosexual, and his sexuality is more fluid. Fans had been curious about this since the first season, where they pointed out the intense chemistry between him and Geralt. In the second season, we find Jaskier in a post-break-up era with Geralt. To many viewers, it seemed like Jaskier was acting like a jilted lover, and this might have to do with his feelings for Geralt. However, actor Joey Batey and the creator of 'The Witcher' confirmed that the relationship between Geralt and Jaskier is purely platonic and more about exploring male friendship.
While he may not have been in love with Geralt, Jaskier develops a crush on another man whom he admires greatly. In the third season, he meets Radovid, the brother of the King of Redania. Radovid is intelligent and charming, and he and Jaskier exhibit instant attraction. At first, Jaskier denies his feelings, but then Vespula points out that he has a crush on Radovid. The next time he meets Radovid, they have a heated moment and kiss each other. Joey Batey talked about this new turn in Jaskier's life and explained how it builds the bard's character, giving much more space for his story to be explored and for him to evolve.
"He's having his hot girl summer. It's been really rewarding to see [his love life] told in a very visual way. [We] ensured that these romances are told truthfully — and sensitively and carefully, without resorting to stereotypes… Hopefully, we've created something that is special, a sapioromantic and sapiosexual [connection] that is as flawed as any other relationship in this show," he said. Considering all this, we can say that Jaskier doesn't concern himself with gender but is more interested in who they are as a person.
Read More: How is Roach Alive in The Witcher Season 3?