DC comics, for me, have always packed a hell of a punch. Having grown up with these characters, I naturally rejoiced when I first heard about DC setting up its own shared universe that has long been in the works. Kicking off with 'Man of Steel' in 2013, DCEU has somewhat come into its own, stumbling a bit along the way. 'Justice League' is slated for release this November, and a number of other projects are in the pipeline in various stages of production, including 'Aquaman' (2018), 'Shazam' (2019), 'Cyborg' (2020) and 'Green Lantern Corps' (2020). Sequels for 'Wonder Woman', 'Man of Steel' and 'Suicide Squad' are also in the works, with WB considering the possibility of a 'Gotham City Sirens' film and a film based on 'Justice League Dark' too! I say, bring 'em on. Meanwhile, here's a list of facts you should know about the DCEU to keep you hooked as you wait for new releases to hit screens!
Possible SPOILERS ahead.
1. The Curious Case of the Group Photograph
One of the reasons why Diana Prince is around in 'Batman V Superman: Dawn of Justice' (2016), plotwise, was to retrieve an old photograph of her with some comrades (Steve Trevor, Sameer, Charlie and The Chief) shot in Belgium, in the year 1918. This first raised Bruce's suspicion that Diana was no normal human. Interestingly enough, the shooting of 'Wonder Woman', the film wasn't to be underway for another 6 months or so, but this photograph was the first thing shot for the film during BvS's shooting. The cast and crew were assembled, and a set created for shooting this picture. It however became a painstaking task for the cast and crew to recreate the shot in the actual Wonder Woman film, which was released in June 2017.
While shooting the scene following the no man's land sequence, director Patty Jenkins had to recreate the exact conditions as shown in the photograph from BvS, which proved to be an arduous task. While there are few noticeable differences clearly visible, I'd say Jenkins and team did a fine job at continuity and universe building.
2. Green Lantern Fans, Rejoice! (Maybe?)
Justice League is one of the most highly anticipated releases this year. While all the major players seem to be there, (cough*Superman*cough), there was much speculation and unrest among the fans regarding the presence of two of the founding members of the league, Green Lantern and Martian Manhunter. While no information on the Martian Manhunter in the DCEU has been indicated yet, his appearance is as good a guess as any. Green Lantern fans on the other hand, take this with a pinch of salt, as Hal Jordan is rumoured to appear towards the end of the Justice League film. Apparently the studio didn't want Lantern included in the main roster until his standalone reboot titled 'Green Lantern Corps' due for release in 2020, owing to their last outing with the character being a total disaster. While the casting choices are unclear, my guess is that they are going with the 'New Frontier' storyline. Either way, the hype is real!
3. Law of Natural Selection
When Henry Cavill first auditioned for the role of Superman in WB's reboot of the character, 'Man of Steel', he was made to wear Christopher Reeve's iconic Superman suit as part of the screen test. Reportedly, everyone expected to have a hearty laugh, but when he came out dressed all old school, nobody let out as much as a chuckle. It was at this moment that Snyder realised that he had found his Superman, and the rest as we know is history. Snyder took to his Vero account to share this throwback picture from Cavill's screen test. For a guy who already looked like a Greek God before his otherworldly transformation for the role, we don't blame you Snyder!
4. DC is good with Dates!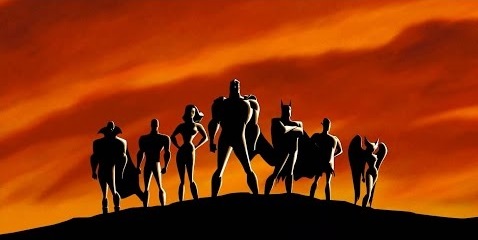 Since its inception close to eight decades ago, DC Comics has established new milestones and achievements in the comic book world, and safe to say, in the movie world too. With DCs current series of cinematic outings (the DC extended universe) mostly coinciding with close to 75 years of its characters' existence, DC seems to have clearly planned out its movies' release dates to commemorate significant anniversaries. Take this, the release of 'Man of Steel' coincided with the character's debut completing 75 years in 2013. A similar thing happened with Wonder Woman, with the character celebrating its 75th anniversary last year, also marking Wonder Woman's cinematic debut. Also, David Ayer, as a tribute to the Joker, released Jared Leto's official first look as his Joker on the day of the character's 75th anniversary. What's more, 'Justice League' will be out on 17th November this year, exactly sixteen years since the vastly popular animated series for the Justice League first aired!
5. A Mis(s)cast avoided!
Fate works in mysterious ways, sometimes in our favour. We all loved Gal Gadot's performance as Wonder Woman in both BvS and her standalone flick. The infectious charm this lady exuberated had me swooning all over. But a lesser known fact is that Gadot auditioned for a different part in the DCEU. She was signed on to play Faora Ul, Zod's faithful deputy, in 'Man of Steel' (2013). In a fateful turn of events, Gadot had to give up the role because of her pregnancy at the time, and Antje Traue was cast in her place. Needless to say both women nailed their respective roles, redefining badass. It would have been interesting to see what Gadot would have done with Faora's character, but it is now better left to the imagination.
6. Let's put a smile on that face! (And give him some lines.)
I for one have absolutely no problem with Snyder's self-serious and somewhat dour take on the man of steel's story. It's a different kind of portrayal seeing how a man of power would find a footing in the modern world. What I do have a problem with, is the character receiving a completely secondary treatment in a film that was initially intended to be its sequel in the first place. So much, so that Henry Cavill's Superman had only 42 lines of dialogue in the entire film!
Superman's lack of character development was also a frequent complaint associated with BvS. Although, the Ultimate Cut of the movie may have upped the number by a small amount and solved some of the issues with the character, the damage by then had already been done. So much for having your name in the title and getting killed in the end.