Each year there are a group of films I pull off the Blu Ray shelf to watch, again, as I have been doing for as long as there has been home entertainment. They capture the magic of the season, they bring it home for me. Here is the list of funny Christmas movies that are going to warm your heart.
1. A Christmas Carol (1951)
'A Christmas Carol' tops the list for me of all films about Christmas. It is a beautiful, literate telling of the Scrooge story acted to perfection by the great Alastair Sim who was never better, nor has any other actor ever portrayed the role as well. His scowl, his sneer, his humbug are filled with a searing dislike of humanity, as he holds them in contempt, trusting no one, worshipping the golden idol, money that has taken possession of his heart. The spirits who visit are superbly realized taking him through his life and the lives of those around him. Through these visits, the old man learns much about himself and more those around him. The morning after is a comedic delight, as he wakes, alive, filled with joy, overjoyed with the thought of being alive, having the ability to change. He runs about, dizzy with delight, he stands on his head, he smiles, laughs till he weeps, buys the prize turkey and sends it to his much put upon clerk Bob Cratchett, raises the salary of his maid, and raises Cratchett's, wanting to help his family and Tiny Tim. It is a brilliant piece of acting in a magnificent adaptation of the great Dickens novel. His joy is so complete you weep with joy at his change.
2. A Christmas Story (1983)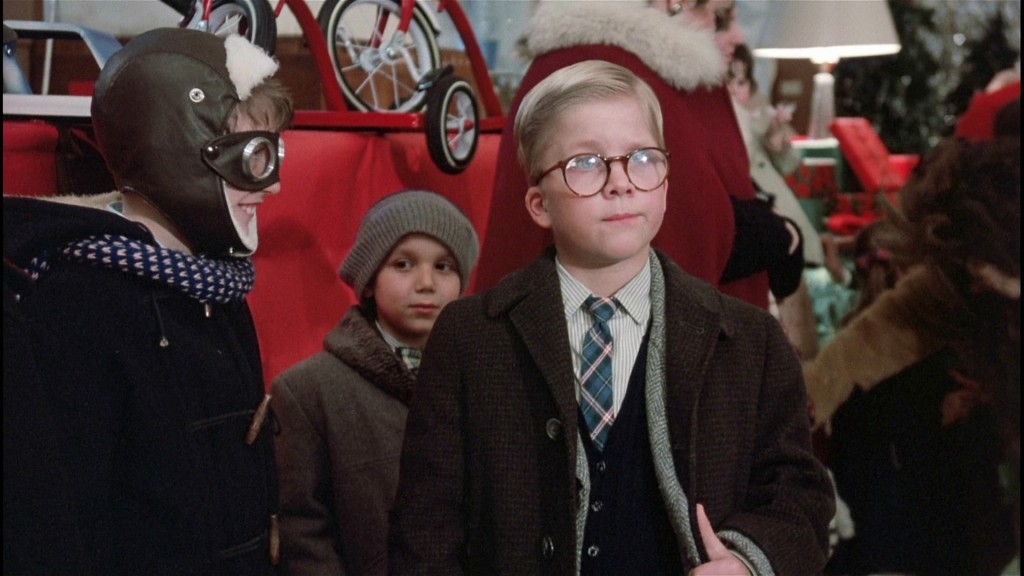 'A Christmas Story' is a wonderful Canadian film that became a classic through the years with repeated viewings, slowly building an audience until it became a staple of the season. It is Christmas, the late fifties, and Ralphie (Peter Billingsley) wants a Red Ryder air rifle for Christmas but is told by everyone, except his gruff father that he will put his eye out. Everything within the film feels familiar, we look at the characters and say, I know that man, I am that man, or woman, or child. Everything about the film is perfect, from the warm performances of his parents portrayed by Darren McGavin and Melinda Dillon, his little brother, school teacher and bully Scott Farkus. When Ralphie open his present it is with a mixture of awe and wonder and because his mother knew nothing about it, we gain greater insight into how much his father loves him. Just a breathtaking work.
3. The Polar Express (2004)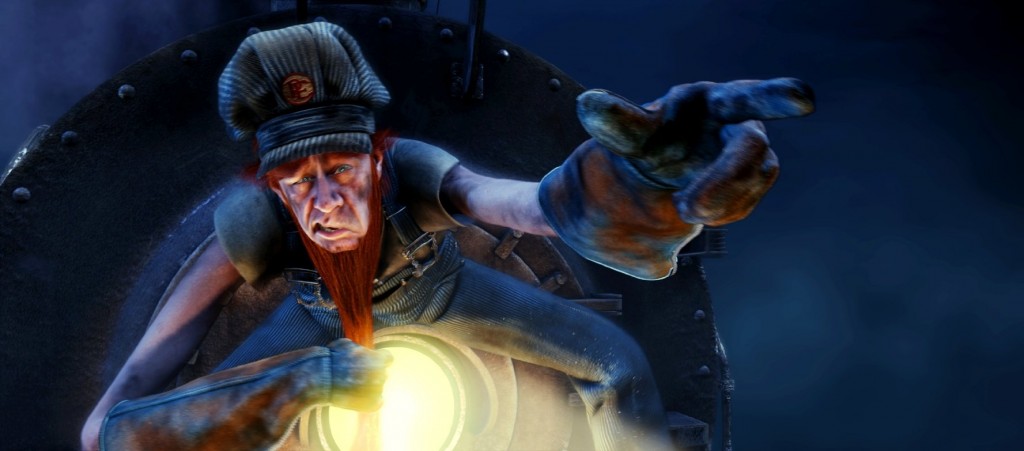 'Polar Express' was directed by Robert Zemeckis using motion capture, and creates the most extraordinary visuals of the North Pole, Santa and his workshops ever put on film. Again there is such a familiar feeling to the film, born out of the wonder of being a believer and a child, when the magic of Christmas was absolute. A boy is on the cusp of not believing in Santa Claus anymore, and Christmas Eve, the magical train, The Polar Express shows up to take him to the North Pole to meet the man in the red suit, forever restoring his faith. The train races through woods, down impossible hills, across cracking ice, straight into Santas village, where the elves are gathering for the annual bestowing of the first gift of Christmas. Tom Hanks portrays several roles in the film, without ever intruding into the story. So many magical moments, truly magical highlight the film, from the wolves in the woods running alongside the train, the extraordinary ride down wooden tracks, the first appearance of the gymnastic like elves, to Santa himself. A beautiful score and great song feel like bonuses to a brilliant movie that deserves attention. We took the girls to see it at the IMAX theatre in Toronto, 3D and I remember four-year old Ariana reaching for the snowflakes and staring and pointing, wide eyed when Santa showed up. Miraculous. Eventually we come to understand the boy believes because he has to believe, he needs to believe. Deep in all of us is a sense that the magic of Christmas is something we all need to believe in.
4. Bad Santa (2004)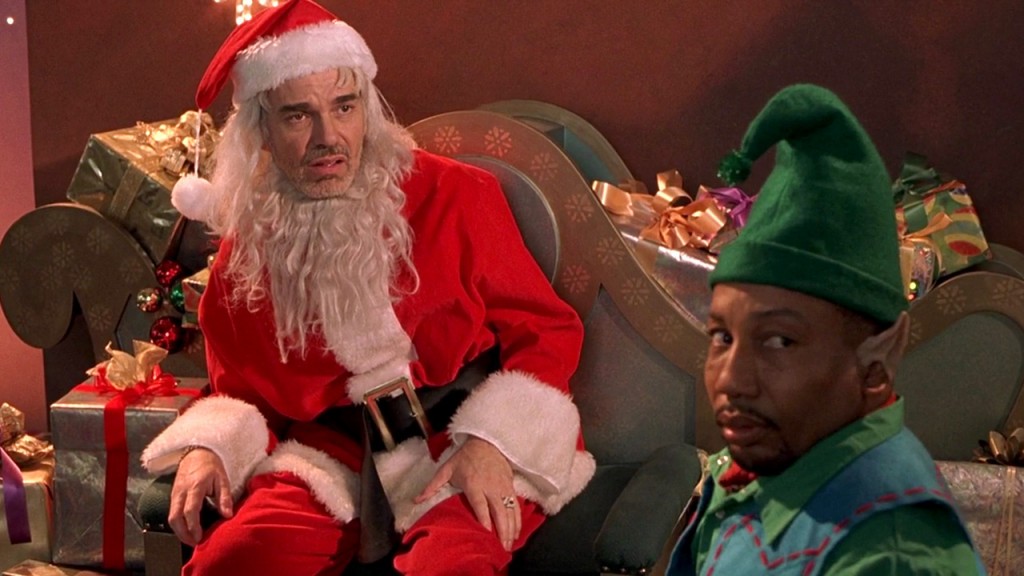 'Bad Santa' is a superb black comedy about a crook, drunk, womanizer and all round rotten guy who finds redemption at Christmas time through the love of a Santa obsessed barmaid and a little boy who is an outcast among friends. Each year Willy (Billy Bob Thornto) joins forces with his partner Marcus, a little person, and they find work as department store Santa and his elf. Their plan of course is to case the place while working, and rob it Christmas Eve before leaving town. The trouble is Willy is a drunk, foul-mouthed, rude, sex obsessed and he brings all that to the Santa chair. Thornton is irreverent as one can be, yet slowly the love a barmaid has for him, and the faith a little boy has in his friendship begins to thaw his heart. In his own, strange way, like Scrooge, he changes, becoming a good man…well as good as he can be. Understand this is as black a black comedy as you can get and NOT for children…at all. But it makes me laugh, it makes me smile.
5. It's a Wonderful Life (1946)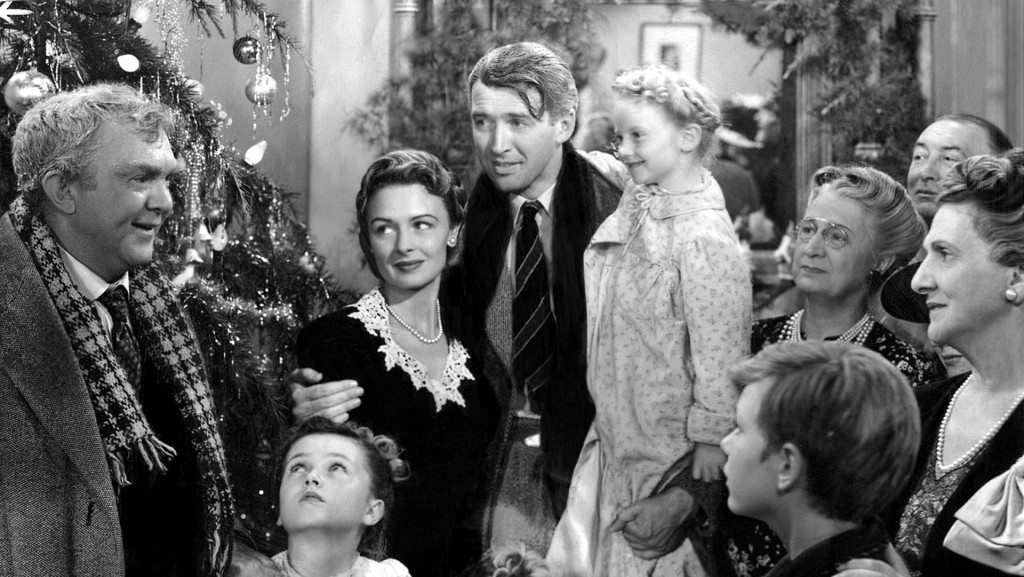 'It is a Wonderful Life' was never meant to be a holiday film, yet through the years it's lovely sense of hope, that burning message, love thy neighbor, has helped make it a Christmas classic. This was the first film James Stewart made after the war, and it is often forgotten he was a fighter pilot, twenty one confirmed kills, but like many the war changed him. It was evident in his acting, there was something darker about his work, sadder, a man at war with his own demons. He is George Bailey, a likeable dreamer who marries and fills a home with children never realizing his dream to see the world. Faced with financial ruin through no fault of his own, he decides to kill himself but is instead given the chance to see how his world would have unfolded had he never lived. Stewart gave the best performance of his career here, Capra directed his finest film, it is a timeless, brilliant, sometimes haunting film.