Although it has been over five decades since the infamous break-in, Watergate Scandal remains a matter of fascination for people, though the reason behind the interest has changed over the years. America has faced corruption and scandals of much bigger scales since then, making Watergate seem almost trivial in comparison. The current fascination about the incident mostly stems from the audacity and stupidity of those involved. Episode 2 of 'White House Plumbers' introduces a character named Dita Beard.
Portrayed by Kathleen Turner, Dita is a lobbyist who represents a company called International Telephone and Telegraph Corporation (ITT). At the start of the episode, she creates a memo detailing that ITT paid bills worth $400,000 for hotel rooms in San Diego for the 1972 Republican National Convention. She refers to Richard Nixon's attorney general, John N. Mitchell, in the memo. In exchange, the Justice Department promised to settle an anti-trust lawsuit. If you want to know more about Dita and what happened to her in the years after Watergate, we got you covered.
What Happened to Dita Beard?
Dita wasn't necessarily involved in Watergate but was allegedly part of another scandal that preceded it. After journalist Jack Anderson gets hold of the memo and puts it out in the newspaper, causing nationwide outrage, a Senate investigation began, with Dita, a longtime Republican, set to serve as the key witness. The series depicts that, on the indirect instructions from the higher-ups at the White House, Howard Hunt (Woody Harrelson) and G. Gordon Liddy (Justin Theroux) convince Dita to lie while she speaks to the Senate subcommittee and claims that the memo is a forgery.
A December 1973 New York Times Report on the subject confirms what is depicted in the HBO series is true. As we see in the show, she appears to have a heart attack while giving testimony to a Senate subcommittee in a hospital in Denver, Colorado, forcing the members of the committee to stop. The New York Times also reported that the Senate Judiciary Committee hired two cardiologists to examine her for heart disease, but they found none.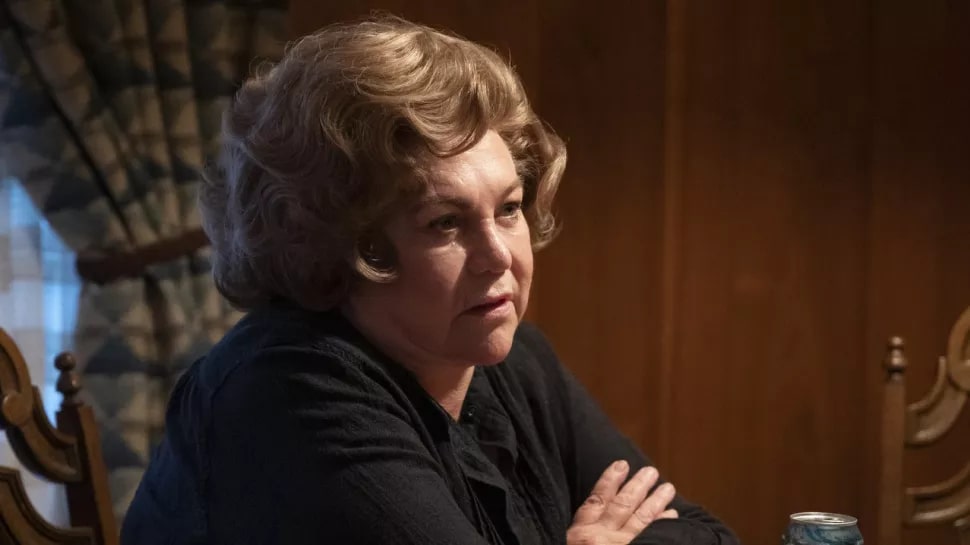 During his testimony before the Senate Watergate Committee, Mitchell claimed that following orders from the White House, Liddy got Dita out of Washington and to Denver. In her testimony in 1974, Dita vehemently denied this, claiming that she came to Denver on her own.
The Washington Post reported in 1982 that she retired from ITT on a disability pension in 1976 and, at some point, moved near Shepherdstown, a town in West Virginia. She had a sheep farm for a number of years but had to let it go because of the rising cost of labor and feed. She told the outlet she had a "history of a screwy heart from the shock of all that filth." Asked why she turned down offers to write a book, she said, "It was all such a big lying mess, why go back through it all?"
In an interview with Town & Country Magazine, Turner reflected on her decision to portray Dita in 'White House Plumbers.' "What a character! There were times when we were working when I said, stop me if I go too far, and the director was like, no, it's fine! Part of the fun is that she's the only one who made it out of this thing; she ended up on a horse farm instead of in jail," she said. "There's this insane arrogance of these people, who thought they could do whatever without any consequences. I don't know about you, but I certainly see some parallels today. That's why you laugh, of course—until you remember it's all true."
How Dita Beard Die?
Born Adele Fournier Davis on November 27, 1918, in Fort Riley, Geary County, Kansas, Dita was the third of four daughters of Col. Robert Davis. Even though she didn't graduate high school and never went to college, she navigated the US corridors of power, at least for a while. She was married two times and had five children, one of them being Edwina, who appears in the show.
Dita died on July 9, 1992, in Denver, Denver County, Colorado. She was 73 years old at the time. She clearly returned to Colorado in the decade between the Washington Post interview and her death. She is interred at Columbia Gardens Cemetery in Arlington, Arlington County, Virginia, along with her youngest, Cameron Duncan Beard, who was killed in a vehicular accident in 1974.
Read More: White House Plumbers Episode 1 Recap and Ending, Explained