Investigation Discovery's 'Obsession: Dark Desires: The Stalker's Imagination' depicts how Katerina Brundt was 23 when she met 42-year-old Frank Sheridan while he was traveling in Russia. They got engaged, and he moved her to America. Sadly, the wonderful dream quickly fell apart as Frank became abusive. The episode weaves a dark tale of obsession and stalking that ends with a tragic twist. If you're interested in finding out more, we've your back. Let's begin then, shall we?
What Happened to Frank Sheridan?
Born in 1977 in Novosibirsk, southwest Siberia, Katerina Brundt was an art student who loved fine arts, theatre, and ballet. Her parents split up when she was a child, and she lived with her mother, a costume designer at the renowned Novosibirsk Opera and Ballet Theatre. Katerina reminisced how her childhood was a fun and colorful world of make-believe as she grew up seeing world-class performances from the best seats in the house and dreamed about meeting her prince charming.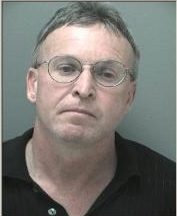 Around the turn of the millennium, Katerina was a 22-year-old art student at Novosibirsk State Pedagogical University, staying close to her family and growing up in a loving and protective environment. However, she yearned for the prince charming she dreamed of growing up and placed a personal advertisement in a matchmaking catalog. Katerina's picture and details attracted 38-year-old American plumber Frank Sheridan, who found her description refreshing and saw an opportunity to obtain himself an "obedient wife."
A resident of the Towne Lake area of Woodstock, Atlanta, Frank was nearing his 40s and felt it was time to settle down. He and Katerina connected, with him sending her letters and flowers, and they talked over the phone frequently. Hence, she was thrilled when Frank told her he was planning a trip to Siberia to meet her in person. Katerina was prepared to meet her American love interest and quietly planned their happily ever after. However, she was a little disheartened when Frank arrived as he wasn't quite what she had pictured.
According to the episode, Katerina thought Frank looked much older than in the pictures he sent her and wasn't as romantic and kind as she had perceived him to be over the phone. Nevertheless, their relationship warmed over his 10-day visit, and they continued their long-distance relationship. Frank returned to Siberia to propose to Katerina, and the couple was married in a beautiful July wedding in Georgia within a year of meeting face-to-face for the first time.
Unfortunately, Katerina realized her newlywed husband did not deem her to be his companion or his equal as soon as she moved to America — she was no longer his "Siberian Princess." She was tasked with all the household chores, and he allegedly forced her to have sex whenever he wanted, irrespective of whether she consented. In the show, Katerina recalled her days comprised of cooking, cleaning, doing the laundry, and making herself available to Frank.
Where is Katerina Brundt Now?
Katerina was repulsed and grew mortified by what her life had become. Three months into their marriage, Frank began to abuse her physically, isolated her from her family, and exerted complete control over her, financially or otherwise. After months of abuse and feeling claustrophobic in their sham of a marriage, Katerina built up the courage to confront him and told him that she wished to return to Russia. Still, she was unprepared for his reaction to the news and the ensuing events.
A furious Frank fetched a knife from the kitchen, and a mortified Katerina was sure he would murder her. Yet, to her surprise, he allegedly stabbed himself with the blade and called 911 as he bled profusely. When the officers arrived at their residence, Frank claimed his wife had stabbed him. Judging by the situation, the police arrested the flustered woman and charged her with aggravated assault and battery. Katerina recalled her bond was set at $15,000, and given her financial situation, only Frank could bail her out.
According to the episode, Frank visited his wife in prison and said he'd only bail her out if she agreed to stay with him. Regardless, she escaped prison with the help of some kind-hearted individuals, who snuck her to a women's shelter in Canton in February 2002. But Frank tracked Katerina down with a private investigator's help and allegedly threatened her. When she refused to return, he filed for divorce and removed himself as the sponsor on her US residency application. As a result, she faced the threat of impending deportation to Russia.
As Katerina fought her deportation with the help of her newly-made friends, Frank incessantly stalked, harassed, and threatened her. During her nine-month stay at the women's shelter, she met Marietta-based mechanical designer Jeff Brunot. Their relationship flourished, and she moved in with him after the INS granted her the right to stay in America in December 2002. Despite this, Frank refused to leave Katerina alone and continued stalking her till he was arrested for aggravated stalking and spent close to five months in prison.
Frank Sheridan was found guilty of aggravated stalking, given five-year probation in January 2004, and released on a $10,000 bond. According to the episode, he stayed away for the first few weeks before he was caught on surveillance footage cashing a cheque of more than $5,000 by forging Jeff's signature. This violated his probation, but Frank vanished before he could be arrested. Police kept surveillance on his house until Sheriff's Deputy Patrick Neal saw him arriving at 3:00 PM on August 10, 2004.
When Deputy Neal approached Frank to arrest him, he took out a loaded shotgun and fired at the police officer. The law enforcement official recalled being hit five times before he fired back and ultimately killed him after a reported exchange of 25 rounds of ammunition between the two men. After Frank's death, police learned he was moving to North Carolina, had rented an apartment, and joined a shooting club under a false identity. To respect her wish for privacy, Katerina's address has not been posted in the report.
Read More: Sherry Shriner: Where is Alien Reptile Cultist Now?