'MasterChef USA' is an American cooking reality series that has kept audiences hooked with its exquisite cuisines prepared by home cooks. It is a golden ticket for the contestants to be guided, polished, and sometimes intimidated into being the best version of themselves. Season 2 premiered on June 6, 2011, and came without the illustrious cookbook deal for the first time.
The winner of this edition is a typical example for the show to prove how an amateur has as much chance of being victorious as someone who has been pursuing the craft for years. Irrespective of a non-culinary background, one only needs passion and potential for the trade. We got intrigued to find out what have the contestants been up to. Here is everything we know!
Where is Jennifer Behm Now?
Jennifer Behm came to the show as former Miss USA and realtor, both appreciable but having no connection to the competition series. Initially, the three-judge panel, Gordon Ramsay, Graham Elliot, and Joe Bastianich, could clearly see her struggling to curate above-average dishes. But she did not pay heed to the naysayers and proved her mettle with sheer determination and ability to learn from her mistakes.
After winning the prestigious title and an enormous prize of $250,000, she could finally turn her dream of cooking for a crowd of people into reality. In November 2011, she launched her catering company, Pink Martini Catering, which provides its services on both the East and West Coast. After getting married to Julio Lazzarini, a chef-owner of Orillas Tapas Bar & Restaurant in Wilmington, she partnered with him and opened Red Fin Crudo + Kitchen in 2015. Jennifer frankly shares her story of success.
She had to shove her way through by cooking at festivals and events like The James Beard House, the National Mushroom Festival, Saborea Puerto Rico, and British Virgin Islands Winemakers Dinners, to name a few. The FOX Network's show also ingrained in her the confidence to motivate others to follow their passion. In addition to running successful businesses, she has also been a motivational speaker for almost a decade. She has recently collaborated with Home Cannabis as the Culinary and Compliance Partner.
Where is Adrien Nieto Now?
Back when he appeared in season 2, Adrien Nieto was unacquainted with professional cooking but was passionate and persistent to excel at it. His journey on 'MasterChef' was not as smooth as one would imagine, as being yelled at by the celebrity chef, Gordon Ramsay, on national television can be quite humiliating. Often at the Bottom Three in the show, the Ventura County native came really close to winning the coveted title prize, and many believed his meal course to be far superior to Behm's. Adrien turned his "almost" win into a successful career path.
For a brief period, Adrien worked as a server at BJ's Restaurant and Brewhouse in Oxnard. In 2014, Adrien joined Frank Underground as the co-chef. The Michelin-star restaurant was founded in 2012 by his 'MasterChef' competitor Jennie Kelley, who teamed up with Ben Starr from the show. Not much is known about the other ventures that Adrien delved into after being declared the second-best on the iconic cooking show.
Where is Christian Collins Now?
The stay-at-home dad climbed the ladder to success after displaying his acumen in the kitchen. Since his time on the show, Christian has devoted himself to progressing behind the stove and experiencing domestic bliss. He has since participated in the World Food Championship in Las Vegas and even cooked at Chef Graham Elliot's eponymous Chicago restaurant. He has also kickstarted his private chef service entitled Sustenance. Based in Gloucester, the television personality also enjoys life as a father and husband.
Where is Suzy Singh Now?
After chucking engineering for food and cooking, the first-generation Sikh expat decided to choose a career in the culinary arts instead of neurosurgery. Since making her mark on the show, Chef Singh has earned credentials at the Le Cordon Bleu Chicago and worked with Kulfi & Company to research and develop frozen ice cream. She has also established Suzy Samosas, Chicago's first collaborative food truck. Besides this, the South Asian has also worked with renowned chefs and even held a stint as a culinary director at Chicagoland restaurants.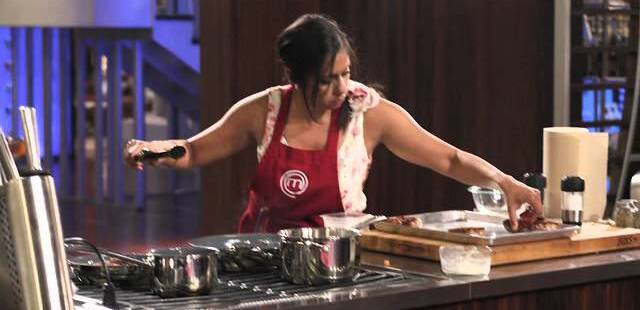 Not just this, Suzy has become a television personality and has repeatedly been seen on famous networks. She currently works as a Food scientist at Now Foods and also works as an R&D Corporate Chef. Other projects that fill Suzy's schedule are the Event Direction and Management for the Chicago South Asian Film Festival. The private chef also delivers a myriad of services for corporate events, weddings, and private parties. She is happily married to Amit Wadhehra, and the couple also share parental duties.
Where is Ben Starr Now?
Since his appearance on the show, the nature enthusiast has continued to maintain his love for the environment. The reality TV star is now working as a forager chef and often posts his latest findings in the woods on Instagram. Besides posting informative content on rare and wild mushrooms, the chef has also appeared on 'The Rachael Ray Show,' and HGTV's 'All American Handyman.'
Other than procuring and creating his own food, Ben is also an adventurer and continues to explore several places. The husband and father of two hopes to create a sustainable, off-grid guest farm in Hawaii and hopes to make travel much more sustainable. The chef has also authored, 'Food For Thought,' and 'So You Think You Can Cook?' cookbooks.
Where is Tracy Kontos Now?
After leaving behind her life behind in Florida, Tracy plunged into the field of cooking. Since her appearance on the show, she has exponentially grown as a chef. Based in Los Angeles, Tracy is now working as a private chef and offers her sustainable cooking services for corporate events, private parties and a variety of catering events.
Besides this, the television personality also runs her own blog and consistently posts her latest recipes online for fans to discover. As a sustainable farming enthusiast, Tracy is also the founder of WILFS (Women in the Local Food Scene) and continues to enjoy other aspects of her profession. The wife and mother of three also enjoy domestic bliss.
Where is Derrick Prince Now?
With a variety of creative interests, Derrick has continued to exponentiate his growth as an artist and chef. From playing metal to appearing in productions like 'Spicy Hound Extravaganza,' 'Vive Katerin,' and 'Chopped,' Derrick has consistently scaled his success. Based in New York, Derrick is currently the Chef at The Stanton Social. He has also appeared on a broadcast of 'The Grindhouse Radio.' The chef is married to Sharon Lynn Prince and continues to expand his portfolio as a musician and cook. He also shares his latest creation in the kitchen with fans online.
Where is Christine Corley Now?
After appearing on the show, Christine continued to keep working on several projects. While the reality star had kept a relatively low profile on social media, she reconnected with fans and audiences in 2019 after she was diagnosed with a life-threatening disease.
A hepatic liver and transplant specialist diagnosed her with cirrhosis and informed her that her condition would eventually culminate in death within a matter of months. However, the former chef did not despair and continued to strive despite the impediments in her way. Since then, Christine has come a long way and remains a devoted mother to her son. Fans and readers can also find more about her health complication on her GoFundMe page.
Where is Alejandra Schrader Now?
Having displayed her acumen in the kitchen, Alejandra has continued to climb new heights. The chef has since held cooking demonstrations with her cast members, authored her cookbook and even appeared on podcasts and inspired others as a keynote speaker. The author of 'The Low-Carbon Cookbook' is operating her eponymous brand as a chef, menu designer and principal consultant. She has also appeared on HGTV to display her knowledge of produce.
She is the ambassador for The Periodic Table of Food Initiative. The Los Angeles-based chef has even appeared on 'Mercy No Mercy: 1992' and 'Mary Tyler, Millennial.' Besides this, the content creator and online personality enjoys life with her daughter, Chrissy.
Where is Giuseppe Morisco Now?
Weaving his Italian heritage into his food, Giuseppe hoped to revolutionise flavors and taste. After his appearance on the show, the contestant moved to Costa Rica and began working as a private chef. While the television personality has succeeded as a cooking professional, he likes to keep his private life under wraps. The chef posts seldomly on his social media platform and shares recipes for fans to devour.
Where is Erryn Cobb Now?
After mistakingly burning the steak, the former public relations expert ended up getting booted from the show. Since making his exit from the cooking show, Erryn has continued to share his fancy as a culinary enthusiast. While the participant has returned to his career, he still shares snippets of his interest as a cook on social media. After the show, Erryn reclaimed his position in Public Relations and ultimately became the CEO and co-owner of Fetch Public Relations LLC.
Where is Esther Kang Now?
Despite losing the top spot, Esther managed to gain valuable insight into her capabilities as a cook. Ultimately, she was booted from the show after failing to impress the judges during a cocktail party challenge. After the show, she returned to her career in law. Since then, she has become an industry leader and held roles at companies like Liner LLP and Irell and Manella LLP.
She was previously the Senior Vice President of Business and Legal Affairs at Lionsgate. Based in California, she is currently the Head of Business and Legal Affairs at Avalon Entertainment. On the personal front, she shares equal happiness with her husband, Sam, and children – Isabelle, Emma and Ethan.
Where is Jennie Kelley Now?
While her time on the show was cut short after an unmitigated cooking problem, Jennie has still managed to exponentiate her growth as a culinary expert. The chef went on to establish Frank Underground, a private dining experience in 2012. The operations are helmed by her co-star Ben Starr and chef Adrien Niento. The dining service provides an array of services for a myriad of events. Besides this, she also works on establishing new pop-ups with her partner, Brandon Moore. When she's not working, she likes to unwind with her friends and dog.
Where is Max Kramer Now?
Throughout his time on the show, Max displayed an affinity for creating and experimenting with the latest recipes. After failing to deliver in a pressure test, Max Kramer went on to recuse himself from a career in the restaurant industry. He has since begun working with technology in law enforcement. The entrepreneur likes to maintain a low profile and continues to keep his life outside public scrutiny.
Where is Alvin Schultz Now?
Hoping to revitalize taste, Alvin had created a deep-fried coffee and doughnuts to wow the judges. Alas, his dish hadn't hit the brief, and he ended up getting booted from the challenge. Nevertheless, he has maintained his mettle behind the stove and continues to work as an ever-evolving chef. He is currently the CEO of Eat.Drink.EXPERIENCE, his culinary services company. The YouTube and Instagram creator also posts regular snippets of his work online for fans to see and even holds a position at Chef Fest. He is also working as a District manager and Sales Coach for In Transition in Houston, Texas.
Where is Tony Scruggs Now?
After picking up the ropes from his Sicilian grandmother, Tony's interest in cooking has never wavered. While his ravioli failed to impress judges in the show, he has since made exponential progress as a chef and restaurant owner. He went on to operate a barbecue catering business in Kankakee before helming the pit at Old Crow Smokehouse, his own restaurant. Based in Chicago, the television personality also loves to spend time with his close ones and enjoy his remarkable success.
Where is Angel Moore-Soukkay Now?
From working as a property manager to finding her calling in cooking, Angel traced a remarkable journey on the show. Despite her early elimination from the competition, the Florida-based chef has not been deterred. She works as a private chef and dabbles in other projects. She is also a content creator and posts her latest cooking videos on YouTube and Instagram. On the personal front, Angel is open about her sexuality but likes to remain tight-lipped when it comes to her relationship status.
Where is Mark Raffaeli Now?
After getting eliminated due to a grave mistake by leaving raw flour in mashed potatoes, Mark Raffaeli returned to his career in real estate. He has since furthered his career as a real estate agent at Compass. The television personality works at Jameson Sotheby's International Realty conference in Chicago. With over 20 years of experience in the field, Mark delivers a myriad of services for clients.