'Riverdale' is a teen drama that is based on the beloved characters of Archie comics. Originally planned as a movie, the concept was later developed into a television series.
The show revolves around the high school student, Archie Andrews and explores the darkness concealed beneath the apparently perfect small town of Riverdale.
Riverdale Filming Locations
It need not be reiterated that 'Riverdale' is set in a fictional town. The titular small town is, like every other on-screen small town, a pretty, somewhat idyllic place with tons of deeply buried secrets. Many viewers might be wondering where the show is actually filmed. Where is the town of Riverdale actually located? Read on.
Harbor Springs, Michigan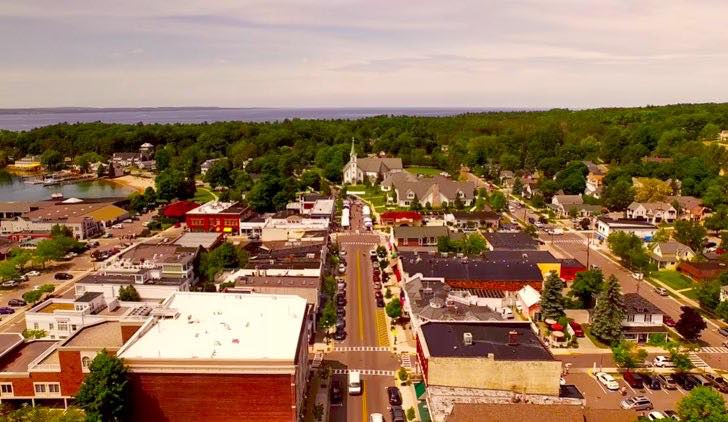 Before jumping the gun, it ought to be noted that the show's action is not filmed in Michigan, or the United States at all. It is only the opening, aerial shot in 'Riverdale' that is filmed at Harbor Springs in Michigan, USA. It is a tiny city and resort community in a bay on the Little Traverse Bay's northern shore.
British Columbia, Canada
'Riverdale' is filmed entirely in British Columbia in Canada. This is yet another instance of a major American production filming in the British Columbia region of Canada. Of late, several American producers have opted to shoot in Canada due to the Canadian government's generous tax credits. Moreover, places in Canada resemble the United States of America aesthetically and that adds greatly to the nation's appeal for filmmakers.
The yellow brick house that the show's protagonist lives in is actually located in the Grandview-Woodland neighborhood in Vancouver, on 2037 E. 3rd avenue. Its street, lined by trees should be recognizable for ardent 'Riverdale' fans.
anyone else confused that betty & archie are next door neighbors yet when you see their houses, they're not next to each other #Riverdale pic.twitter.com/TzgrrTnqD6

— arch & betts (@barchiesrise) July 25, 2018
Although Betty Cooper is shown to be living next to Archie, the actual place where scenes involving her house are filmed is quite far. Her house is located on 111 Queens Avenue in New Westminster, British Columbia.
Moreover, Veronica is shown to be a living in an upscale home known as the Pembrooke on Riverdale. The actual place where Veronica's home is filmed is on 330 West Pender Street in Vancouver. Built in 1907 as a bank, the place now functions as an events venue, generally used for weddings and galas.
The characters of 'Riverdale' are regularly seen hanging out at a local joint known as Pop Tate's Chock'lit Shoppe. In reality, the place where scenes at Pop Tate's are shot is Rocko's Family Diner on 32786 Lougheed Highway in Mission, British Columbia. However, the restaurant was recreated as a set after the pilot was filmed at the actual restaurant. The studio is located on 20146 100a Avenue, Langley, British Columbia.
Was awesome to eat at the location that serves as Pop Tates on the hit series @CW_Riverdale I love the fact that Hollywood uses @HelloBC for a lot of its productions pic.twitter.com/FS1KxJGu1U

— Brian Patafie, 🇨🇦Canada's Original Enter-Trainer (@bpatafie) November 30, 2018
The Riverdale High School is where Archie and his friends study in 'Riverdale.' The place where scenes set in the school are filmed at is the Lord Byng Secondary School on 3939 W. 16th Avenue in Vancouver. However, the school's football field is actually filmed at 5350 E. Boulevard in Vancouver. A few scenes were also filmed in the gym of John Oliver Secondary School in Vancouver.
https://twitter.com/bestofvarchie/status/924336396264914944
Other Locations
Jughead's Drive-In Theatre is filmed at Twilight Drive-In Theatre on 3350 260 Street in Aldergrove/Langley, British Columbia. The place where the Riverdale Town Hall is filmed is actually the Fort Langley Community Hall on 9167 Glover Road in Langley.
Riverdale filming in fort Langley.. looks like they are here for a bit @WhatsFilming pic.twitter.com/jiDXsk0NT8

— Joanne Vangrootheest (@Jeweleddragon69) January 19, 2018
Additionally, the residence of the Blossom twins is actually filmed at the Copper Stone mansion on 21122 12th Avenue in Langley, British Columbia and the Cecil Green Park House in Vancouver. Furthermore, the place where scenes set in the Sisters of Quiet Mercy: Home for the Troubled Youth are filmed is the Riverview Hospital on 2601 Lougheed Highway in Coquitlam, British Columbia.
Moreover, the mobile home office of Archie's father is actually located between Harbour Avenue and Abbot Street in Mission, British Columbia. Additionally, the bar, The Whyte Whyrm is actually Gabby's Country Cabaret on 20297 Fraser Highway, Langley, British Columbia.
The Riverdale Bus Station is actually the Port Moody Station Museum while Mustang's Motel is the City Centre Motor Hotel on 2111 Main Street, Vancouver in real life.
Furthermore, some of the other places where the show has been filmed include North Beach, Lee's Market, Alice Lake Provincial Park, Bowen Island and Mission City Post Office.
Read More: Shows Like Riverdale