Netflix's 'The Matchmaker,' is a Saudi mystery thriller movie that follows a regular IT office worker named Tarek whose life gets turned upside down when he finds himself profoundly attracted to his beautiful intern. Blinded by his infatuation for her, Tarek follows her to a desert resort driven by strange and mysterious forces. In the resort, he comes across a matchmaker who claims he can pair men with the woman of their dreams. However, when Tarek wanders outside the vicinity of the resort, he discovers something bizarre and ends up uncovering an ancient vengeance.
Starring some talented Saudi actors, including Hussam Al Harthy, Reem Alhabib, Nour Al Khadhraa, Rahaf Ibraheem, and Asim Al Awwad, the suspenseful romantic drama movie consists of relatively darker undertones, which complement the mysterious themes of the show. Moreover, the range of different locations, including the desert resort, only adds more depth to the narrative of the Abdulmohsen Aldhabaan directorial. So, if you are interested in knowing where 'The Matchmaker' was shot, we have got you covered!
The Matchmaker Filming Locations
'The Matchmaker' was filmed entirely in Saudi Arabia, especially in and around Al-'Ula. Principal photography for the mystery movie reportedly commenced in mid-June 2022 and wrapped up in a month or so, in mid-July of the same year. Now, without further ado, let us take you through all the specific sites that feature in the Netflix movie!
Al-'Ula, Saudi Arabia
The ancient and historic Al-'Ula was the primary production location for 'The Matchmaker.' Since the Arabic oasis city is a significant part of the country's local culture and ancient history, it made the ideal filming site for the movie, as its stunning backdrop adds more magic to the already magic-filled story.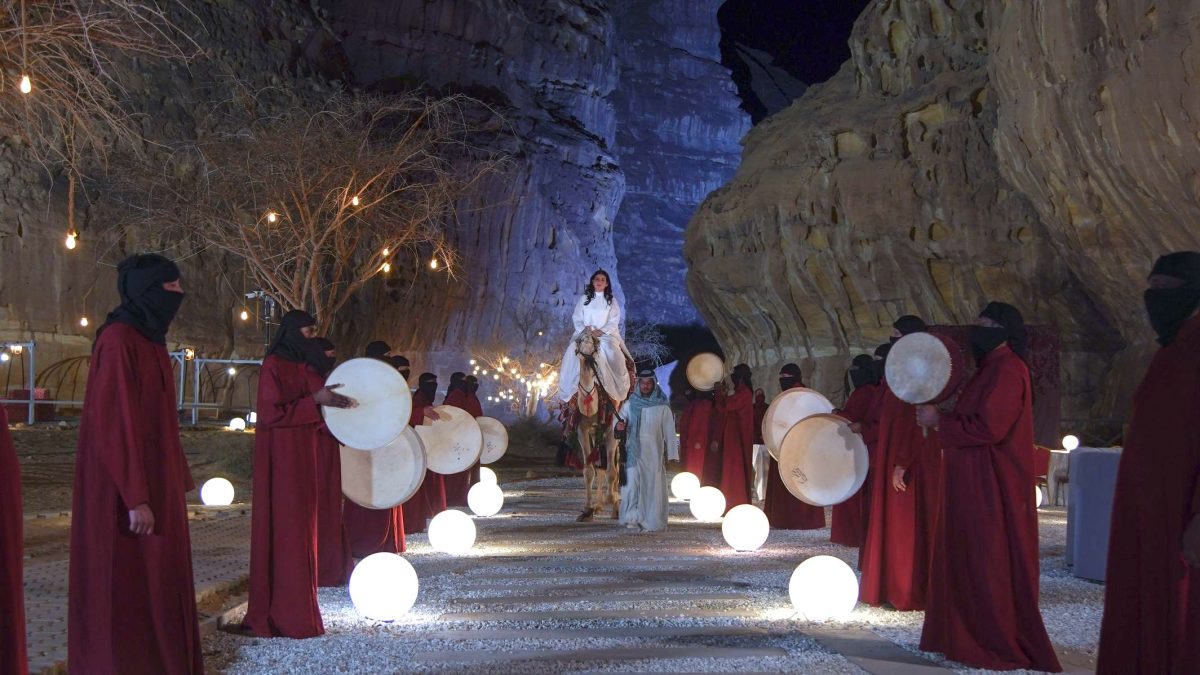 In an April 2023 interview with GQ Middle East, the director Abdulmohsen Aldhabaan was asked about his favorite scenes to shoot or some of his most memorable experiences on set. To this, he replied, "I absolutely loved shooting outdoors! The ever-changing nature of outdoor shoots brings new challenges, like trying to control the weather, and sometimes it can take you by surprise. But I also feel that this is an endless source of inspiration, so it's one of my most memorable experiences from shooting 'The Matchmaker.'"
Situated in Medina province of northwestern Saudi Arabia, Al-'Ula is known for its beautiful landscapes filled with rocks, canyons, and wadis, some of which you can spot in several exterior scenes of the mystery thriller movie. In contrast with these arid surroundings are the lush, palm-filled oases near the city's heart. Some popular attractions and landmarks among tourists in the city are the Hegra UNESCO Heritage Site, Jabal AlFil (Elephant Rock), Al Ula Old Town, Oasis Heritage Trail, Harrarat Viewpoint or Maraya, Dadan, and Jabal Ikmah.
Read More: Best Suspense and Mystery Movies