An Adam F. Goldberg creation, 'The Goldbergs' is a sitcom that predominantly takes place in the Philadelphia suburb of Jenkintown, Pennsylvania, in an alternate version of the 1980s. Goldberg based the show on his own childhood and family. He has always harbored the dream of being involved in films and television and made a number of VHS tapes. These tapes serve as the basis of the narrative in the early seasons, with the related tapes being played at the end of every episode. Joe Perott is a recurring character in 'The Goldbergs' who has been part of the narrative since the seventh season of the series. Here is everything you need to know about him. SPOILERS AHEAD.
Who is Mr. Perott?
Mr. Perott is a Guidance Counselor at William Penn Academy, the school where Adam Goldberg is a student. He makes his first appearance in season 7 episode 12, titled 'Game Night.' He rides a motorcycle, wears leather jackets to work, and has a quiet, masculine presence. When Adam needs to impress a girl, he goes to speak to Mr. Perott, asking him for helpful tips. Initially, Adam is unnerved while the man slices up an apple, fearing that he will cut off one of his fingers, but even then, he can't deny that their new Guidance Counselor is very cool.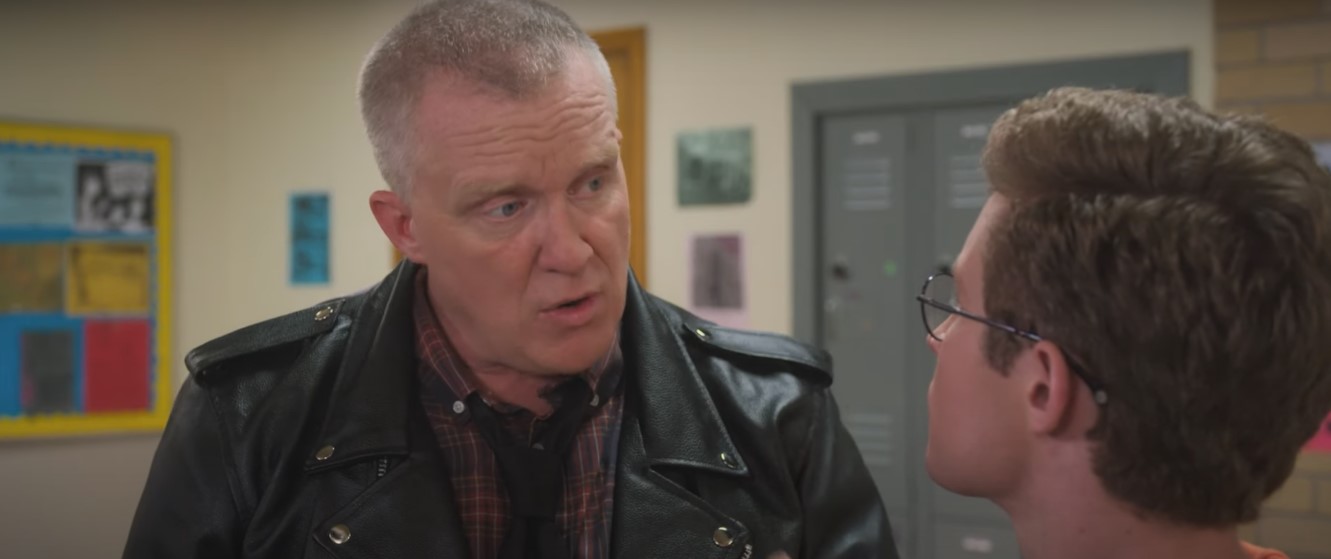 Mr. Perott appears in season 10 episode 12, titled 'Amadoofus,' and tries to ask Beverly out. Clueless when attention is directed at her, Beverly isn't much help. But everyone around them figures it out. Barry hates the idea, while Erica is ecstatic about it. The two siblings even start fighting over this. When Beverly eventually figures it out, she tells Mr. Perott that while she is flattered, she isn't ready to date yet. At the start of the season, executive producer Chris Bishop indicated they had plans to introduce a romantic interest for Beverly that is completely opposite of her late husband. "The joke in the writers' room is that she starts dating an Antonio Banderas type, like the anti-Murray, Bishop told TV Insider. The description does fit Mr. Perott.
Like most other characters in the show, Mr. Perott is based on someone Goldberg knew as a child. The real Mr. Perrott was an educator at William Penn Charter School for more than 40 years. During this period, he guided the lacrosse team to five titles. In May 2020, Mr. Perott passed away at age 84 due to Covid-related complications. "This week, the pandemic took a legend who taught at @PennCharter for decades," Goldberg tweeted afterward. "Joe Perrott was more than a teacher. He was your therapist. So happy Joe got to see Anthony Michael Hall play him perfectly on The Goldbergs, especially because Breakfast Club was his favorite movie."
Who Plays Mr. Perott?
Veteran actor Anthony Michael Hall, known for the 1980s teen classics such as 'Sixteen Candles' (1984), 'The Breakfast Club' (1985), and 'Weird Science' (1985), portrays Mr. Perott in 'The Goldbergs,' In the episode where he makes his first appearance, Mr. Perott shows a photo from one of Hall's early films and points out that he used to be a nerd as well. For a show that celebrates 1980s pop culture, this interaction is such a meta moment.
As an actor, Hall sought to diversify his portfolio and worked in films like Out of Bounds (1986), Johnny Be Good (1988), Edward Scissorhands (1990), and Six Degrees of Separation (1993). In recent years, Hall has appeared in 'War Machine' and 'Halloween Kills.'
Read More: Who Is Dave Kim in The Goldbergs? Where is the Real Dave Kim Now?