When we watch a Hindi film, we rarely come across one belonging to an isolated genre, because there's always some element of romance involved, IN EVERYTHING. May it be action, comedy or even a suspense thriller, a romantic plotline is almost mandatory in every Hindi film. While the omnipresence of love in the air isn't always a bad thing and gives our films a certain distinct identity, it is often an unnecessary distraction from the actual plot (Why did a film as gripping as 'The Legend Of Bhagat Singh' need to have a snoozeworthy romantic angle, song et al?)
Sports dramas such as 'Chak De India', 'Iqbal' and 'Dangal', coming-of-age gems like 'Taare Zameen Par', 'Udaan' and 'I Am Kalam' and thrillers worth their salt, like 'A Wednesday', 'Kaun?' or 'Black Friday' are some of the handful of films which blow us away despite the absence of a romantic subplot. In the sprawling 100-year history of our cinema, I can perhaps count films which contain no romance whatsoever on my fingers. Romance has embedded itself in the very roots of Bollywood.
So the pressing question here is – Why do Bollywood movies almost always feature a romantic plotline? We try to look at the probable reasons for the affinity:
The evolution of Bollywood, genesis of masala films and New Bollywood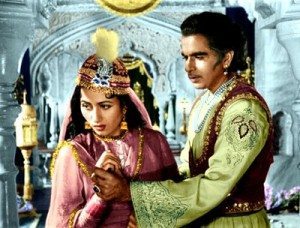 Right from 'Alam Ara' (1931), India's first talkie film, which chronicled the love between a prince and a gypsy, our films have harboured a place for romance. While directors like V. Shantaram, Shyam Benegal and Bimal Roy made significant contributions to socially aware parallel cinema, it was the trio of Raj Kapoor, Dilip Kumar and Dev Anand who thrived and popularised romance through their own distinctive styles in the 50s and 60s, christened 'The Golden Age Of Indian Cinema'. Some of the most critically acclaimed and commercially successful films of the era, like 'Awaara', 'Devdas', 'Mughal-e-Azam' and 'Pyaasa' were romances.
This legacy gave way to the rise of Rajesh Khanna, known as 'India's Forst Superstar', who furthered the trend of romantic confections in the late 60s and early 70s with 17 consecutive hits from 1969.In 1972. Khanna then brought two screenwriters who called themselves Salim-Javed to the fray, who oversaw the rise of films we now know and love as masala films. Typically these films freely mix action, comedy, romance, and melodrama. And while action and comedy are sometimes swapped in favour of each other, romance (and the drama that comes with it) is a staple in every masala fare. Thus romance even survived the onslaught of Mr. Bachcna's 'Angry Young Man' through the 70s and 80s.
The 90s saw the pendulum swing back to outright romances with the rise of the three Khans, all of whom gave us lasting love stories like 'Dilwale Dulhaniya Le Jayenge', 'Hum Aapke Hain Koun' and 'Qayamat Se Qayamat Tak'. They have sustained ever since, and so has romance, thanks to new blood like Ranbir Kapoor, Ranveer Singh and Ayushmann Khurrana joining the bandwagon.
History, Mythology, Culture And Demographics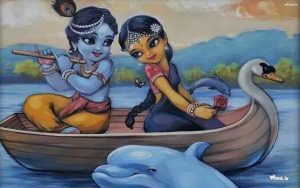 Perhaps the biggest reason for the omnipresence of romance in our cinema is who we are as a nation. Every aspect of Indian culture is seeped with romantic stories. Indian mythology, which has inspired our style of narrative and our love for spectacle, has had more than its share of memorable romances. Heck, Lord Krishna's exploits alone are a treasure trove of inspiration for romantic shenanigans. Similarly, our diverse history is home to mythical tales of everlasting love like Salim-Anarkali, Bajirao-Mastani and Mirza-Sahiban, all of which have already had massive impact on our cinema. Add all those couple-tailored festivals we have here like Karva Chauth, and there's enough material to make saccharine stories for eternity. Demographically too, India's abundance of a youth populations explains a lot about why filmmakers want to involve romantic subplots in their films (because that's all young people talk about right?)
Affinity with music
Another impact of our colourful cultural past is felt on India's affinity for music and dance since times unknown, which is as much a part of our identity as the Four Lions Of Ashoka. Even 'Alam Ara' was a hefty musical, and then began the lasting tryst of Indian cinema and music. But while music has accompanied every kind of Bollywood film from slapstick comedy to gory horror since then, the strongest camaraderie between music and movie is seen in romantic films, proven by the fact that a majority of our greatest soundtracks accompany love stories. Memorable romances and dulcet tunes are a match made in heaven. And thus, our love for music reflects on our love for romances.
Because escapism bikta hai!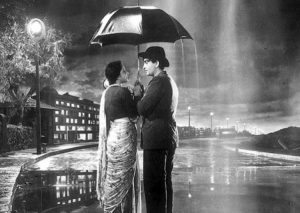 At the inception of Bollywood, India was still undergoing a tumultuous freedom struggle. Thus the films of the 30s and 40s were unabashedly escapist to cater to our needs. Then we gained sovereignty, but the ordeals weren't nearly done. Being a developing country, the majority of our working class still demanded movies which were paisa vasool (money's worth). Even after 70 years, things haven't changed much. We still flock to the theatres to see the good guy beating the baddie to a pulp and staring into the sunset with a pretty lady by his side.
Conservative Attitude towards romance
Sure, we invented the Kamasutra, but ironically India treats romance with almost reverential conservatism. We live in a country where arranged marriages are still the norm, and talking about romance (especially its physical aspects) is as uncomfortable as sitting on a sharp spear and as cryptic as an Alan Turing code. In light of this, we look towards movies to see uninhibited romance in all its glory. Granted, the 'two flowers kissing' et al isn't actually ideal, but it's still better than the dire reality we face ;-P
An established trend
The last (and most obvious by far) reason for the overflow of schmaltz in our industry is simple; it is an established formulaic trend which guarantees viewership even if your attempt is mediocre. In producer terms, it is easy money, and thus there's a new lovelorn couple on a silver screen near you almost every week.
What are your thoughts on Bollywood's obsession with romance?