Rotten Tomatoes is in popular opinion considered to be one of the two most reliable websites for cinephiles when it comes to movie ratings, along with IMDb. But, like any other organisation, human error or possibly bias has led to a few bad decisions on account of Rotten Tomatoes. After knowing about some of these ratings, I'm not sure if I can rely on them anymore. Movies rated 59% or lower are denoted with a green symbol, which obviously means that it got flak.
But anything beyond that is considered a part of the Fresh Tomato bandwagon, and here is the list of Bollywood movies that they might have gone wrong about, or I'm sure they are wrong about.
12. Tashan – 60%
Tashan is a movie popular for everything but it's filmography, considering Kareena Kapoor mentions it every now and then how her bringing up the size-zero phenomenon for Tashan is the one thing she detests. I'd started to expect a lot from Saif Ali Khan after his performance in Omkara and Tashan was hugely disappointing, to say the least. The movie reminded me of the 90s when absolutely anything with stars in it was called a film. From the screenplay to the direction, and trying to be the larger than life frame- this movie was a total disaster and I wonder how it still got a fresh rating at all.
11. Happy New Year – 60%
Shah Rukh Khan does films for friends, he has a huge fan following and if he can make a buck with that alone, it is what he has earned. He does his fair share of compensating for the bad films by good ones, and there is nothing anyone could do about it. I wish Farah Khan stuck with choreography but that didn't happen, instead she started to make films with people who could fill theaters, and boy, has she succeeded. Like all her films, you've got to watch this one without applying any logic. Although, what disheartened me the most was Naseeruddin Shah's son debuting in a film no one will remember. If I were to rate this film, I'd just tell you to avoid watching it.
10. Chennai Express – 60%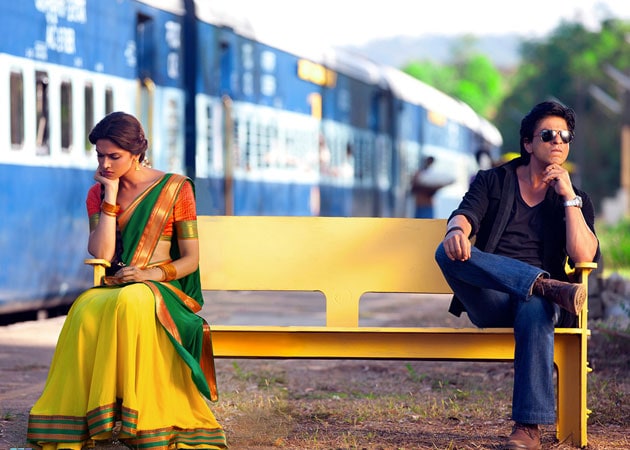 Again, working with Rohit Shetty is one big mistake that Shah Rukh Khan committed. I believe that it is the directors who make or break a film, and I'd never watch a movie without knowing who has directed it. Chennai Express was a caricature more than a film. It was a caricature of where all we've failed as far as making cinema is concerned. I'm all for movies to be an escapist defense mechanism for the rural majority, but I fail to understand how we're not even creative enough to not tell them the same story, with the same faces for decades now.
9. Ra.One – 61%
I didn't completely dislike Ra. One. I mean, the world could very well do without its' existence but we'd rather just have the movie as a laughing-stock. Every few years a big banner in India tries to make a Superhero film and fails at it, not commercially, sure. But, deep down they know we're incapable, as of now.
8. Rowdy Rathore – 67%
I'm really against choreographers turning directors, because they do not understand how an entire feature film is different that a big budget song sequence. The reason we blame Indian films for its primitive appeal, Rowdy Rathore is one of them. A thief who happens to be a policeman's look-alike, molesting a girl to fall for him- the movie has all the elements of a blockbuster and what's collectively wrong with our conditioning.
7. Bol Bachchan – 67%

I heard a lot of laughter while watching it, but it was not once that I laughed. The movie almost did a business of 2 billion, which is unbelievable. Philosopher Bertrand Russell said "The world is full of magical things patiently waiting for our wits to grow sharper." and I have to say that's what I'm waiting for too. Far from slapstick humour, the movie is just a portrayal of our lacking wit, while I'm still not amazed at its' Rotten Tomatoes rating.