When X-Men: Days of Future Past released people expected that Apocalypse was the villain there. But soon a tweet from Director Bryan Singer confirmed that it was not so and it was clear that DoFP set the scene for the next movie of the X-Men series, X-Men: Apocalypse.
The post credit scene confirmed X-Men: Apocalypse.
There has been much speculation about the script, production and characters in this installment of the series. We try to give you a clear picture of what is confirmed and what is not, below: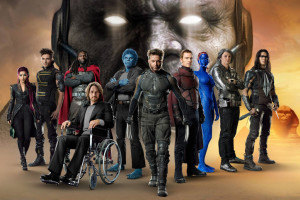 Name of the movie?
ShowBiz411 reported that a casting call for the next X-Men film refers to it by the title X-Men: Akkaba. In reference to Clan Akkaba, the cult that worships and follows their leader Apocalypse.
But naming a movie after the villain's clan? I am not sure if they would do it, considering it would confuse a lot of people again regarding the content and story of the movie.
The Time?
Simon Kinberg, the producer of the film, has revealed X-Men: Apocalypse will be set in 1983. That's 10 years later than DoFP. So we might get to see the Beast & Mystique relationship, before and during 1983 and dive into more details about them and other characters.
The Characters?
There have been unconfirmed rumors that Hugh Jackman would be among those making a cameo appearance in X-Men: Apocalypse. IMHO, no X-Men movie is complete without Wolverine. Let's just hope that he makes not just a cameo in the movie but plays an important role.
Larry King interviewed Patrick Stewart. During their conversation, King asked Patrick Stewart if he'll appear in Bryan Singer's X-Men: Apocalypse. Stewart replied, "No. Nor Sir Ian McKellen, either." So no, both our favorite characters will not appear in the film. Maybe they are lying to keep their roles a secret? Who knows? Because later he said that Sir Ian McKellen might be in the movie and he himself won't be and he might appear in the next Wolverine movie.
Channing Tatum has been confirmed as Gambit by Executive Producer Lauren Shuler Donner in future X-Men movies, so we may expect to see him too.
After confirming Rose Byrne to play as Moira to Entertainment weekly, Simon Kilberg when specifically asked about Dazzler, said, "Could happen. We're certainly looking at mutants that would fit into the period."
So we have a very clear idea of who will appear.
Apart from these the characters or specifically the X-Men that are confirmed for the movie are:
Oscar Isaac as Apocalypse
James McAvoy as Professor X
Michael Fassbender (and Ian McKellen?) as Magneto
Jennifer Lawrence as Mystique
Nicholas Hoult as Beast
Sophie Turner as Jean Grey
Evan Peters as Quicksilver
Alexandra Shipp as Storm
Tye Sheridan as Cyclops
Kodi Smit-McPhee as Nightcrawler
Lucas Till as Havok
Ben Hardy as Angel/Archangel
Lana Condor as Jubilee
Olivia Munn as Psylocke
This is a stunning cast. We are going to witness younger selves of a lot of our favorite characters and explore their backstory.
Filming is underway X-Men: Apocalypse and it opens May 27, 2016.
We will keep you updated about any new happenings related to the movie. Stay tuned.
What is your expectation from the movie? Who do you think will appear in the movie? Let us know in comments below.