Agreed, Oscars are not Nobel prizes. But won't it still be quite fascinating to know which college has produced the most number of Oscar winners till date?
StudySoup, a Peer-to-Peer Learning Marketplace, has conducted an interesting research to dig out the educational backgrounds of the past Oscar winners. The research focussed on the colleges from where the Oscar winners graduated — of course, only those were counted who did go to college and graduate. Also, keep in mind, that not all who chose to work in films study cinema-related courses in college. For e.g. Natalie Portman, an Oscar winner, graduated in psychology from Harvard University. Basically, this ranking doesn't differentiate between a cinema or a non-cinema graduate.
Which college emerged at the top of this ranking, then? With a total of 34 winners, University of Southern California takes the lead in most Oscar winners to walk its campus. Not surprising, considering USC School of Cinematic Arts has known to produce several great artists like Forest Whitaker and Robert Zemeckis over years.
On second place we have a tie between NYU and UC Berkeley. Again, not very surprising. But what is surprising though is the presence of Harvard University in top ten considering it is more known for academic than artistic excellence.
Also, mildly surprising is the inclusion of University of Vienna, located in Austria. It seems like many of the European Oscar winners studied here. In terms of exclusions, the absence of any British college is a little shocking considering there have been so many British Oscar winners. May be, they don't believe in studying. Ha.
Finally, below is the list of top 10 Oscar-winners-producing colleges as found out by StudySoup research.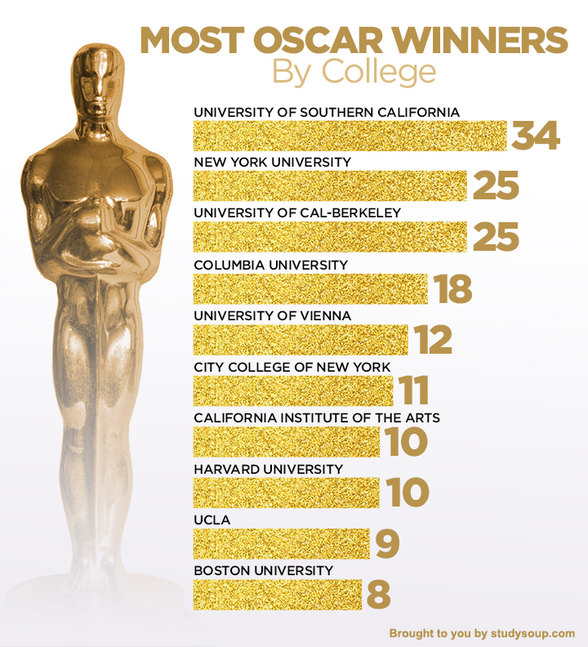 Read More: Every Best Picture Winner Since 2000, Ranked