Tyler Perry is certainly one of the most influential filmmakers of our time, and has consistently worked on making visual media a more inclusive space for people of colour. He is a dynamic showman, and master of all trades, with his diverse work that includes feature films, stage plays, television shows, along with a bestselling book. With his latest cinematic venture, 'A Fall from Grace', that features a powerful cast and equally powerful performances, he enters the domain of Netflix.
The feature stars Crystal Fox, Phylicia Rashād, Bresha Webb, Mehcad Brooks, and Perry. It makes for a compelling watch despite its flaws as it offers a refreshing take on legal thrillers with its dynamic leads, who are women of colour. 'A Fall from Grace' centres around a woman who is wrongfully convicted of murdering her husband. A young female lawyer, fighting her own conflicts, decides to defend her case despite its consequences. SPOILERS ALERT!
A Fall from Grace Plot:
The film begins as an elderly woman commits suicide with officer Jordan witnessing it. We learn that Jordan is in a relationship with Jasmine, an attorney who specializes in plea deals. She is given the Grace Waters case and reluctantly takes it. But this changes almost immediately after she meets Grace who is ready to plead guilty as long as she gets to see her son.
After a few conversations with Grace, Jasmine decides that she wants to defend Grace, and prove her innocence. Grace opens up to Jasmine about her past with Shannon, the man she allegedly murdered. She talks about how her best friend, Sarah, helped her get out of her loneliness after divorce. When Grace meets Shannon at a gallery, there is an instant spark. Despite her initial hesitance, she quickly falls for him. Within months, the two decide to get married.
Things take a dark turn when Grace is accused of stealing $379000 from her bank. She also learns that she needs to pay a mortgage of $375000 for her house. Grace tries to track down what happened and realizes that it was Shannon who stole her identity. He never leaves, and makes her life a living hell. In an impulsive moment filled with rage, she bashes his head with a bat. She believes that she murdered him. However, there is no body found.
Jasmine, who is fighting her own battles, takes the case to trial. But due to the evidence, and Jasmine's behavior, it turns into a mistrial. To make matters worse, Sarah herself ends up confessing that Grace killed Shannon. But the big twist is revealed when Grace notices Shannon's Uzzo necklace on Sarah, and realizes that the two framed them.
Meanwhile, Jasmine decides to pay Sarah a visit. But she soon realizes the truth after running into Alice, an old lady who reveals that she's been kept there against her will. She also reveals that her actual house is in 2829 Sycamore, something that directly ties her to Shannon. While searching around, Jasmine realizes that the building is filled with chained old women, and also discovers Shannon is alive. She is caught and held hostage by the duo.
Jordan figures out something's wrong, and comes to the rescue. Jasmine ends up shooting Shannon, while Sarah runs away. Towards the end, we learn that the real names of Shannon and Sarah are actually Maurice and Betty Mills. It is also revealed that the duo have several cases against them from over 25 years. Grace Waters is no longer held guilty, and walks out a free woman. But the film ends with Betty preying on yet another old woman.
A Fall from Grace Review: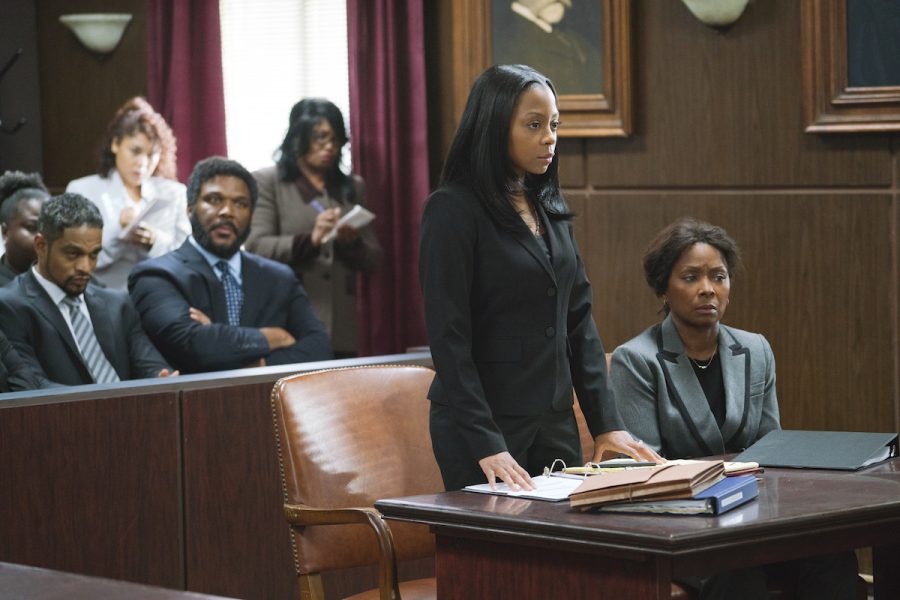 Tyler Perry's first Netflix endeavor starts out as an intense legal drama, and ends as a weird thriller filled with the usual tropes of one. The film tells the cliched story of a person convicted of doing something they didn't do, and of course, the lawyer who picks up the case is struggling with their own inner conflicts. But having said that, 'A Fall from Grace' definitely makes for a refreshing watch with its three female leads. It is still rare to have films in today's day and age, especially in the thriller genre, that are run entirely by strong women of colour. I dare you to name three.
Despite the film's flaws, and there are several of them, it offers strong performances from its stellar cast. Of course, Phylicia Rashād gives a dynamic performance, and is convincing as both the best friend, and the surprising primary antagonist of the feature. Crystal R. Fox as Grace Water makes us feel her tragedy with a powerful performance. Bresha Webb doesn't have as strong a presence, but is equally compelling. The film also manages to provide some insight on the inefficiency of our legal system. Especially with the way attorneys are told not to defend potentially innocent individuals as their firms cannot afford trials. This, we witness through Perry's Rory.
In many ways, Perry's 'A Fall from Grace' feels like a reactionary thriller as it provides us with several outrageous and audacious twists, waiting till the last 15 minutes for its surprising big reveal. The film definitely delivers on most of its twists. But at the same time, it becomes difficult not notice the loopholes, especially with the way Jasmine and the detectives work on the case in the first place.
A man is supposedly dead and there's a missing body, but no one once mentions the help Waters seeks from the police and lawyers while he is harassing her. No one attempts to find the body. Hell, no one even tries to question Sarah until the trial. This is precisely what makes the film feel half-hearted in its efforts, as it seems like no one tries hard enough.
But the weakest aspect of the film is its cinematography. The film was apparently shot within five days last December in the Tyler Perry Studios, and sadly, that shows. It also gives the film a very studio-soap effect, which brings down the otherwise compelling presence the film builds with its characters. At the same time, the film definitely does redeem itself with solid performances, and with the way it ends, we might actually be looking at a potential sequel.
Read More: Where Was A Fall from Grace Filmed?