AJ Hutto was only 6-years-old when he found his half-sister, Adrianna Hutto, struggling for her life in the family pool. Although their mother, Amanda Lewis, claimed that Adrianna had slipped into the pool while clearing bugs, AJ later insisted he saw his mother punish the young girl by holding her head underwater until she stopped responding. '20/20: What AJ Saw' takes the viewer through the disturbing incident and follows the investigation that brought the perpetrator to justice. However, if you are interested in knowing where AJ is at present, we have you covered.
Who Is AJ Hutto?
In 2007, AJ Hutto was only 6-years-old, and he lived with his half-sister, Adrianna Hutto, as well as their mother, Amanda Lewis, in Esto, Florida. Since Amanda worked as a registered nurse at a local medical center, she had to work long night shifts, and the children kept to themselves most of the time. However, AJ still shared an incredibly intimate bond with his family members, and one of his favorite pastimes was going for a swim in the family pool with his sister. However, he had no idea this hobby would soon lead to a massive tragedy.
When AJ and Adrianna sought permission to swim in the pool on August 8, 2007, Amanda didn't think much of it before giving her consent. However, she said that shortly after witnessing Adrianna clean bugs from the pool, AJ ran into her room, claiming that his sister was in danger. Once Amanda rushed out, she found Adrianna struggling for her life in the water while her face was slowly turning blue. Hence, without wasting any time, she pulled the 7-year-old out and called 911 for medical assistance before performing CPR.
Even though emergency personnel immediately airlifted Adrianna to a nearby hospital, her lungs were completely waterlogged, and she passed away while still under medical care. In the meantime, while describing the events to the rest of the family, AJ claimed the death was no accident since Amanda helped Adrianna's head underwater as a form of punishment. The six-year-old mentioned that earlier that day, the victim had sprayed window cleaner liquid all over the living room TV, which annoyed Amanda. Hence, to teach her a lesson, the mother dragged Adrianna to the pool and held her underwater until she stopped moving.
AJ even used gestures to replicate Amanda's movements, which convinced the police to start a homicide investigation. In the days that followed, the police learned that Adrianna lived with an acute form of ADHD, which made parenting quite tricky. They also spotted signs of negligence in the children's bedroom and discovered how Amanda had lost her first child to a seizure when she was just 17 years old. On top of it, the medical examiner also found a hand-sized bruise on the victim's face, and authorities eventually arrested Amanda for murder.
Where Is AJ Hutto Now?
Before the prosecutors went to trial, AJ supplied them with a hand-drawn sketch of everything he had witnessed on the day Adrianna died. Furthermore, he even testified against his mother, which proved to be quite crucial and led to the jury convicting Amanda of first-degree premeditated murder as well as aggravated child abuse. Hence, she was sentenced to life in prison without parole, along with an additional 30 years in 2008.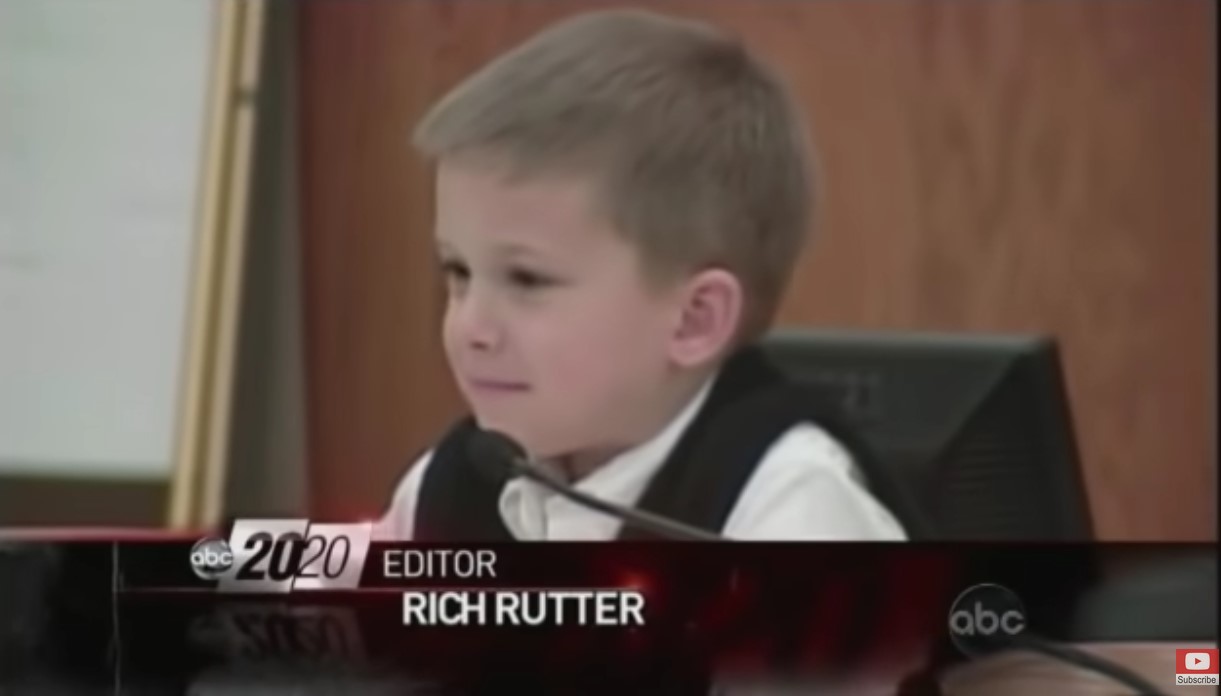 While reports mention that AJ was put into his grandparent's care after Amanda's arrest, it seems like he was eventually adopted by another family. However, he has since embraced privacy and currently prefers to stay under the radar. Nevertheless, considering AJ's age during Adrianna's murder, he would be 22 as of the time of writing, and we believe he is currently pursuing a university education and building up a brighter future for himself.