Residents of Esto, Florida, were left shocked on August 8, 2007, when 7-year-old Adrianna Hutto was found dead inside her family's swimming pool. Although the police initially considered the drowning to be an accident, an eyewitness account turned the investigation on its head and hinted at cold-blooded murder. '20/20: What AJ Saw' chronicles the tragic events that led to Adrianna's death and follows the police investigation that tried its best to get to the bottom of the incident. Let's delve into the details surrounding the case and find out more, shall we?
How Did Adrianna Hutto Die?
Adrianna Hutto was a lively and cheerful 7-year-old who resided with her half-brother, AJ Hutto, and her mother in their Esto, Florida, home. Like most girls her age, Adrianna loved playing outdoors and often went for swims in their family pool. Furthermore, she was described as an outgoing and happy child who shared a remarkable bond with her family and loved a bit of attention. In fact, even Adrianna's teachers claimed she was an intelligent student, and there was nothing out of the ordinary which could have hinted at the oncoming tragedy.
911 operators in Esto received a horrific phone call on August 8, 2007, informing them about a possible drowning accident at a local home. Once first responders reached the site, they found Adrianna lying unresponsive beside the family pool while her mother was trying to perform CPR. Without wasting any time, emergency services lifted Adrianna to a local hospital where doctors fought against time to save her life. However, the efforts were too little too late as the seven-year-old remained unresponsive throughout and finally passed away while still under medical care. Later, an autopsy determined that death had occurred due to drowning.
Who Killed Adrianna Hutto?
When the police officers initially questioned Adrianna's mother, Amanda Lewis, she claimed she was resting after a night shift when the tragedy occurred. Since August 8, 2007, was a pretty humid day, Adrianna and her half-brother, AJ, decided to take a long swim in the family pool. It wasn't unusual for them to swim unsupervised, and Amanda did not think much of it back then. In fact, the mother insisted that she saw Adrianna cleaning bugs out of the pool before taking her eyes off the children. Shortly afterward, AJ ran inside, claiming that his half-sister had fallen into the pool and was not breathing.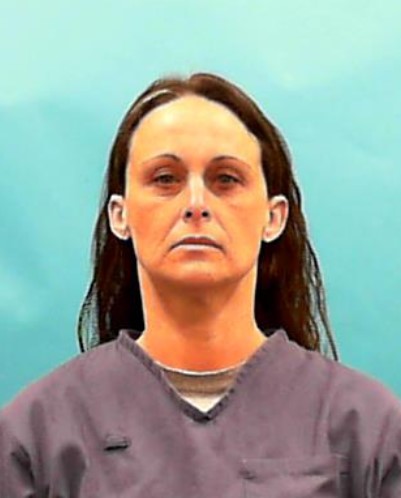 However, when Amanda made her way to the pool, she saw Adrianna fighting weakly for her life while her face slowly turned blue. Thus, without wasting any time, the mother immediately picked her out of the water and began performing mouth-to-mouth resuscitation. In the meantime, she even called 911 and asked for medical help, but even that wasn't enough to save Adrianna. Although Amanda appeared devastated by the loss of her daughter, the police grew suspicious when AJ finally revealed what he had witnessed.
Although AJ was 6-years-old at that time, he mentioned that Amanda had been angry with Adrianna since the 7-year-old had sprayed window cleaner all over the living room. Thus, as a punishment for her mischievousness, Amanda allegedly took her daughter to the pool and held her head below the water until she fell unresponsive. AJ even used hand gestures to show how Amanda attempted to drown Adrianna, and the police were confident there was more to the story.
In the days that followed, detectives carried out a thorough search of Amanda's home and discovered that the children's bedroom was quite bleak and had a strong smell of urine. Subsequently, they learned that Adrianna had ADHD and that her mother had quite a lot of trouble dealing with the 7-year-old. In fact, some of Amanda's co-workers mentioned that she had talked about killing her daughter, and the doctor who treated the victim claimed there was a bruise on Adrianna's face, which hinted at forced drowning.
Armed with such incriminating evidence, detectives brought Amanda in for questioning, but she immediately refuted the accusations. The mother insisted that she was not involved in Adrianna's death and even went so far as to agree to a polygraph test, which she passed. However, the cops were still unconvinced about her innocence as they learned how Amanda lost her first child, 16-month-old Alex, to seizures when she was just 17 years old. This proved that Amanda was capable of negligence, which, coupled with the evidence against her, made the police charge Adrianna's mother with murder.
When presented in court, Amanda insisted on her innocence and pleaded not guilty to the charges. However, the prosecution was armed with a sketch AJ drew to depict how Adrianna died on that fateful day. Besides, the child also testified against his mother, and eventually, the jury convicted her of first-degree premeditated murder as well as aggravated child abuse in 2008. As a result, Amanda was sentenced to life in prison without parole for murder, along with an additional 30 years for child abuse, and she currently remains behind bars at the Lowell C.I. Annex in Marion County, Florida.