Allah-Rakha Rahman, India's foremost musical name resounding across the globe, 'The Mozart of Madras', 'Isai-Puyal','Genius', 'ARR', the list goes on! This reluctant music director, technology freak and forceful 11th grade drop-out has put India on the world stage with his marvels. His list of merits include 2 Academy, 2 Grammy, a BAFTA, a Golden Globe, 4 National,15 Filmfare, 13 Filmfare south and another numerous accolades.
In his 25th year of composing film scores, Rahman has come a long way, a milky way one can experience with beats and rhythms. This soft-spoken genius is one of the world's all time top-selling recording artists and is revered for redefining contemporary Indian film music. With over 100 masterpieces created by Rahman, this list was an incredibly difficult task to choose and will possibly have our subjectivity based on our inspirations. Here's the list of best A.R.Rahman music albums:
15. Rangeela (1995)
This colourful entertainer is Rahman's debut Hindi film with an original score, a sensational opening and a super-hit Ram Gopal film which entertained audiences across. This romantic comedy catapulted Aamir and Urmila into stardom and overnight success for the team involved. Rangeela had a beautiful blend of voices throughout the album which enhanced the power of romance drifting through the story. Rahman fetched the Filmfare RD Burman Award for new music talent and the best director, and ever since rules the music charts in Bollywood with his phenomenal numbers.
Repeat mode tracks: 1) 'Rangeela Re' 2) 'Tanha Tanha'
14. Jeans (1998)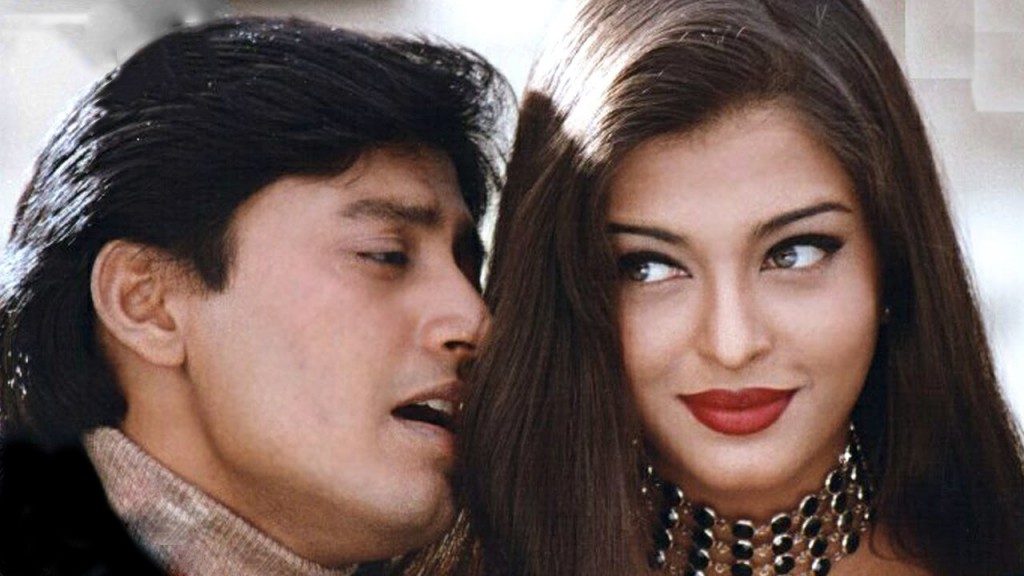 This unique grand picture was India's most expensive film made back in 1998, the second of Shankar-Rahman duo on this list was a blockbuster. With this film, Rahman showed his magic with his romantic numbers and the song 'Poovokkul' due to its filming at world's most prominent wonders, was labelled as another wonder due to the presence of the young Aishwarya Rai and ARR's melody. The filming of the 'Twin towers' with the music of Rahman in the song 'Yenake Yenaka' is a goosebumps moment for all viewers, so reminiscent!
Repeat mode tracks: 1) 'Poovokkul' 2) 'Kannodu Kaanbadhalam'
13. Indian (1996)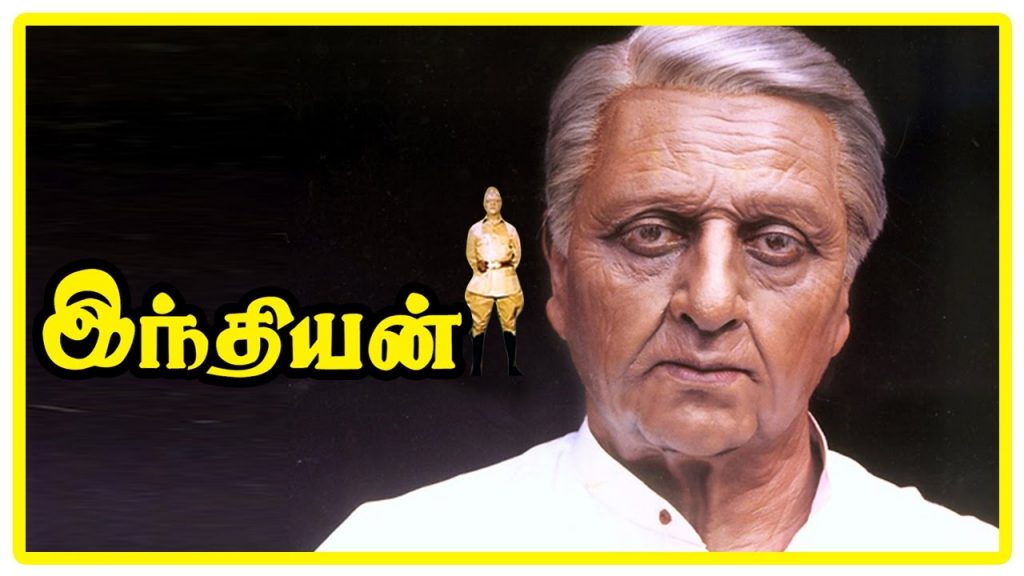 Rahman's iconic combination with Shankar has produced some of the best music in modern day cinema, this duo have worked together for 10 films and keep the audience hoping for more. This vigilante story based on a freedom fighter's struggle in modern day India evokes the patriotic brilliance of Rahman and has become the tune for all nationalistic purposes. The movie and the album were a raring hit with the audiences. The most memorable moment for viewers is the frame that every Indian roars with patriotism, the visual depicting India's freedom with the amazing b.g.m of our own Mozart, ARR coupled with the brilliance of Shankar's filming is a treat to watch.
Repeat mode tracks: 1) 'Pachai Killigal' 2) 'Kappaleri Poyaachu'
12. Guru (2007)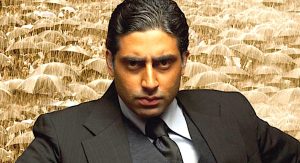 A populist belief states that Mani Ratnam's finest are when he is dealing with biographies, Guru is one such contemporary masterpiece with an absolute gripping screenplay and score. Rahman yet again aces this album for his mentor, with a fusion of all hit tracks which are heard in public places often. Based loosely on one of India's biggest business magnate, 'Dhirubhai Ambani', essayed by Abhishek Bachchan in his best performance yet, the story transcends India into it's various infant stages beautifully with Rahman's background score and blissful numbers enhancing the viewer's imagination.
Repeat mode tracks: 1) 'Mayya' 2) 'Tere Bina'
11. Kadal (2013)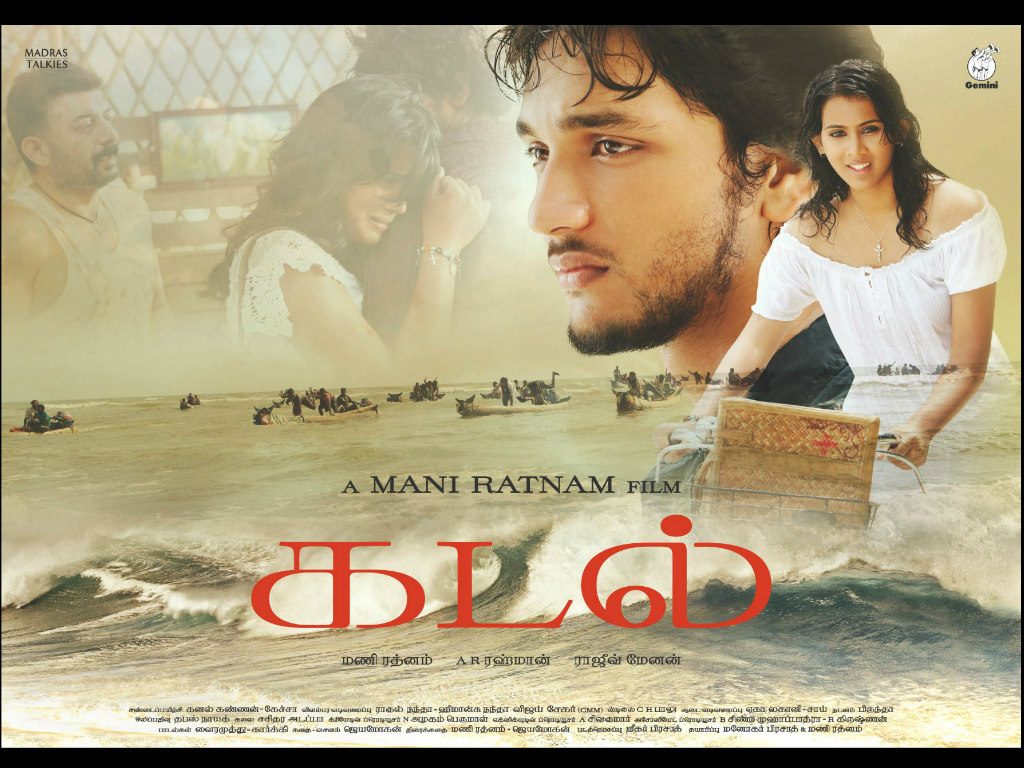 'Kadal' translates into 'Sea' as we hear the magic of the Rahman waves in this album through the directorial of his mentor and legend Mani Ratnam. Although the movie didn't rake success at the box office, the album is a stellar hit across all age groups.The scenic beauty of the shots were alarmingly beautiful with the tunes of this genius resonating each one's feeling to let themselves out on an escapade to the white sand beaches. This philosophical view based at sea produced one of the best ever compositions of the duo.
Repeat mode tracks: 1) 'Nenjukulle' 2) 'Moongil Thottam'
10. Iruvar (1997)
'Iruvar' – The Duo is widely regarded as Mani Ratnam's best, and acclaimed as Tamil Cinema's finest as it blends Dravidian politics and cinema through the lives of characters based on M.G Ramachandran and M.Karunanidhi. This controversial multi-starrer is a must watch for the performances, drama, direction and the intensifying background score by Rahman. It is considered to be a musical wonder because of the conglomeration of various styles fused phenomenally by ARR.
Repeat mode tracks: 1) 'Narumugaye' 2) 'Hello Mister Edirkatchi'
9. Vinnaithaandi Varuvaaya (2010)
Rahman and Romance are the most desirable combination for audiences experiencing musical bliss over expression of love. This romantic blockbuster was a first time collaboration of A.R Rahman and ace director Gautam Menon, which mesmerised audiences through intense drama, love and pain taking each on a ride into their past. The album was an overnight chartbuster with high critical acclaim.
Repeat mode tracks: 1) 'Mannipaaya' 2) 'Hosanna'
8. Taal (1999)
The talismanic director 'Subhash Ghai' acclaimed that it is Rahman's music which gave him the confidence to name the movie 'Taal', such is the power of ARR in this musical romantic drama of the late 1990's. It was a global hit with wide reception for the glimpses of love and music which swept people into a musical wonderland. Featuring musicians as lead characters enhanced Rahman's array of composition giving us some unforgettable numbers with Aishwarya Rai and Anil Kapoor stealing the thunder with their performances.
Repeat mode tracks: 1) 'Taal Se Taal' 2) 'Ramta Jogi'
7. Alaipayuthey (2000)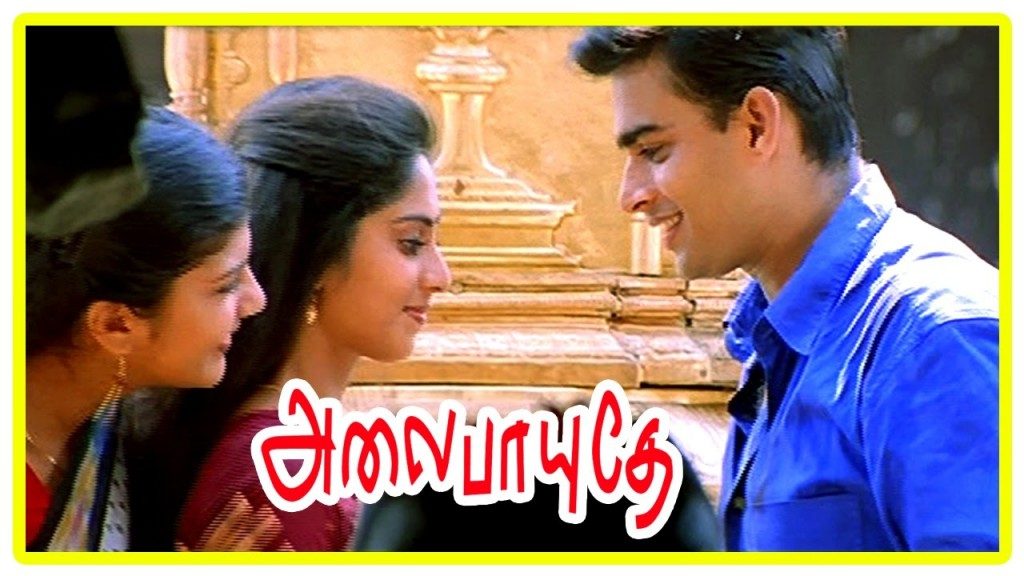 This romantic epic is translated as waves flowing and this piece of art does sway over human emotions relentlessly to a literal transformation in each one's relationships. It was remade as 'Saathiya' in 2002, which was a blockbuster too. Rahman's music in this picture stands as an epitome for young lovers to this day, as fresh as its inception. Another of the films with his mentor, ARR's prowess is best experienced in the romantic numbers which established R Madhavan as one of south India's most popular chocolate boy.
Repeat mode tracks: 1) 'Pachchai Nirame' 2) 'Snehithane'
6. Rang De Basanti (2006)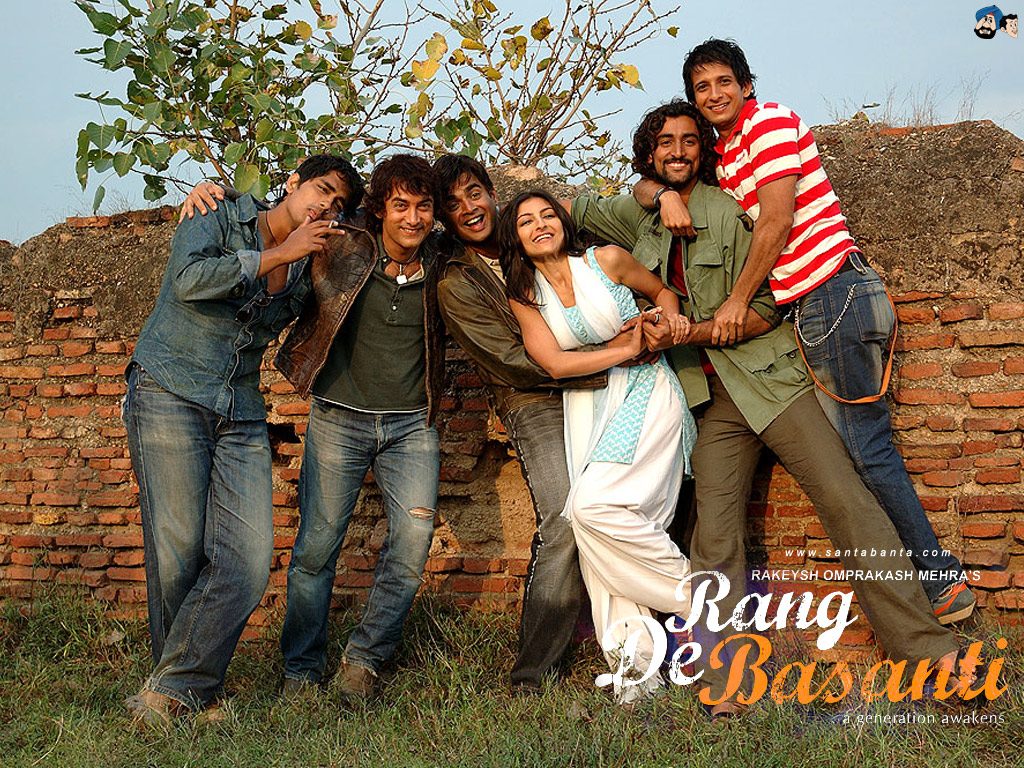 A period film with contemporary fuse, Rang De Basanti is a hugely popular and remarkable piece of art. This patriotic film stormed the nation with it's bold message and infused a storm within the minds of every young Indian to fight the corrupt system. It is believed that Rahman's best flows through the genres of 'Patriotism' and 'Romance'. And Rang De Basanti had the perfect mix for an astounding musical score which swept the records.
Repeat mode tracks: 1) 'Roobaroo' 2) 'Luka Chuppi'
5. Lagaan (2001)
A billion souls roaring and rooting for the final ball bowled to 'Bhuvan', Lagaan enthralled cinema lovers and beyond in India. It is a cult masterpiece in the history of Indian Cinema being only the 3rd film to be nominated at the Academy Awards and ranked #55 in Empire Magazines '100 Best Films of World Cinema'. It was a beautiful conglomeration of history, patriotism, fight over injustice and India's favourite sport,'Cricket' with stellar performances from Aamir Khan, Ashutosh Gowariker and the hero of this article, A.R.Rahman. This album infused high levels of patriotism and is an evergreen favourite for millions.
Repeat mode tracks: 1) 'Mitwa' 2) 'Ghanan Ghanan'
4. Dil Se (1998)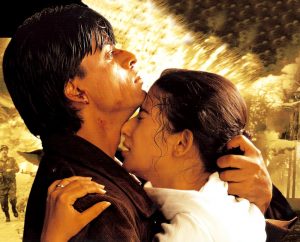 'The Duo' of Mani Ratnam and A.R Rahman are one of the most invincible pairs in Indian cinema whose work will reverberate for ages to come. 'Dil Se' being the last of the 'War Trilogy', was a failure in Indian markets, but roared to success in the foreign sectors. Rahman's best as we saw orchestrates when romance and nationalism are pictured, here we see that and more of pain, complicated love and the confused states of human nationalism. This album by many is rated as A.R Rahman's best, certainly!
Repeat mode tracks: 1) 'Chaiyya Chaiyya' 2) 'Dil Se Re'
3. Rockstar (2011)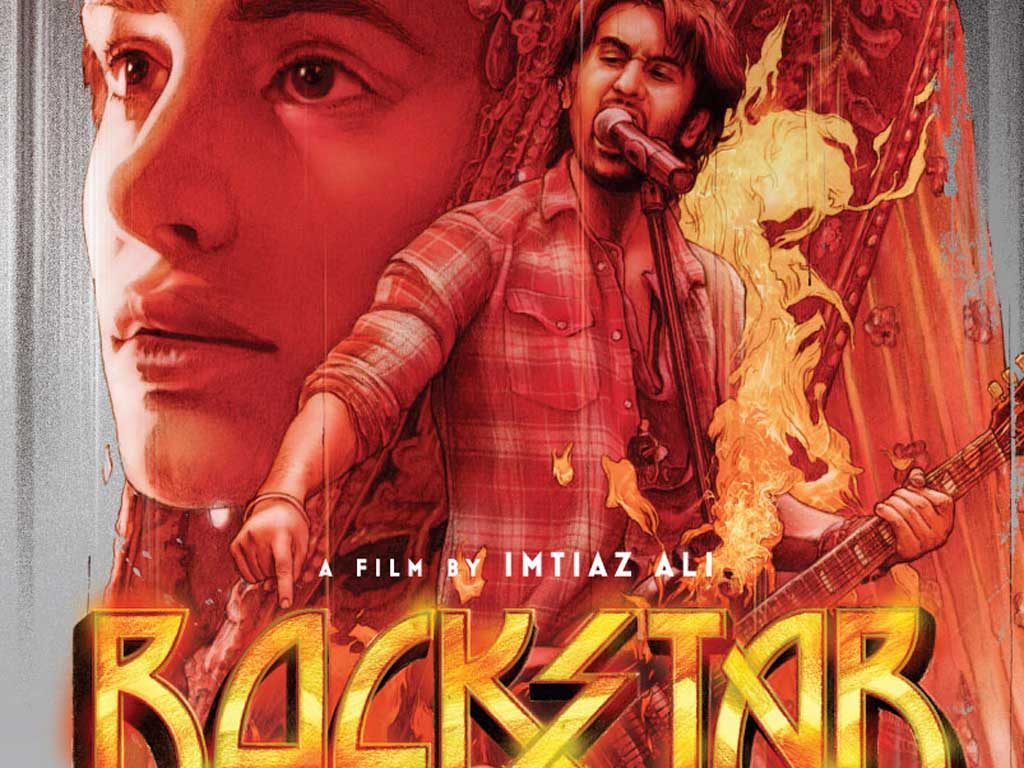 A widely popular musical romantic drama, Rockstar was a runaway hit with stellar performances from the actors, director and Rahman who stole the show. Based on 'Jordan' as an aspiring musician, the story is perfectly lit for music to take centre-stage and it did hog the limelight with 14 intense pieces of craft. Amongst the youth, the tracks were an anthem and led to the huge success of the film and the album.
Repeat mode tracks: 1) 'Sadda Haq' 2) 'Naadan Parindey'
2. Bombay (1995)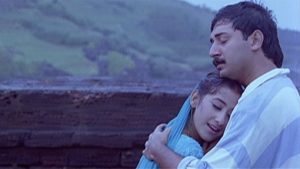 The second of the 'War Trilogy' featured Rahman's 'Uyire/Tu Hi Re' which is believed to be his best ever composition. This film set in the background of the very sensitive Bombay riots of 1992-1993 between the Hindu and Muslim factions captures the emotion beautifully with Rahman's background score and tracks melting each viewer. 'Bombay's' soundtrack sold 15 million units deemed to be the one of the most sold of all time, is hailed to be a masterpiece.
Repeat mode tracks: 1) 'Uyire/Tu Hi Re' 2) 'Hamma Hamma'
1. Roja (1992)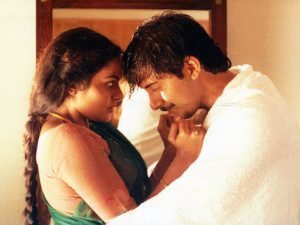 Life and choices are an eternal philosophical favourite, it was either the dream of studying at the prestigious 'Berklee School of Music' or debuting as a music composer for 'Roja', well in retrospect we know what A.R Rahman chose, and thankfully he did! This film marked the entry of the legendary maestro with 'Chinna Chinna Aasai' (Tiny Little Wishes) , ARR has since stormed and quaked the earth with his mastery of music for 25 years. The Time Magazine has rated this soundtrack as one of the '10 Best Soundtracks 'of all time and deservedly so, it tops our list too!
Repeat mode tracks: 1) 'Chinna Chinna Aasai' 2) 'Pudhu Vellai Mazhai'
Read More: Most Inspiration Hindi Movies