People may say many things about Bollywood but no one can accuse it of not making enough feel-good movies; movies that guarantee a smile on our face every time we watch them and make us feel good for being alive. Inspiration always comes from a happy place and Bollywood with its song and dance routine and colourful sets leads the way in inspiring people to live their life to the fullest. The list below features some of the most inspiring and motivating Bollywood movies ever. You can watch several of these inspirational movies on Netflix, Hulu or Amazon Prime.
15. Bhaag Milkha Bhaag (2013)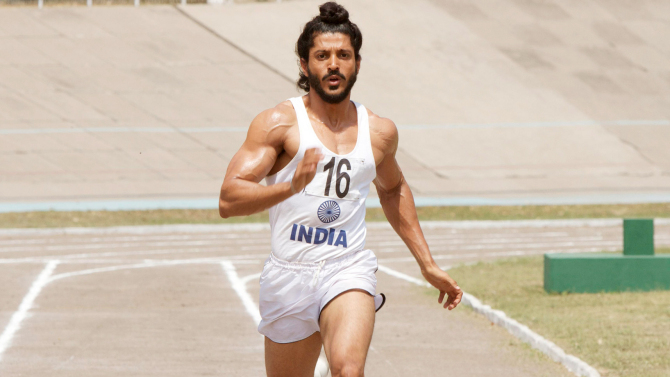 A biopic on Milkha Singh, the Indian sprinter who took the world by storm, was long overdue. When Rakeysh Omprakash Mehra decided to make a film on the flying Sikh he focused not only on his achievements but also on his personal journey and the incidents that shaped his never say die attitude. Milkha Singh was not only portrayed as a man of steel but also one with desires and fears of his own. The casting of Farhan Akhtar in the role of the sporting icon was a smart decision as he is one actor who is yet to be labeled into a particular image. He got the physique and the look bang on and although his voice was a bit distractive he pulled off a flawless performance and proved himself to be the best actor of the year. Milkha Singh is a man of immense pride and joy and the film successfully showcased that aspect of his personality on-screen.
14. My Name Is Khan (2010)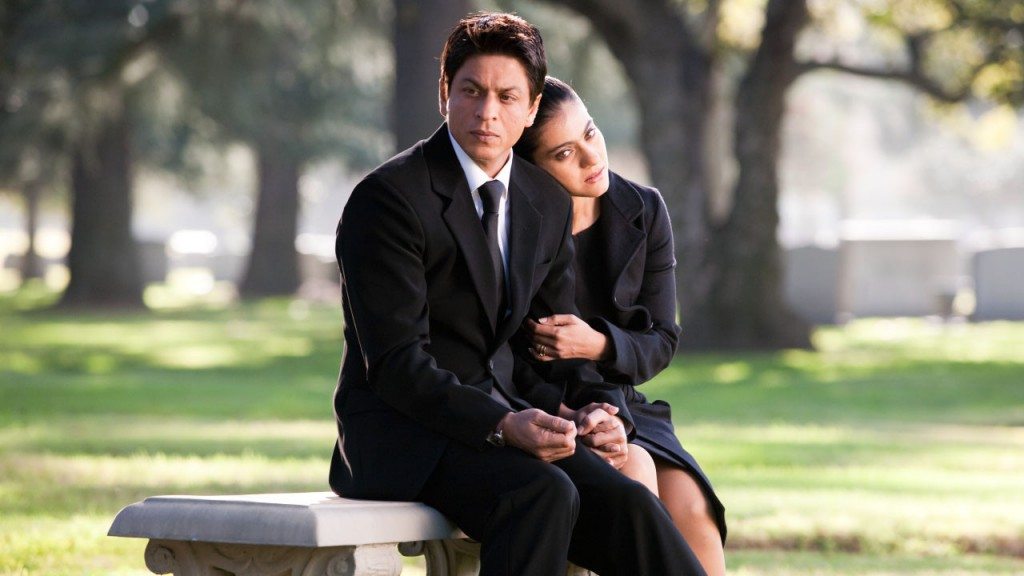 Karan Johar's most sensible movie till date is part melancholic and part lively but a through and through uplifting piece of cinema. Khan plays a man with autism whose personal life comes crumbling down post the 9/11 attacks on America and being a Muslim man in America things got much worse than he had anticipated. But as the saying goes – when the going gets tough, the tough gets going – Shah Rukh's character Rizwan pulls himself up and faces life everyday with renewed enthusiasm and a hope for a better future. The film had its world premiere at the Berlin Film Festival where it created a sensation among the viewers thus cementing SRK's position as the King of Bollywood. He grips us with his performance which is both honest and heartbreaking. The line 'My Name Is Khan and I am Not a Terrorist' is not just catchy but also reflects the sentiments of millions around the world who are a victim of pre-conceived notions and misplaced judgments. Heavily inspired by the Hollywood film 'Forrest Gump', 'My Name Is Khan' has an all embracing quality which humanity needs right now more than ever.
13. Mary Kom (2014)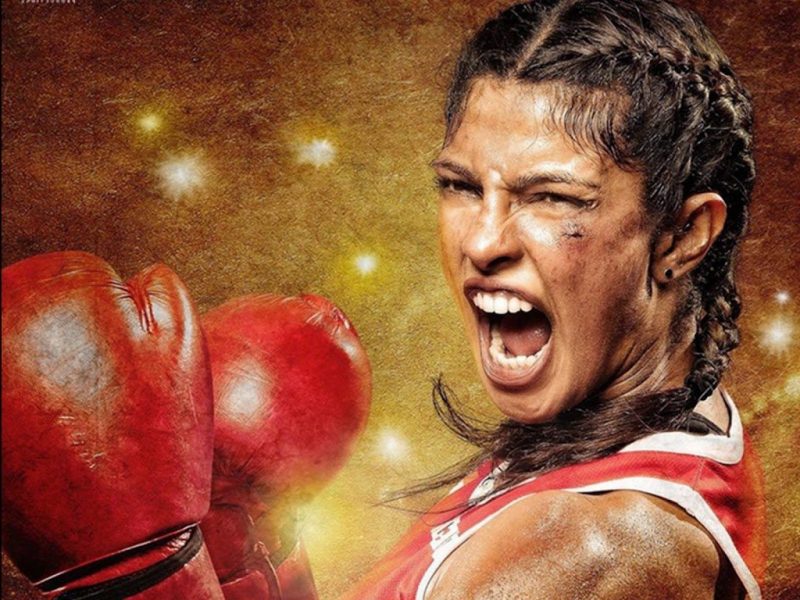 Every biopic based on a sporting icon is inspiring but the struggles of a few of them stand out for the mere impossible situations they came from and how they turned their cons into pros. The story of 'Mary Kom' is one of such tales of how passion, determination and grit can enable one to achieve things that once seemed so farfetched to even dream about. She hails from the Northeastern region of India where not many facilities are available for aspiring athletes and while she was growing up the conditions were even worse. She trained hard with her local coaches and made the most of the opportunities at her disposal. Of course her gifted physical strength and a wee bit of luck played a huge role in becoming the icon that she is today. Although critics panned the film, it does a good job of showing her journey from childhood to a champion and that was enough to make the people realize the importance of hard work and how far it can take you. Easily, one of the most inspirational Bollywood movies.
12. The 'Munna Bhai' Series (2003, 2006)
The best part about the Munna Bhai series is that it doesn't take itself too seriously and that's precisely explains itself why both the films are so effective in putting across the message of fraternity, brotherhood and laughing away at life's worries. Sanjay Dutt carries the two films on his well sculpted shoulders and his job was made easy by the assured direction of Rajkumar Hirani who knows when to press the right buttons. The films belong to the category of wholesome Bollywood entertainers but they have an undeniable freshness and an endearing appeal to them. Amidst all the tomfoolery and playfulness the film's heart is set in the right place. They tell us to listen to the heart's musings than to the rationalizations of the mind; to enjoy life while we can and to let go of hard feelings for each other. The second part if even more innovative, for the way it professes 'Gandhigiri' without falling into the preachy category. The character of Munna/Murli Prasad Sharma is relatable as he is a hero of the masses whose solution to every problem is a big and warm 'Jaadu Ki Jhappi'.
11. Lakshya (2004)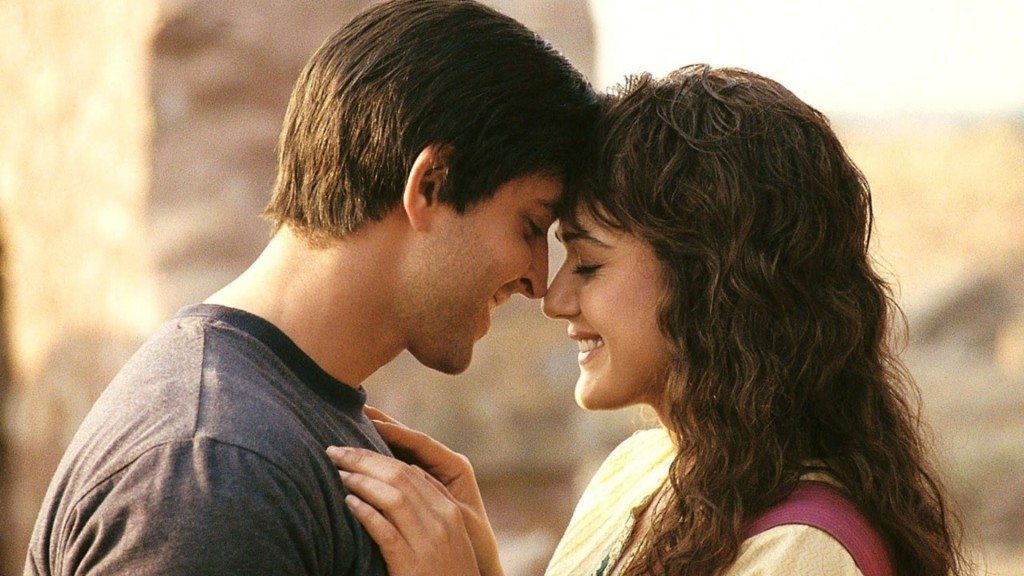 It's a mystery as to why Farhan Akhtar's 'Lakshya' got rejected by the audience. His first directorial venture 'Dil Chahta Hai' is a cult favourite among the youth and established him as a director to watch out for. Also 'Lakshya' had two of the hottest stars of the time – Hrithik Roshan and Preity Zinta – in the lead roles. Even the critics appreciated the film for its slice of life/coming of age flavour. Perhaps the treatment of the film was too ahead of its time. Despite being a story of young people it had a very mature outlook and a sophisticated undertone to which the regular audience of Bollywood were not used to. The film centers on Hrithik's character Karan who goes from being a clueless rich spoilt brat to a man of purpose. And the song 'Main Aisa Kyun Hoon' almost became an anthem for every young man looking for a purpose in life.
10. Guru (2007)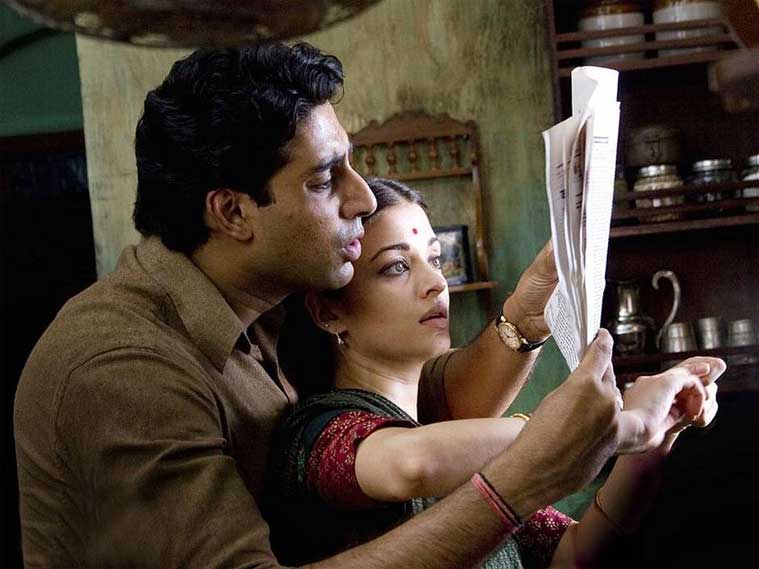 Mani Ratnam's 'Guru' capitalized on the anticipation and the buzz surrounding the film when the press got a hint that the film is based on the life of Dhirubhai Ambani, the founder of Reliance industries. Abhishek Bachchan's weight gain for the sake of the role also made headlines. The film released just three months before the much publicized Abhishek-Aishwarya wedding and naturally it was bound to be a huge success at the box office. Not to say that the film isn't good enough. In fact it is one of the finest of Mani Ratnam. 'Guru' is not your regular rags to riches story where the protagonist is all pious and play-by-the-rules type. Gurukant Desai is ambitious and won't stop at anything to get his job done. He almost loses everything at a point in his life owing to his wayward ways but his resourcefulness and diligence sails him through the tough times.
9. Taare Zameen Par (2007)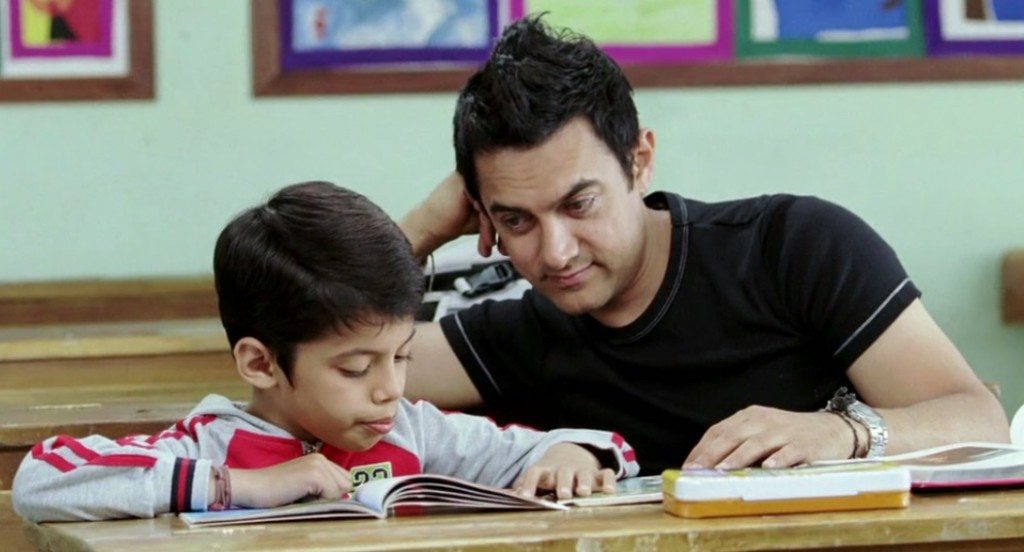 We all know Aamir Khan as a sensitive, responsible actor who believes that cinema should change people for the better. So when he donned the hat of a director it was only expected that he will touch upon a subject matter that is both meaningful and inspiring. And that's how 'Taare Zameen Par' came about. Aamir cast Darsheel Safary in the role of a dyslexic child Ishaan whose parents sends him to a boarding school both as a punishment and with the hope that it will change him. The film encourages discussions on the topic of Dyslexia and how it can be overcome with proper guidance and care. There is so much positivity in the film that one cannot help but shed tears of joy towards the end when Ishaan slowly but surely comes to his own.
8. 3 Idiots (2009)
'3 Idiots' is not just a film it's a Bible for every young man out there who wants to chase their dreams and desires. It is also a film that we regularly recommend to our parents to watch it so that they might have a change of heart regarding their strict policies that we should we always look for security in our jobs. But where's the fun in that? Rajkumar Hirani was very clear in his mind what he wanted to say through his film. He criticized the Indian education system without being too cynical about it and gave hope to millions of students out there that it's never too late to listen to your heart. One can write hundreds of articles related to the film but everyone will agree that '3 Idiots' inspires you to be an original in whatever you do.
7. Swades (2004)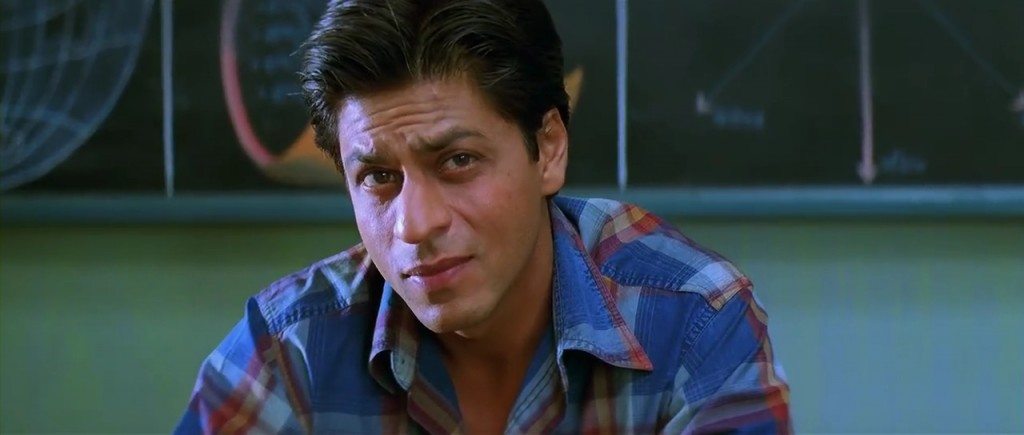 'Swades' deals with the concept of brain drain in a very subtle and matter-of-factly manner. A well educated Mohan Bhargava, played by Shah Rukh Khan, works at NASA and leads a materialistically content life. But his heart is in India and he desires to be among those people who shaped him to be what he is today. On a trip back to India he finds his purpose of working for the betterment and advancement of the rural areas of his country. The film talks about a subject matter which we discuss everyday but hardly do something about it. Director Ashutosh Gowariker sensitively treats the subject matter and although the film is slow paced it's effective. Shah Rukh Khan who is usually a bundle of energy in most of his films displays a quiet strength here as per the demand of the role.
6. Iqbal (2005)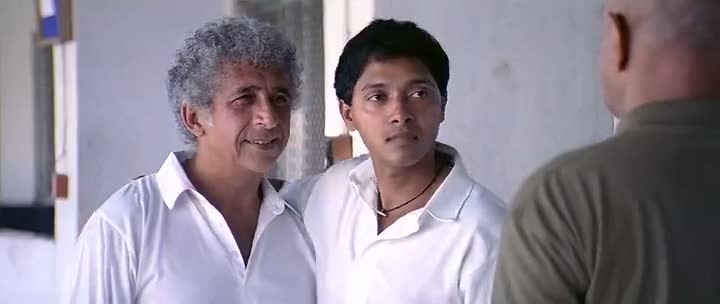 'Iqbal' is about the spirit of never giving up even in the face of adversity. A young boy in a small village nurtures a dream of playing for the Indian cricket team one day. He keeps his passion alive even when his father discourages him by calling his passion an impossible dream. But Iqbal's mother and especially his younger sister stand by him through thick and thin which encourages him to fulfill his childhood dream. The film ends on a happy note and thus instills hope in the hearts of all the viewers who went to see the film. Sometimes one just needs the courage to dream and the universe takes care of the rest.
5. Rang De Basanti (2006)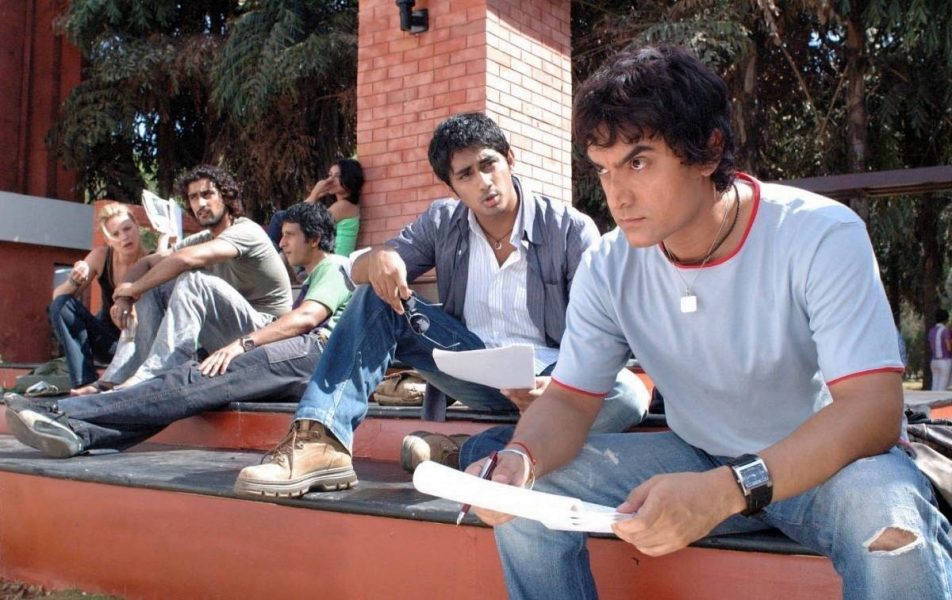 The best thing about 'Rang De Basanti' is that it celebrates youth; their fearlessness and their ability to change the system if they channel their energy in the right direction. It's that rare Bollywood film of the 21st century which has the power to inspire a revolution. A group of four friends who are fed up of the rampant corruption and the victimization of the innocents around them, decides to take matters into their own hands after a close associate of them dies as a result of the degrading system. The magic of 'Rang De Basanti' lies in making us believe that we too can be a part of the change if we all do our duties fearlessly and don't hesitate to take laws into our hands if it ever comes to that.
4. Chak De! India (2007)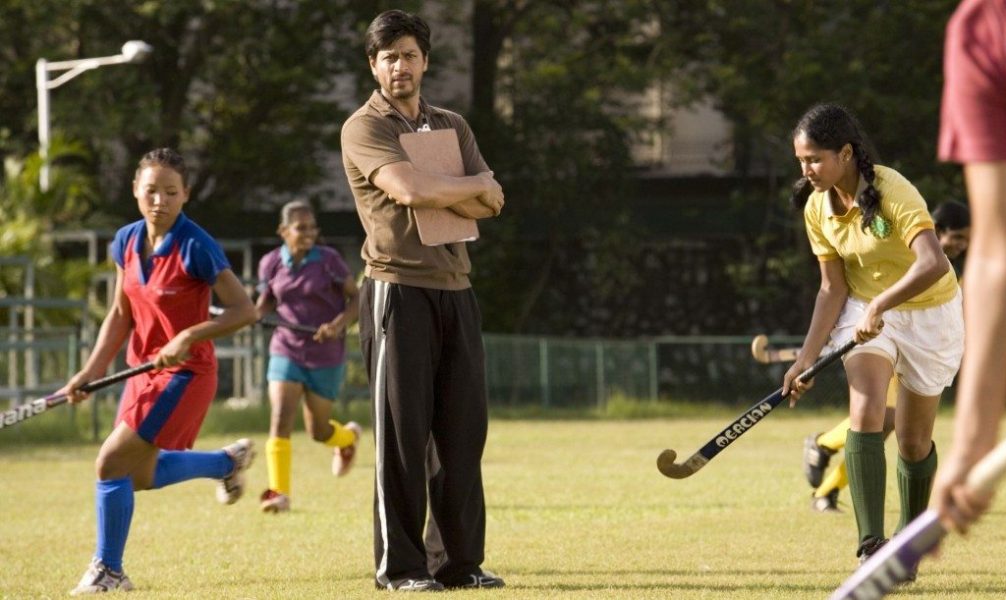 This Yash Raj flick was inspired by the Indian women hockey team's victory at the 2002 Commonwealth Games and director Shimit Amin wonderfully weaved a fictional tale of dreams and success around it. The back-story of each and every character was wonderfully laid out and the camaraderie between the girls forms the crux of the film. One of the best moments in the film is when coach Kabir (Shah Rukh) asks the girls to introduce themselves as belonging to India and not their respective states where they come from. The personal struggles and the constant scrutiny from the society that the girls have to deal with at the top of their professional commitment and pressure and how they overcome all this to emerge champions will motivate even the most lethargic of beings. The success of the film brought about a cultural revolution of sorts as people started focusing on sports other than cricket and to this date the song 'Chak De! India' is played on stadiums no matter what sport is being played.
3. Lagaan (2001)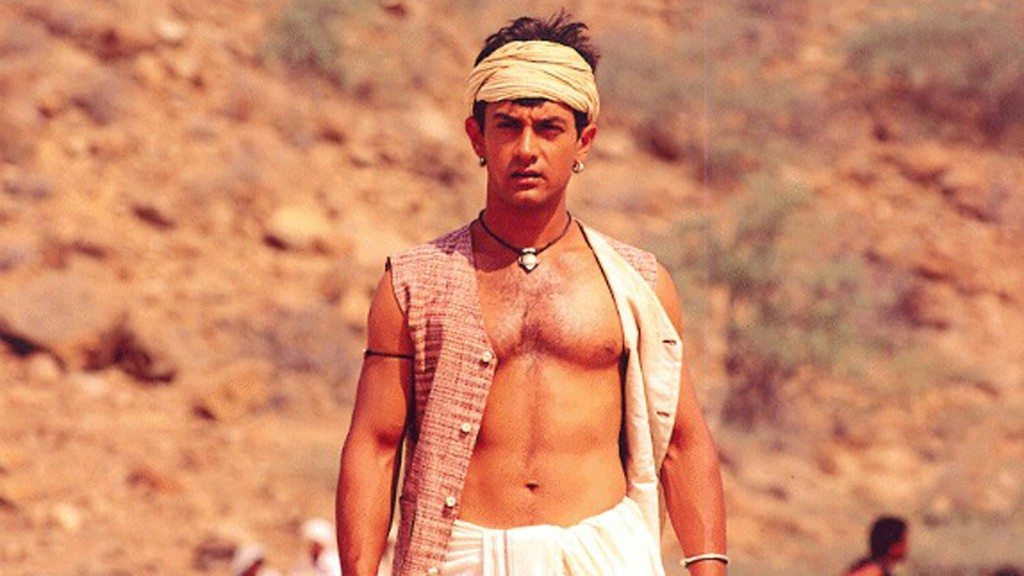 Cricket is like a second religion in India. So when Ashutosh Gowariker made 'Lagaan' which centers on a game of cricket the people accepted it wholeheartedly and even made its way to an Academy award nomination. The film is a fictional account of a small Indian village during the colonial era whose inhabitants could no longer bear the burden of the heavy taxes imposed upon them by the British government and how the seize the opportunity of avoiding paying the tax by the virtue of a cricket match. Easier said than done, the real struggle of the villagers begins when they decide to take on the British in a game they regularly play on their backyard. The best parts of the film comprise how the villagers take on the challenge with open arms and beat the English in their own game. 'Lagaan' is also further uplifted by AR Rahman's folksy musical gems. It's a fine balance of drama, sportsmanship and victory.
2. Anand (1971)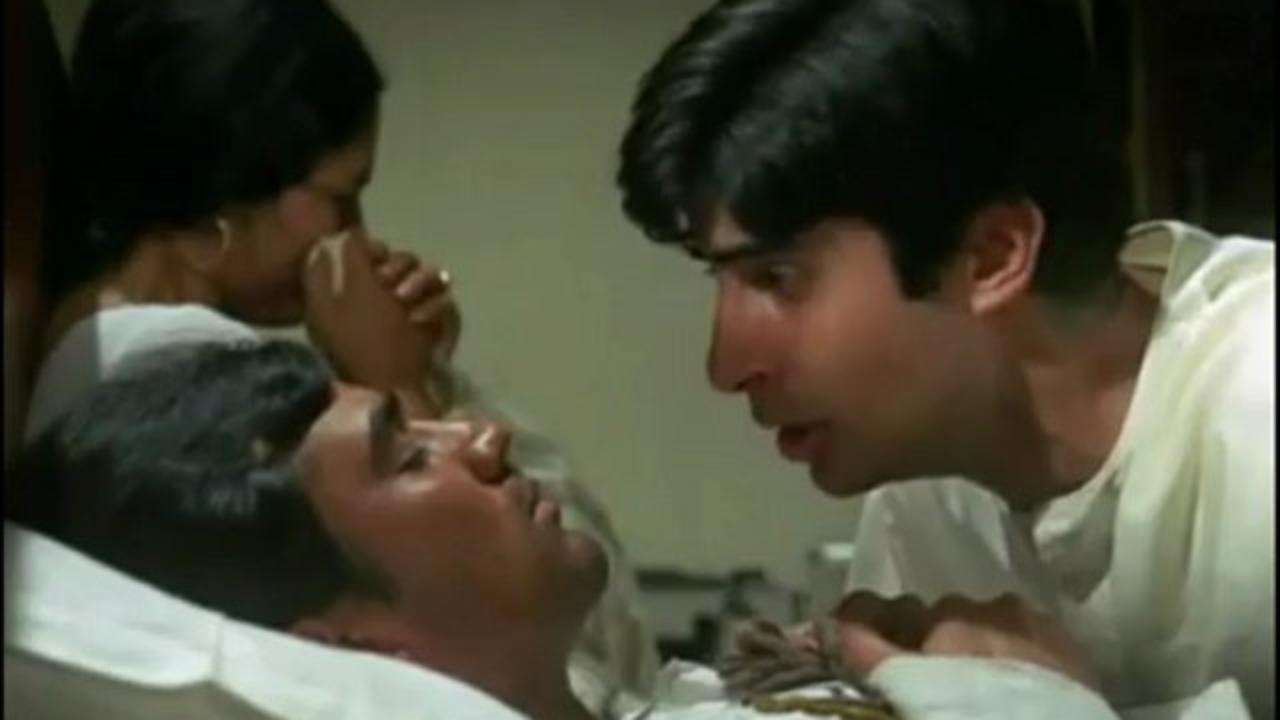 Hrishikesh Mukherjee's much loved classic 'Anand' redefines the concept of living life king size with a twist of mortality. Rajesh Khanna shines in the titular role of a cancer patient whose end is not very far away. He is someone who doesn't need a reason to smile and even his imminent death can't dent his high spirits. He spreads joy wherever he goes and even in his death bed he gives life lessons worth cherishing forever. 'Anand' is Hrishikesh Mukherjee's love letter to life and its sheer unpredictability where in lies the beauty of it. Amitabh Bachchan emerged as a competent actor with a supporting role in this award winning film.
1. Udaan (2010)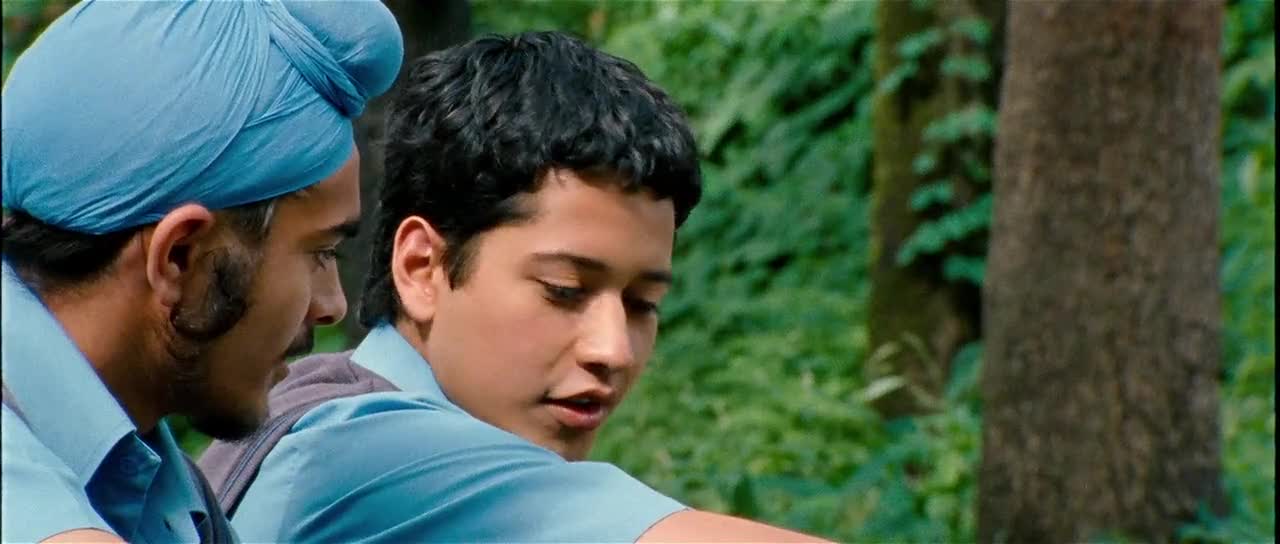 There are coming of age films and then there is 'Udaan'. Vikramaditya Motwane's Cannes breakout hit beautifully captures the various moods, pangs and frustrations of adolescence. Rajat Barmecha pours his heart out in a role of a lifetime that gave him ample scopes to showcase the actor in him. He brought just the right amount of innocence, rebelliousness and vulnerability to his role which is why his character stays with us the longest despite the film having stellar performances from seasoned actors like Ronit Roy and Ram Kapoor. The film shows the journey of a boy into a man with a little help from his abusive father, his curious half-brother and the constant surprises that life throws at us regularly. 'Udaan' teach us that life sucks but it goes on anyway.
Read More: Best Hindi Thrillers of All Time