Encountering the unexpected, Netflix's 'Surviving Paradise' features Aaron Blake on a journey dominated by survival and strategy. The reality television show features a group of unsuspecting partiers who are reeled into the wilderness and separated from the summer of a lifetime. Using tactics and alliances to further his position, Aaron manages to solidify his place and have a chance at the cash prize of $200,000. With high stakes further fueled by the whopping cash prize, the contestants stop at nothing to secure their spot in the luxurious villa. Given his use of wit at every turn, fans have grown increasingly curious about his latest whereabouts. So, if you also want to know more about the reality star, look no further because we've got all the answers right here!
Aaron Blake's Surviving Paradise Journey
Aaron made his way into what he thought would be a summer paradise full of luxury. He quickly realized that he needed to form an unbreakable alliance with other members to ensure his survival in the competition. Luckily, having found a deep connection with Justin and Tabitha from the get-go, it wasn't difficult for Aaron to feel secure and entrust his spot in the villa through them. While the initial alliance of TAJ (Tabitha, Aaron, and Justin) seemed indestructible, it quickly became apparent that there were holes in the supposed friendship between the three.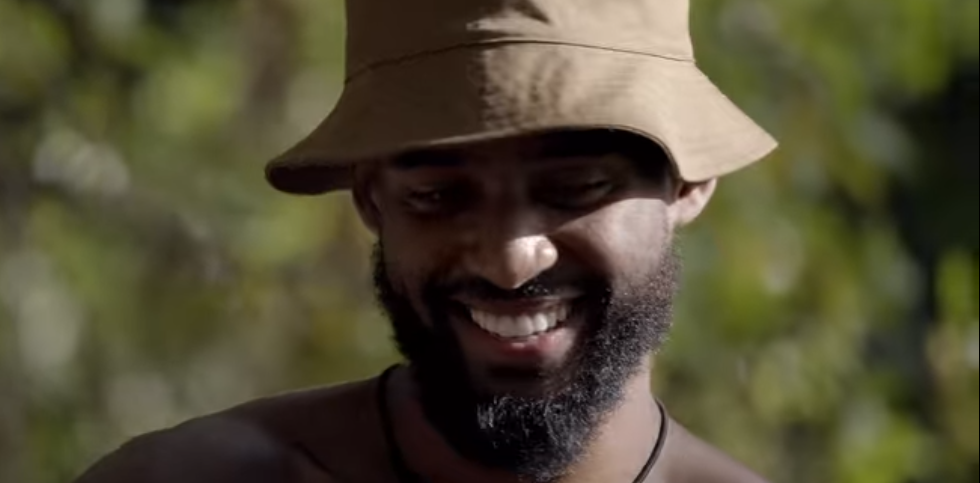 Even though Aaron and Justin kept their promise to Tabitha, the latter didn't reciprocate the same they had initially accepted. When Tabitha made their way into the villa, Aaron and Justin expected them to sway other insiders into bringing them aboard. However, that did not happen. Slowly, disdain towards Tabitha grew, and Aaron and Justin were forced to create an alliance simply between the two of them. Despite having been betrayed by Tabitha, Aaron continued to focus on his game. Not only did he continue to sacrifice his spot in the villa time and again, but he also selflessly helped other members of the camp enter the other side.
Ultimately, his altruistic actions were rewarded when he got a chance to enjoy the grandeur after a swapping challenge. Things turned awry for Aaron when Gabe entered the villa, too. In a survivor challenge, the insiders were asked to separate into a team of two. Together, they had to pick one person between them who would go back to the camp. If they failed to come to a decision, both of them would face elimination. When Gabe did not relent and didn't offer to head back to the camp, Aaron had to step in and take the fall reluctantly. Alas, he was eliminated from the competition in the final episode after the insiders cast a group vote.
Where is Aaron Blake Now?
In addition to employing a series of strategic manoeuvres to further his position in the competition, Aaron continues to use the same level of excellence in his life as well. The Clark Atlanta University graduate doesn't just have a prolific career but also shares the highs of his professional and personal success with his family and friends. Having been decorated with countless honors during his time in college, he has continued to scale his abilities and professional skills.
He is currently working as a Consultant for Microsoft in Dallas. The television personality has been with the company since he graduated summa cum laude with a Bachelor's in Computer Science. Formerly a Programmer Analyst Intern with Boeing in Washington, Aaron has even earned his MBA and continues to cultivate new strategies of innovation and entrepreneurship at Stanford University as a University Innovation Fellow.
On the personal front, Aaron enjoys equal happiness. Along with the support of his parents and sister, the television personality continues to reach new heights. While Aaron is sporadically active on his own social media, fans and readers can catch a glimpse of the reality star on his sister Amber Chambers' TikTok and Instagram accounts. Furthermore, Aaron takes a special interest in adventure sports and physical activities. Having done skydiving with his friends in the past, he continues to challenge himself physically. However, this hasn't been the only demanding activity that the television personality has carried out.
In 2019, he completed the Spartan Trifecta, a significant accomplishment wherein people have to complete three marathons within a year's time. These include the Spartan Sprint for 3-5 miles, the Super, which is 8+ miles, and finally, the Beast obstacle course, which is longer than 13 miles. The goal-oriented individual doesn't just like to further his professional trajectory but is also equally involved in keeping his physical health in check. Having modeled in the past, it is safe to say that several great milestones still await Aaron Blake in the future!
Read More: Tabitha Sloane: Surviving Paradise Contestant is Now An Entrepreneur