Amazon Prime's 'Twin Love' chronicles the whirlwind journey of twenty-eight individuals as they seek to find love on their own terms. Encompassed by a tropical paradise, the social dating experiment divides the twins into two houses as they seek to find the partner of their dreams. The cast is divided into two houses and their journey is filled with dates, love, and challenges, which further facilitates a deep connection. Hosted by Nikki and Brie Garcia, the series maps the differences and similarities between the cast across different junctions. Aaron Cabello and Brittnay James are one of the couples whose ability to connect wholeheartedly has left fans curious about their relationship status.
Aaron and Brittnay's Twin Love Journey
Elated by discovering the possibility of a lifelong connection, 27-year-old Aaron and 26-year-old Brittnay came to 'Twin Love' along with their siblings. It wasn't long before they found the answers to their romantic search. From the get-go, Aaron and Brittnay chose each other and began their journey as one. While Aaron briefly explored a connection with Gabby, he later returned to deepening his bond with Brittnay. It wasn't long before their interest in each other solidified, and the two decided to bring down all walls. From discussing their past to talking about their future, Aaron and Brittnay managed to find common ground on several fronts.
Their relationship wasn't without its highs and lows as Brittany was skeptical about Aaron as he was openly polyandrous. However, the two bridged the differences in their relationship quite quickly. They later opened up about their families and how they had been on the receiving end of several curveballs in life. Aaron spoke about his father's absence and how he had failed to create a relationship with him, given his recent death. Similarly, Brittnay also talked about her mother and how she passed due to cancer when she and her sister were relatively young.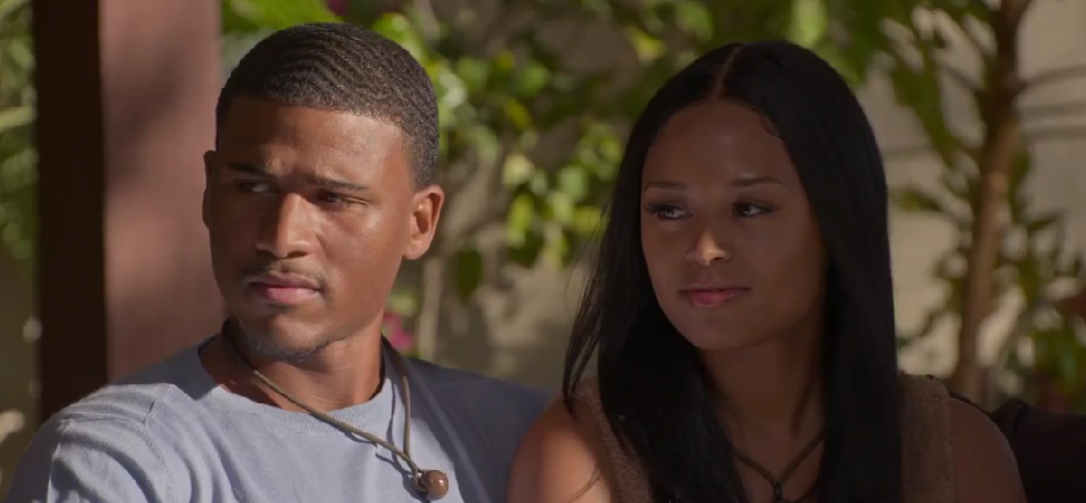 After all the twins were reunited on the final day, Brittnay and Whittnay had a chance to unpack each other's relationship. When Whittnay shared her doubts about Aaron's faithfulness, Brittnay decided to speak to her beau candidly. Ultimately, he won her trust and iterated that he would gladly remain monogamous as long as it meant that he and Brittnay could be together. In the end, the couple walked away from the season happily, having found each other.
Why Did Aaron and Brittany Break Up?
After their brief jaunt on reality television, Aaron and Brittnay were not able to establish a long-lasting connection outside. Their relationship was put to the test when distance, professional, and personal commitments came into the picture. No longer surrounded by the tropical quarters of the 'Twin Love' house, they had to embrace their responsibilities outside. Ultimately, Aaron and Brittnay realized they wanted different things in life and decided to separate.
While Brittnay had hoped to find forevermore with Aaron, she found herself feeling the contrary when she went to see him in Philadelphia. In the end, the television personality was dismayed by the distance between them. She also felt that she didn't see herself parenting Aaron's son, Caleb, in the future. Given these differences, Aaron and Brittnay decided to part ways. Albeit short, Aaron and Brittnay managed to create several memories together.
Since parting, the individuals have been focusing on creating new milestones as individuals and professionals. While Brittnay likes to keep her personal and professional strides under wraps, Aaron continues to take his business to new heights. As the co-founder of the country's first black-owned food delivery service, Aaron and his twin, David, have been focusing on helping black businesses around the country grow and exponentiate. Not just this, Aaron is also a proud father and continues to share the highlights and milestones in his son Caleb's life online. So, even though romance is not on the cards for the duo, it is apparent that several milestones still await them. Naturally, we wish them all the best in their future endeavors!
Read More: Andrew and Matthew: Twin Love Siblings Are Now Focused on Their Careers