The 90's brought us some amazing action packages starring some then legends and some legends to be in the most enthralling and adrenaline pumped up screenplays and directions. A few of them made history, while few formed some money-making franchises over the years. Let us take a look back at those golden days and see which films pumped us up the most. Here is the list top action film of the 90s:
12. The Rock (1996)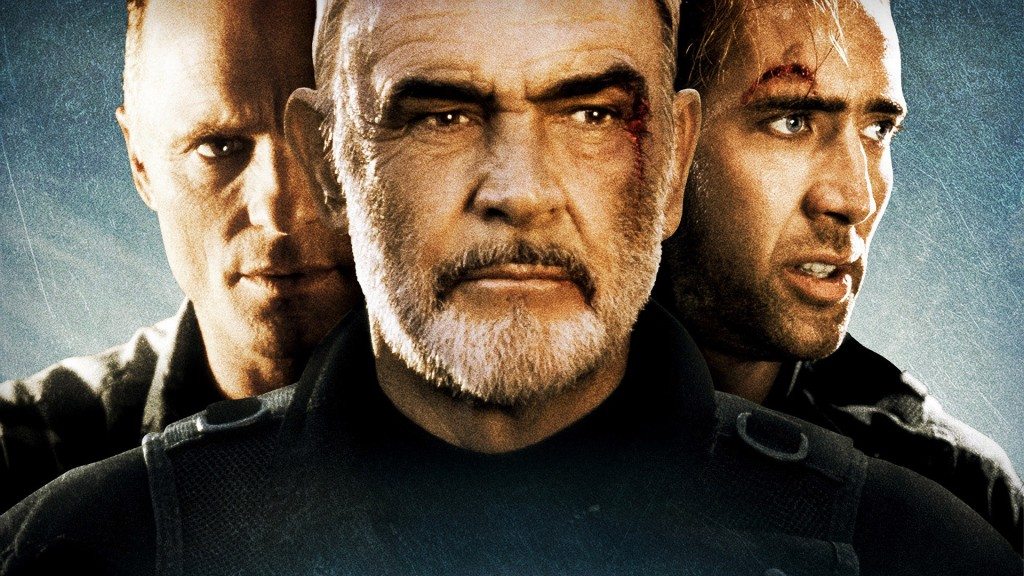 'The Rock' is another Nicholas Cage's action adventure and is director Michael Bay's second directorial venture in which he continues his filmmaking styles by profound use of heavy weaponry and explosives and creating chilling sound effects while entertaining the viewers with some pumping action sequences. The story follows a chemical weapons expert and a convicted British soldier in the U.S., embarking on a mission to rescue hostages and lift the siege of a disenchanted marine from the Alcatraz Island.
The film also stars Sir Sean Connery, who relives his James Bond days and Ed Harris as a sharp and clever villain (not by choice) who commands the better part of the film with his military-like persona and voice. The film was a box-office success and was also nominated for an Academy Award for Best Sound.
11. Air Force One (1997)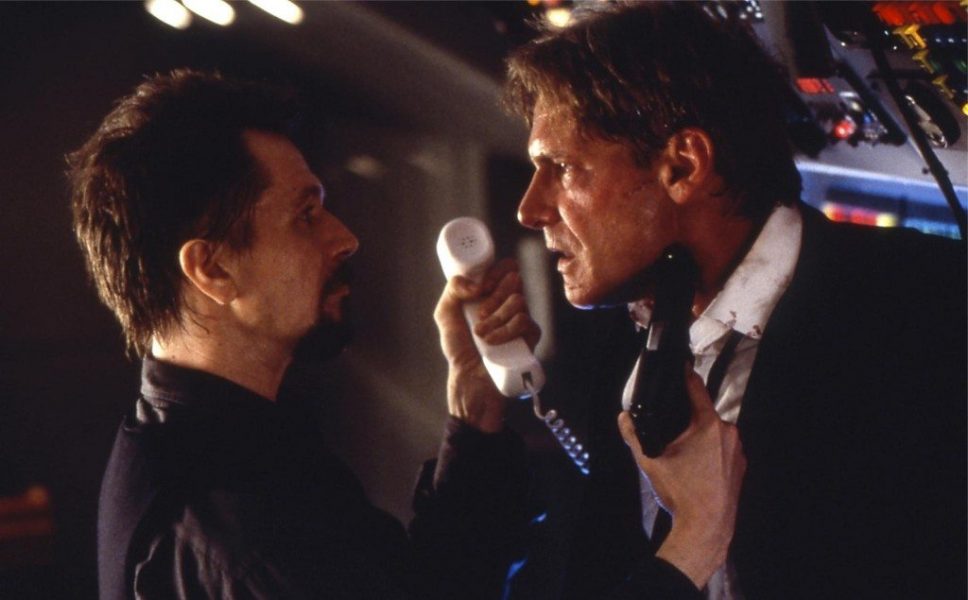 When it comes to rescuing the President of United States, Hollywood has really been very effective and always on duty. Cause nothing matters more than the life of the nation's governor. 'Air Force One', according to me is the best film showcasing such a scenario, ever produced in Hollywood.
The film follows the U.S. President's plane Air Force One is hijacked by a group of Kazakh militants who takes hostage the plane crew but is fought back by the president himself. The film stars Harrison Ford as President James Marshall. Ford turns his Indiana Jones image in a corporate and political style and kicks some ass wearing an expensive suit. His effortless acting and his adaptation of a presidential facade make him look terrific on the screen.
Another rendition of a vicious character comes from Gary Oldman who plays the leader of the militants. Oldman, who gained widespread acclaim and appreciation for his negative shades in the 90's doesn't fail to make an impact in this lead-oriented flick. Glenn Close plays a vital and effective role as U.S. vice-president. Though she misses all the action sequences, her presence in the White House scenario strengthens the film's backbone. Directed by Wolfgang Peterson, the film was a commercial as well as a critical success and was nominated for two Academy Awards.
10. Speed (1994)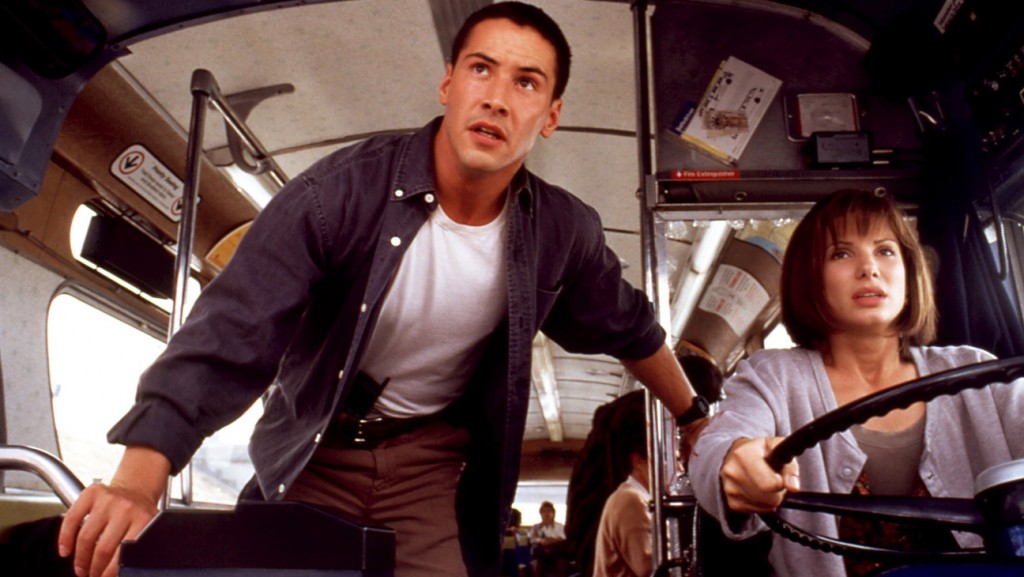 Before 'The Matrix', Keanu Reeves starred in this exciting "drive for life" action film directed by 'Basic Instinct' (1992) director Jan de Bont, where he tries to rescue a bunch of civilians in a moving bus, which is rigged to blow if it is slowed down.
Keanu stars as Off. Jack Traven who is challenged in this deadly game by an old psychopath Howard Payne played by Dennis Hopper. The good part is, the thing that keeps the audience together throughout the film is the suspenseful conversations between Jack and Payne and their subsequent results. As the title goes, speed is the quantity that plays a vital role in executing the film's important sequences.
The film also stars Sandra Bullock and Jeff Daniels in a completely opposite avatar from his role in 'Dumb and Dumber', which was released in the same year. The film was followed by a critical failure 'Speed: Cruise Control'. 'Speed' currently holds 93% rating on review aggregator Rotten Tomatoes and was a commercial success grossing $350 million worldwide.
9. Heat
When names like Robert De Niro, Al Pacino, Val Kilmer and Jon Voight share a screen together and that too under the directorial vision of Michael Mann, there is nothing much to explain about the greatness of such cinematic works.
In 'Heat', director Michael Mann brings you a cop and thief chase with De Niro playing the bad guy while the "don" Al Pacino turning into the protector of the law. The film also stars William Fichtner, Tom Sizemore, Ashley Judd, Ted Levine and Natalie Portman.
The presence of such a huge ensemble doesn't let you get bored for a single frame even during the three-hour long run of the film. Filled with action, drama and some interesting "honor among men" conversations, this fancy crime thriller is a must inclusion in everybody's watchlist.
8. Point Break (1991)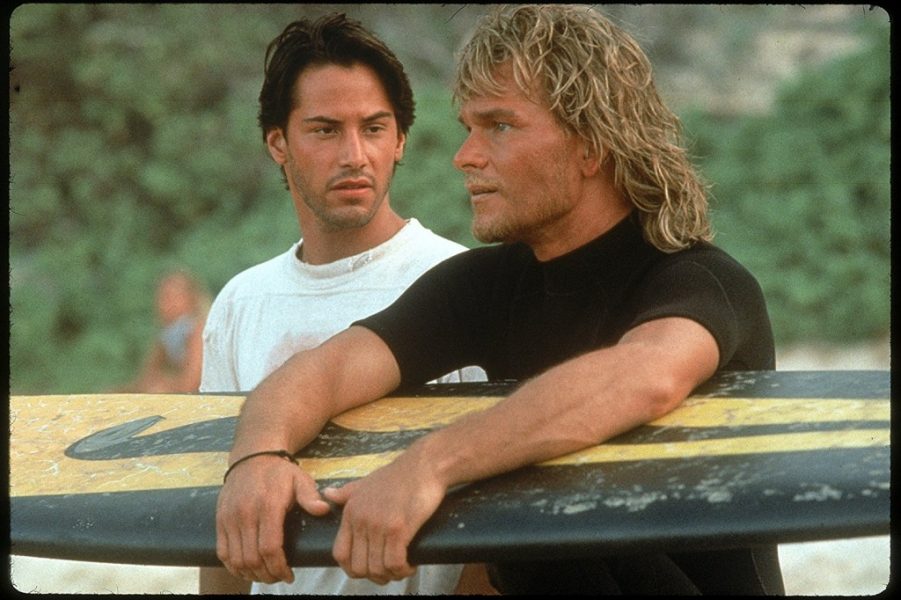 Directed by Kathryn Bigelow, 'Point Break' follows a group of bank robbers who belong to a surfing community and revolves around the complicated bond between the team leader Bodhi and the FBI informant Johnny who is infiltrating Bodhi's team.
The film was director Bigelow's third directorial venture. It starred the cult star Patrick Swayze as Bodhi and Keanu Reeves as Johnny. The film explores the world of surfing and showcases all the stunts behind it quite impressively. Apart from commendable performances from both Swayze and Reeves, Bigelow's direction is worth every applaud. The next best thing about the film is Donald Peterman's cinematography who captures the stunts and sequences without any flaw.
'Point Break' has since attained a cult following since its release and Patrick Swayze's hairstyle is still referred to as 'Point Break' among the youth. The film was remade in 2015 by director Ericson Core and starred Luke Bracey and Édgar Ramírez in lead roles.
7. Die Hard With a Vengeance (1995)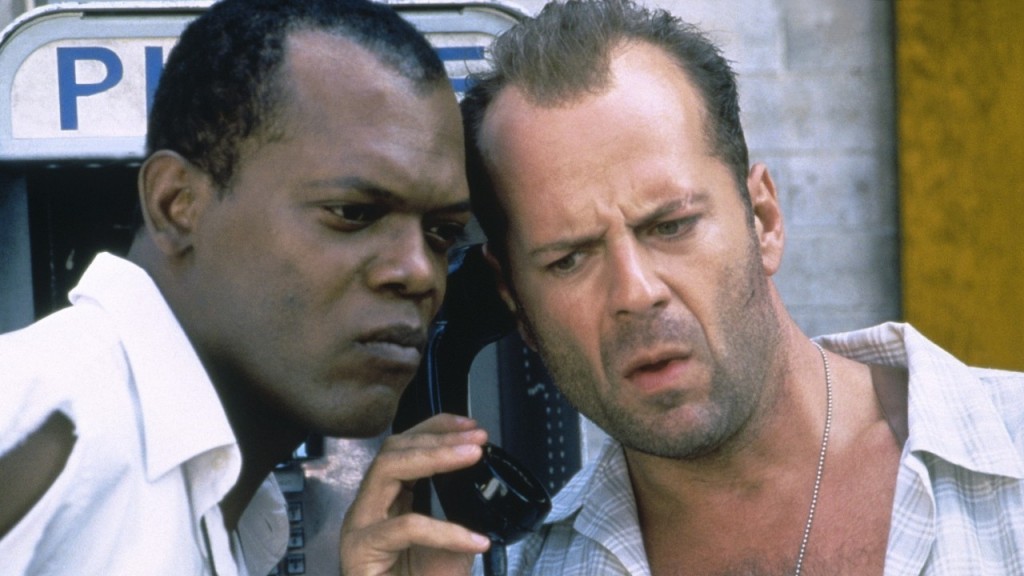 In the third installment follows now suspended Lt. John McClane being drawn into a matter of national security when mysterious plans to bomb the city and make McClane dance at his fingers.
The film is although the similar 'Die-Hard' style treats from director Jon McTiernan (who directed the original film' and brings back the story arc established in part one. The film lacks originality in the script and the film's vengeful villain lacks the cruelty and cleverness as Alan Rickman had in the first film. However, McTiernan's idea of pairing up Bruce Willis with Samuel L. Jackson turns out to be an add-up to the film's success.
Even though it lacks originality and that intensifying thrill which the previous films offer, McTiernan's inspiration from the first film to shoot action sequences does the job and the sequel turns outfit and fine but slightly below expectations. The film was a box-office success despite the mixed response. The film was followed by 'Die Hard 4' which was released 12 years later.
Read More: Best Action Movies of All Time
6. Face/Off (1993)
'Face/Off' is one of those films which lacks the efficacy in its story, but the actors cast in it execute it so well, that you'll ignore any flaw of the film and will just sway along with its sequences.
The film's plot focuses on an unexpected scenario in which a dangerous convict replaces a decorated FBI official by swapping faces with him via a plastic surgery. What follows is a man's quest to prove himself and save his family from a grave danger. Now the plot draws various similarities from films like 'The Fugitive' and becomes predictable after a point.
But it is the mixed portrayals of two characters by Nicholas Cage and John Travolta which saves the entire film and its the sequences between them that leaves you pumped and set for action. Especially, John Travolta's epic maniac-like expressions and dialogue delivery make it even more exciting. Breaking these two legends play each other, the makers bring the audiences a terrific action and emotional package which will make your time.
Not the best, but Face/Off is one of the finest in action genre you'll come across when looking for a 90's cult classic. The film grossed $245.7 million and currently holds 92% rating at the review aggregator Rotten Tomatoes. It was nominated for an Academy Award for Best Editing and lost to 'Titanic'.
5. The Crow (1994)
A supernatural fantasy film, 'The Crow' follows Eric Draven, a rock musician who is revived from dead and goes on a vengeful journey to revenge his death and his fiancée's rape and murder.
The very first reason to have this film on the list is to give well-deserving tribute to actor Brandon Lee. In his final film appearance, Brandon leaves us with very unique and discrepant, which we can treasure for life in our desiring watchlists. He eloquently sweeps in the emotional depth of the character and delivers a horrifying and treacherous portrayal that may not be achieved by any other actor. Director Alex Proyas spice up his film with some creative visual styles and a distressing monologue which will leave you devastated.
The film was overshadowed due to major commercial films releasing in the same year, but however, attained a cult following. Unfortunately, during a sequence in which Lee's character was to be shot, he was struck by the defective fired blank and was pronounced dead after six hours of surgery. The film is dedicated to him and his fiancée Eliza.
4. Mission: Impossible (1996)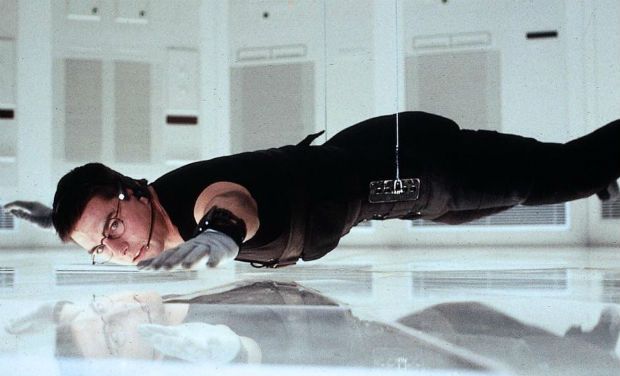 My mission, should I choose to accept it, is to make sure this film is listed in this article and to write as many good things as I can about this film. Before you guys start judging me, this film isn't the best 'MI' film, but this is where the task of saving the nation by IMF's Ethan Hunt begun, and this is what established one of the most enthralling action franchise of all times, making Tom Cruise a household name.
In the first installment of the famous series, Ethan Hunt faces a threat from a mole in his own team who frames him for the murders of the members of IMF. Unlike its future installments, what is great about this film is its violent approach to the events in the plot, all thanks to director Brian De Palma who directed 'Scarface' (1983). The film's action sequences though doesn't make a shred of sense and realism, but the way they are shot is enough to ignore that fact and just play along with the film.
The film's awesome and awe-inspiring electro-dance theme from U2 band members Adam Clayton and Larry Mullen Jr. does the rest of the job. The theme is till date one of the most memorable themes of all time and it broke all charts during the film's musical release. The themes success has led it to be the central theme of all 'MI' sequels and was also nominated for a Grammy. 'Mission: Impossible' has been followed by 4 sequels in last 20 years while a sixth film is slated to release this year.
3. Léon: The Professional (1994)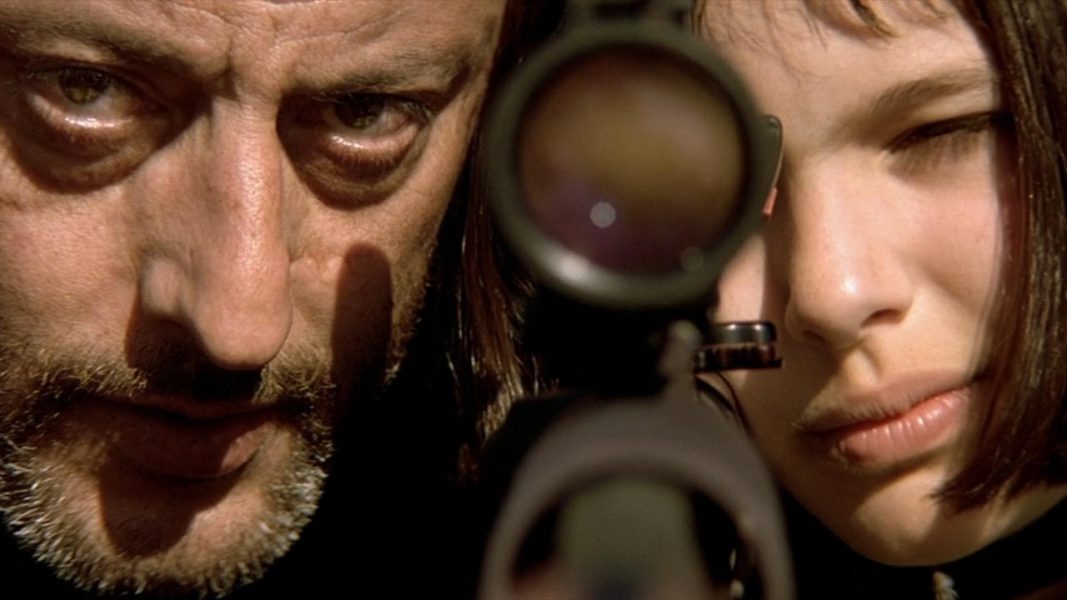 The French-American crime-action thriller is one of the badass aggressive treats from Luc Besson. Le Film de Luc Besson follows a traditional hitman Léon who takes a 12-yr old kid Mathilda as his protégée when her family is murdered by a corrupt DEA agent Norman.
Firstly, this is the debut film of American actress Natalie Portman, and believe me, she is, at her career's best in her first acting venture. She's lethal, clever and merciless in her fearless character and is not some femme fatale. She's supported by incredible performances from Jean Reno and Gary Oldman (who is in his another remarkable villainous role). Besson's fresh and distinctive approach towards the dazzling story arc of Mathilda mixed with elements of family emotions and relationships is really prepossessing. The film was nominated for 7 César Awards (referred as Oscars of French cinema) including Best Film, Best Actor for Reno and Best Director for Besson.
2. Terminator 2: Judgement Day (1991)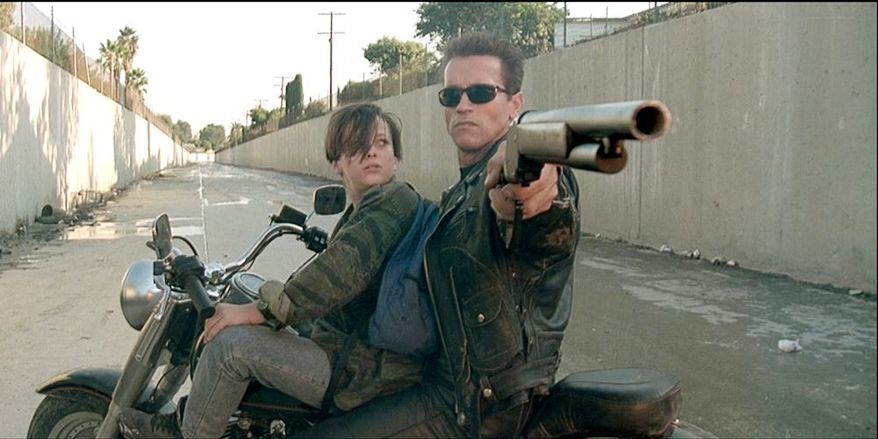 "I will be back". When this dialogue was uttered by Arnold Schwarzenegger in the 1984 film 'The Terminator', people weren't sure he was actually serious about the fact. He kept his promise, or let's say he stood by his threat when he came back to haunt the life of Sarah Connors and her son in this 1991 sequel, and this time rather as a messiah than a humanoid killer.
As the predecessor, the sequel was also directed by James Cameron and brought back Arnold as the good guy and teamed him up with Linda Hamilton to bring an end to a new threat. The film also introduced the character of John Connor, which was hinted in the previous film. Not just in the story, the film broke grounds in the aspects of CGI and visual effects, marking it as the first film with a lead computer-generated character.
The sci-fi triumph became the highest grossing film of the year 1991 and is considered one of the best sequels of all time. The film was followed in the franchise by 'Terminator: Rise of the Machines' (2003) and then two more films in coming years. Arnold Schwarzenegger received widespread acclaim and fan-following for his portrayal of the titular character.
1. The Matrix (1999)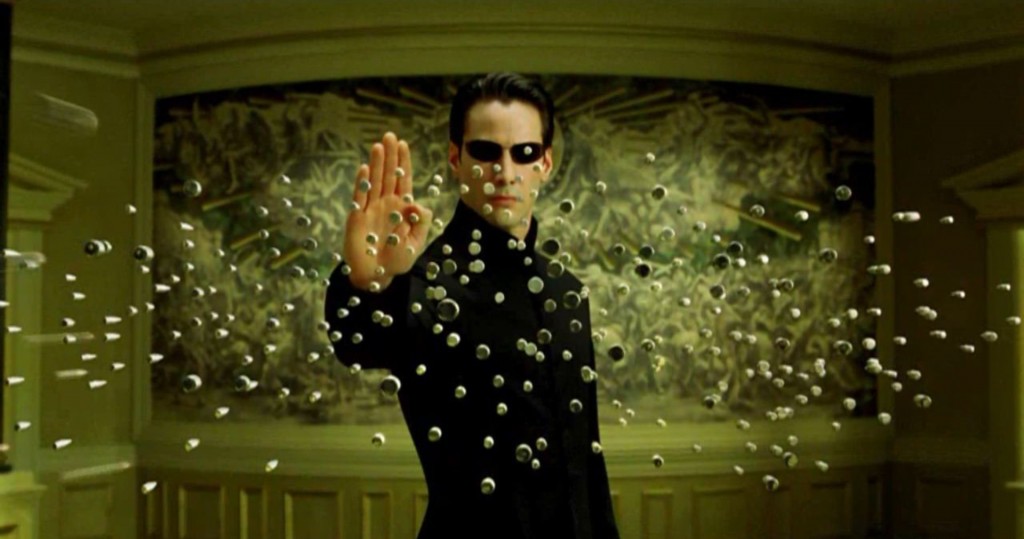 With this film, The Wachowski Brothers set some astonishing records and benchmarks in the field of science-fiction, CGI, time-lapse cinematography, slow-motion shot progress and any technical term you can think of.
The film revolves around the central character Neo, who learns that he along with rest of the world are actually trapped inside a simulated cyber world and is thus included in a deadly rebellion against the dominating machines. The film turned out to be an awe-struck memento for critics, viewers and every member of the industry. Also, the film took Keanu Reeves's stardom at new heights and made him a household name.
The film also had an A-grade supporting cast which included Laurence Fishburne, Carrie Anne-Moss and the most menacing, clever, stylish and no-nonsense villain Hugo Weaving as Agent Smith. The film's another bonus was the sensual chemistry between Reeves and Moss (which excelled in further installments) and its wonderous action sequences, all of which were substantially blended with philosophy and cyberscience.
'The Matrix' spawned two direct sequels 'The Matrix: Reloaded' and 'The Matrix: Revolutions' both released in 2003. The film won 4 Academy Awards, winning in all categories it was nominated. It's gonna take another decade to make something like this again in any cinema industry.
Read More: Best Action Movies of 2000s