Prime Video's 'A Million Miles Away' follows the story of Jose Hernandez, who harbors the dream of becoming an astronaut. The idea germinates in his mind at the age of ten, but there is a long road ahead of him. He belongs to an immigrant family of farmworkers and has to help them in the fields while also focusing on his studies. However, all the obstacles in his path only make him more dedicated to pursuing his goal, and despite all the rejections and prejudice he faces along the way, he remains focused on his childhood dream.
While Jose's hard work and perseverance took him further in his journey, he couldn't have turned his dreams into reality if it wasn't for his family, especially his wife, Adela. In the movie, she becomes instrumental in pushing him forward, even when nothing seems to be working in his favor. If you want to know more about her, we've got you covered.
Where is Adela Hernandez Now?
Adela Hernandez lives in Stockton, California, with her husband, Jose, whom she married on May 30, 1992, and with whom she has five children. Like Jose, Adela came from a family of farm workers who migrated from Michoacán to get a better life for their children in America and would return when the farming season was over. She spent her childhood with her ten siblings on a ranch near Rio Vista and learned to speak English at the age of 11. "I started working in the fields when I was 14 years old during summer breaks, sorting tomatoes, working at a packing shed," she said.
After finishing school, Adela enrolled at San Joaquin Delta College and worked at Macy's department store, selling cosmetics. In the movie, we see her employed at a car dealership, where she first meets Jose, who then asks her out on a date. In real life, their blind date was arranged by Jose's sister, Leticia. She regularly shopped where Adela worked and thought she would get on well with her brother. According to Adela, it took a year for Leticia to convince Jose and Adela to go on a date with each other.
Much like in the movie, Adela and Jose were instantly attracted to each other and got married after dating for two years. "Some people act as though they're superior to anyone else. That's not the way he is," Adela said. The couple shared many similarities, especially in their familial and cultural background. They both had dreams that they worked hard for and supported each other to see it through.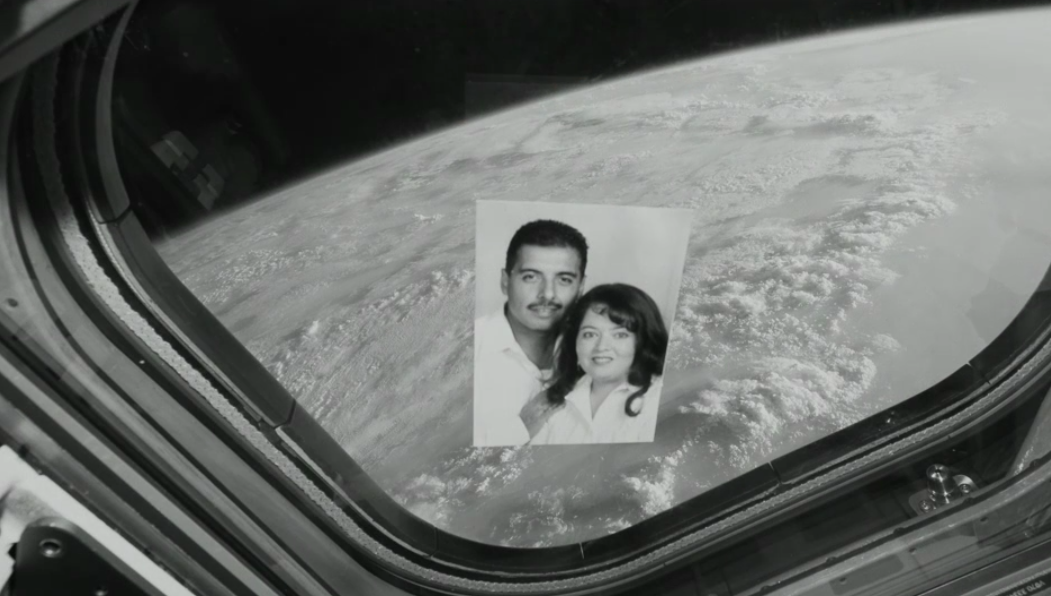 The movie captures the essence of Jose and Adela's relationship. It focuses on how she supported her husband and encouraged him to better himself before applying again for the space program. In his book, 'Reaching for the Stars: The Inspiring Story of a Migrant Farmworker Turned Astronaut,' Jose mentions that when Adela found out about his many rejections to the NASA program, she asked him what it was that the other applicants who were accepted had and he didn't. Her words made Jose reflect on the things he'd never thought about before and became instrumental in radically changing the look of his next application.
In real life, before Jose was accepted for the space program, he worked at NASA for four years as an engineer. When he received the offer, he wasn't sure about it, but Adela encouraged him to take it, believing it could better his chances of getting accepted for the space program. Around that time, she started a restaurant called the Tierra Luna Grill near the Johnson Space Centre. She closed the restaurant in 2011 when Jose retired from NASA, and they moved to Lodi, California, to be near Jose's parents.
When Jose got accepted into the space program and underwent intense training to prepare him for space, he didn't get to spend much time with his family. At this time, Adela took care of their five children while also running the restaurant. While they had ups and downs, like any other couple, Adela said that family always comes first for her and her husband, and they "try to stay very close" to each other and their roots.
Read More: Where Was A Million Miles Away Filmed?