The ever-changing relationship dynamics within Netflix's 'Selling Sunset' have long been a source of entertainment for the viewers. Hence, when season 7 of the show saw Amanza Smith and Nicole Young at each other's throats, people could not help but feel intrigued by the reasons behind it. After all, the two ladies are some of the best of The Oppenheim Group in Los Angeles, California. Hence, the status of their friendship is but a naturally curious topic.
Amanza and Nicole's Selling Sunset Journey
The cracks in the friendship between Amanza Smith and Nicole Young began when the two ladies were not even present at the same place. While having dinner with Chrishell Stause and Emma Hernan, Amanza gets to know that Nicole had apparently called Emma a "social climber" due to her friendship with Chrishell. Emma was told about this by Chelsea Lazkani and Amanza was flabbergasted by the development, stating that while Nicole was a good friend of hers, she knew that Emma was not how Nicole had portrayed her to be.
Hence, when Emma decided to confront Nicole at Chelsea's 30th party, things took a turn for the worse. Amanza herself told Nicole that she could not "f–k with her anymore" if Nicole had indeed called Emma a social climber. After Nicole left the party, her husband, Brandon Young, got to know about the things that had transpired and apparently ended up texting Amanza which read, "Two words, Amanza. F–k You." Amanza herself was hurt by the text and did not think that her actions warranted such a response.
Later on, Amanza and Nicole do meet up to clear things out, where the former stated how she did not like the words that Brandon had texted her. In response, Nicole stated that while she was not excusing anyone's actions, she knew that "the same thing that was really triggering for me [Nicole] really triggered him [Brandon]." She also stated that she had expected the conversation at the party to be a professional one and did not expect the way things had gone.
Additionally, Nicole clarified that she had wanted Amanza to be there for her as a friend. She further added how she did say that Emma was a "social climber" because of how she apparently behaved in Chrishell's company, claiming that she was otherwise nice and "way more approachable." Nicole also admitted how the conversation at the party "broke" her. The last revelation surprised Amanza, who confessed that Nicole's hurt had hurt her too. She also apologized for not being a better friend to Nicole.
Are Amanza Smith and Nicole Young Still Friends?
Following their one-on-one conversation, Amanza Smith and Nicole Young confirmed that they were "okay" with each other. The pair even joked about rearranging their faces about finishing their meal, referring to the comment made by Chrishell Stause at Nicole during Chelsea's birthday party. During the dinner party thrown by Jason Oppenheim to celebrate ten years of his company, Amanza told everyone that Nicole did indeed start the whole issue, but it has since devolved with everyone having done some things they should be held accountable for.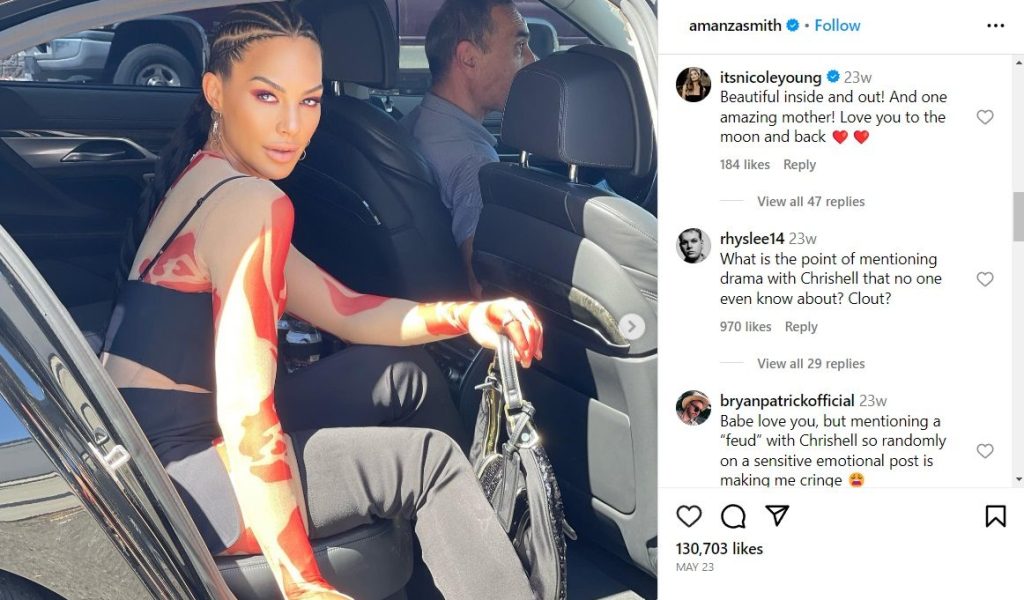 After the events in season 7 of the Netflix series, it seems like Amanza and Nicole continue to be friends and rarely shy away from showering each other with compliments on social media (just look at the post above!). In fact, when Amanza shared the news of her diagnosis of vertebral osteomyelitis in June 2023, Nicole took to the comment to wish her friend the best by stating "Strongest woman I know! I love you and yes, this too shall pass. I cannot wait to see NOT in excruciating pain."
Read More: Are Emma Hernan and Nicole Young From Selling Sunset Friends?