In the recently released season 7 of Netflix's 'Selling Sunset,' Amanza Smith shines brightly and has her fair share of drama. However, fans of the show cannot help but remember her time from season 6 when the reality TV star had feared that she had cancer. Given that the topic is not really addressed in season 7 of the series, the public is more eager than ever to know if the realtor did have cancer or if she is cancer-free.
Does Amanza Smith Have Cancer?
Fans of Amanza Smith will be delighted to know that the realtor from the popular Netflix show did not get diagnosed with cancer. The concern for the possibility of cancer emerged when she went for a scan, and the results indicated that Amanza might have cancer, which made her quite upset. She was told that she needed to get a biopsy done, which only added to her fear of what the results might say and how it would impact her and her kids.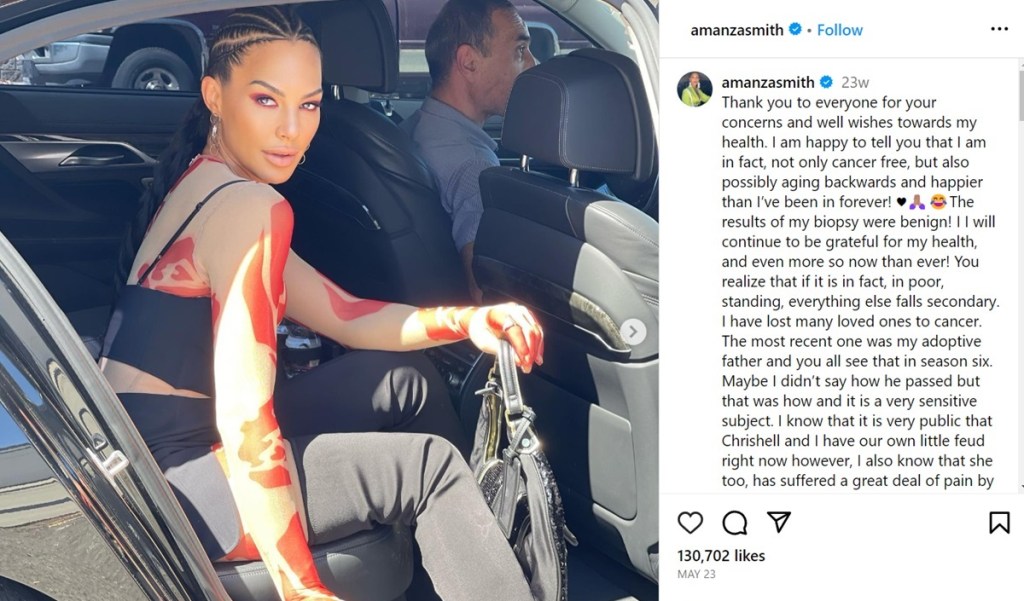 "When they did the ultrasound, my uterus on the screen looked… There's a lot of stuff there, and I don't know what it is. It doesn't look good. There's a wide array of things that it could be, and then the one thing that we pray and hope that it's not," Amanza told Mary Fitzgerald in season 6 of the show before adding how she had been avoiding going to the doctors. "I'm not proud of that. I couldn't deal with it and just completely avoided it for three months. I most recently went, and I finally had [the blood tests]… but I just realized, like, holy s–t, my kids, I'm all they have. And then it just triggered something inside of me that, like, I realized I'm still not okay."
However, following the release of season 6 of 'Selling Sunset,' Amanza assured her well-wishers that she had not been diagnosed with cancer. Thank you to everyone for your concerns and well wishes towards my health. I am happy to tell you that I am, in fact, not only cancer-free but also possibly aging backward and happier than I've been in forever," she shared in an Instagram post. "The results of my biopsy were benign! I will continue to be grateful for my health, and even more so now than ever! You realize that if it is, in fact, in poor standing, everything else falls secondary. I have lost many loved ones to cancer."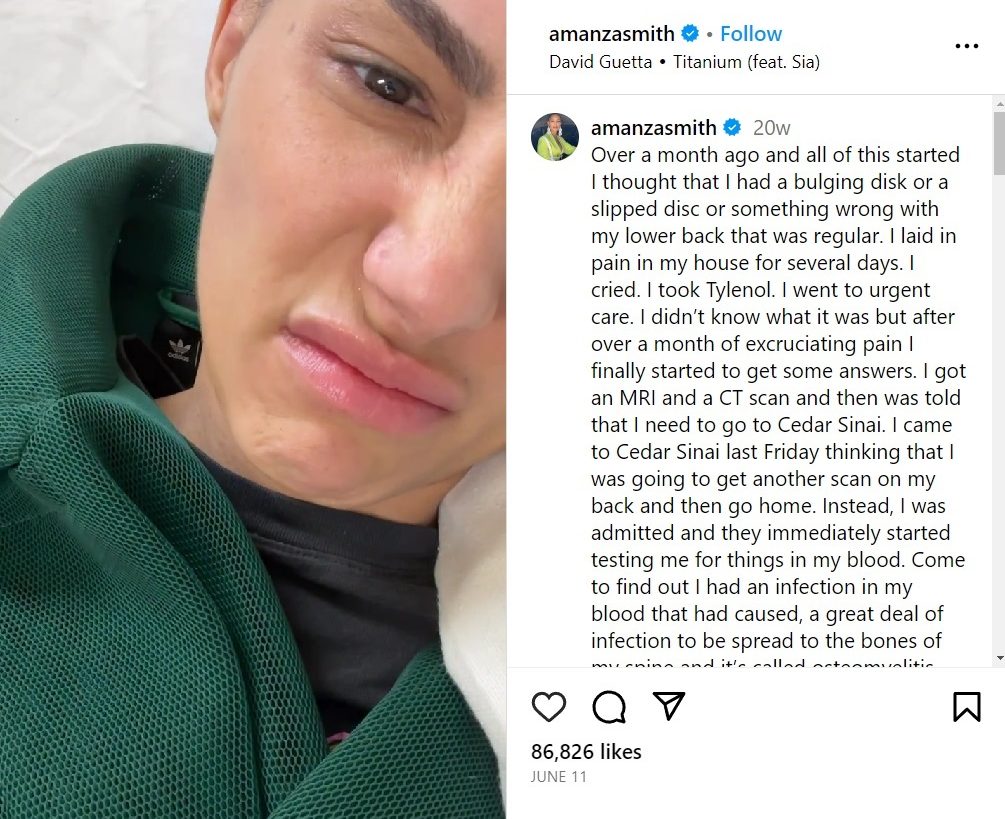 That said, Amanza has not been completely out of the woodwork when it comes to health concerns. In June 2023, she once again took to social media to open up about her diagnosis of vertebral osteomyelitis. "Over a month ago, and all of this started, I thought that I had a bulging disk or a slipped disc or something wrong with my lower back that was regular. I laid in pain in my house for several days. I cried. I took Tylenol. I went to urgent care. I didn't know what it was, but after over a month of excruciating pain, I finally started to get some answers," she revealed.
"Come to find out, I had an infection in my blood that had caused a great deal of infection to be spread to the bones of my spine, and it's called osteomyelitis," Amanza further informed everyone before delving into how she was being taken care of by some of the best in the field. "Here I am, day 10, and I'm making this message a bit quickly because I'm about to go into surgery to have portions of the infection removed from my spine that weren't getting any better by the antibiotics that I've been getting for 10 days now every four hours intravenously. I'm still in pain, but I am hopeful that with the surgery, my back pain will diminish." Indeed, it seems like Amanza has since been on a path of recovery and seems to be back stronger than ever!
Read More: Is Mary Fitzgerald From Selling Sunset Pregnant Now? Latest Update