If there's one thing absolutely no reality television fan can deny, it's that Amanza Smith (Netflix's 'Selling Sunset') is a force of nature considering everything she has been through over the years. Not only did she have a difficult childhood, but her ex-husband/children's father even abandoned them a few years ago, following which she had to fight for custody while also battling rumors. However, she handled it all with exceptional grace, that is, until the tables turned and she herself faced some complex health issues — she actually tried to ignore or dismiss them for months.
Does Amanza Smith Have Cancer?
It was in episode 4 of season 6 that interior designer specialist Amanza opened up to her fellow realtor and chosen sister Mary Fitzgerald Bonnet about her physical well-being for the first time. "Recently, there [were] some things seen on a scan that were questionable," she explained in a personal confessional. "I need to get a biopsy. So yeah, that feels shitty." She even told Mary, "Sometimes you can have cysts that go away, [the doctors] said. So maybe that's it… [But] they did not know anything without doing like a proper biopsy. Everything was just from the visual."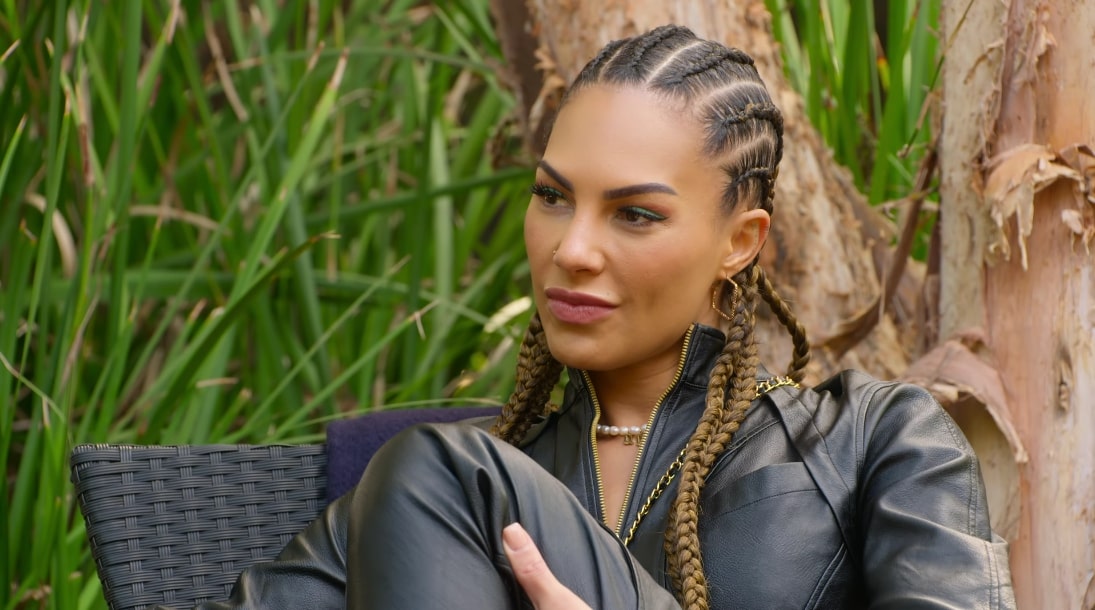 Then, it was in episode 10 that Amanza tearfully revealed she'd initially "lied" about some details and had gone into such denial she purposefully put off going to the doctors for three whole months. "When they did the ultrasound, my uterus on the screen looked – – there's a lot of stuff there, and I don't know… we don't know what it is," she told Mary. "It doesn't look good. There's a wide array of things that it could be, and then the one thing, you know, we pray and hope that it's not." Cancer.
"I'm not proud of that," Amanza added. "I couldn't deal with it and just completely avoided it for three months. I most recently went, and I finally had [the blood tests]… but I just realized, like, holy sh*t, my kids — I'm all they have. And then it just triggered something inside of me that, like, I realized I'm still not okay." As for whether the mother of two actually has cancer, well unfortunately, because she has been careful not to make her test results public, we can't confirm or deny anything as of writing.
Is Amanza Smith Okay?
If we're being honest — no. Amanza does look quite physically fit if we only go by her social media posts over the past year, yet she hasn't been doing too well mentally for a while now. We actually won't comment more on her aforecited medical mystery to respect her privacy, but we do need to mention she has been open regarding her mental health struggles since 2021. This was when she was trying her level best to juggle being a good mother with fighting for custody and searching for her missing ex-husband, once NFL star Ralph Brown, to expedite the entire process.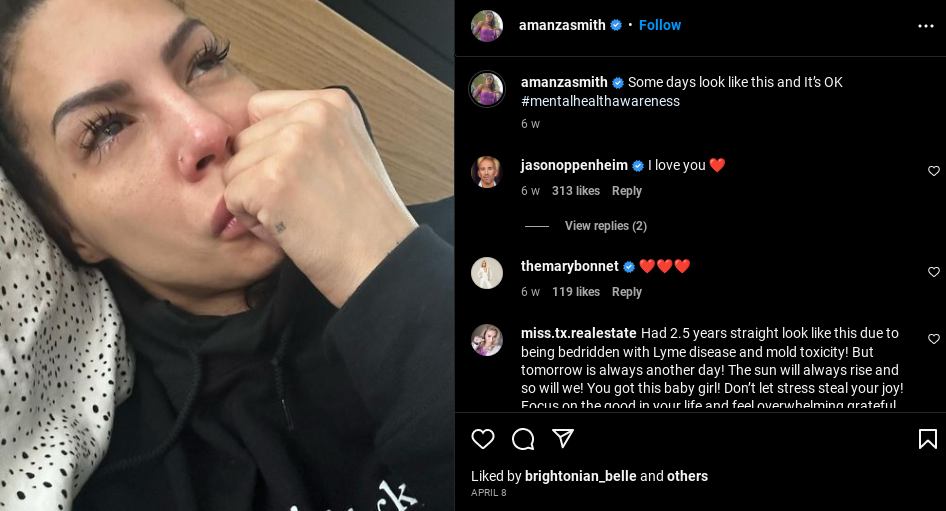 "This was me last night at 4am when I couldn't sleep because so much was on my mind," she penned in an Instagram post alongside a photo of her crying. The reason? She wanted to be "honest and not pretend I'm always at the top of my game with it all." She's even written, "It's ok not to be ok. Many people are afraid to be open about mental health. You all see me very strong and I appreciate so much the support I have gotten thru fans and friends for the way I carry myself thru this difficult new journey as a full time working single mom."
Amanza actually shared a similar post on April 8, 2023, as well — though this time, she simply captioned it, "Some days look like this and It's OK #mentalhealthawareness," as seen above. Moreover, with all this, it's also imperative to note that this now-successful realtor/interior designer specialist's mental health has also been affected by the fact two family members sexually assaulted her as a child.
"I put on a very strong face, which comes from the fact that from the time I was three years old, I was sexually abused by somebody very close to me, and you have to pretend like that's not happening," Amanza once said. However, because she "truly believes that everything happens for a reason. I would change nothing in my life. I would be born again, and I would live the exact same life of trauma and abuse. I would do it all over again because I am strong enough. I was chosen to go through that. Now I can be a voice to help others get through it."
Read More: Selling Sunset Season 6 Cast: Where Are They Now?