When 'And Just Like That…' begins, 11 years have passed since the events of the 2010 film 'Sex and the City 2,' and Carrie Bradshaw (Sarah Jessica Parker) and her friends are at a completely different stage in their lives. However, life tends to throw you unexpected curveballs. For Carrie, it comes in the shape of the death of John James Presto, also known as Mr. Big. Samantha Jones (Kim Cattrall) is noticeably absent, having moved to London. Charlotte York Goldenblatt (Kristin Davis) is a mother to two wonderful children, and Miranda Hobbes (Cynthia Nixon) decides to walk out of her marriage after falling in love with a non-binary comedian. There are also new characters that make their debut in 'And Just Like That…,' making the 'Sex and the City' universe more diverse than ever,
In season 2 episode 1, Carrie and her friends in New York prepare for an appearance at the Met ball while Miranda begins questioning her decision to come to Los Angeles. In episode 2, Carrie struggles with promoting a wellness product for women's private areas, and Charlotte must come to terms with the fact that her children are growing up. In Los Angeles, growing bored, Miranda joins an environmental group and cleans a nearby beach. Here is everything you might want to know about the ending of 'And Just Like That…' season 2 episode 2. SPOILERS AHEAD.
And Just Like That…Season 2 Ep 1 and 2 Recap
The first episode begins predictably with sex. Carrie, Charlotte, Miranda, Seema Patel (Sarita Choudhury), and Lisa Todd Wexley (Nicole Ari Parker) have sex with their respective partners. Then there is Dr. Nya Wallace (Karen Pittman), alone at her home, forced to find pleasure in pornographic videos. In the after-sex bliss, Carrie and Franklyn (Ivan Hernandez) speak about cooking, with Carrie admitting that she has always wanted to learn how to poach an egg. Franklyn advises that she can try it now. Carrie's attempts to poach eggs the following morning do not produce the desired results. Just when Franklyn is leaving, Charlotte shows up, and Carrie's two worlds meet.
As Charlotte excitedly questions her friend about Franklyn, Lisa prepares to secure funding for her next documentary. Her husband Herbert's offer to finance it isn't taken well. Meanwhile, in Los Angeles, Miranda celebrates the best version of herself while Che does costume fitting for their new TV show. A passing remark implying they are overweight gets to them. Miranda misconstrues this as their growing disinterest in her. But by the end of the episode, both Che and Miranda voice their insecurities.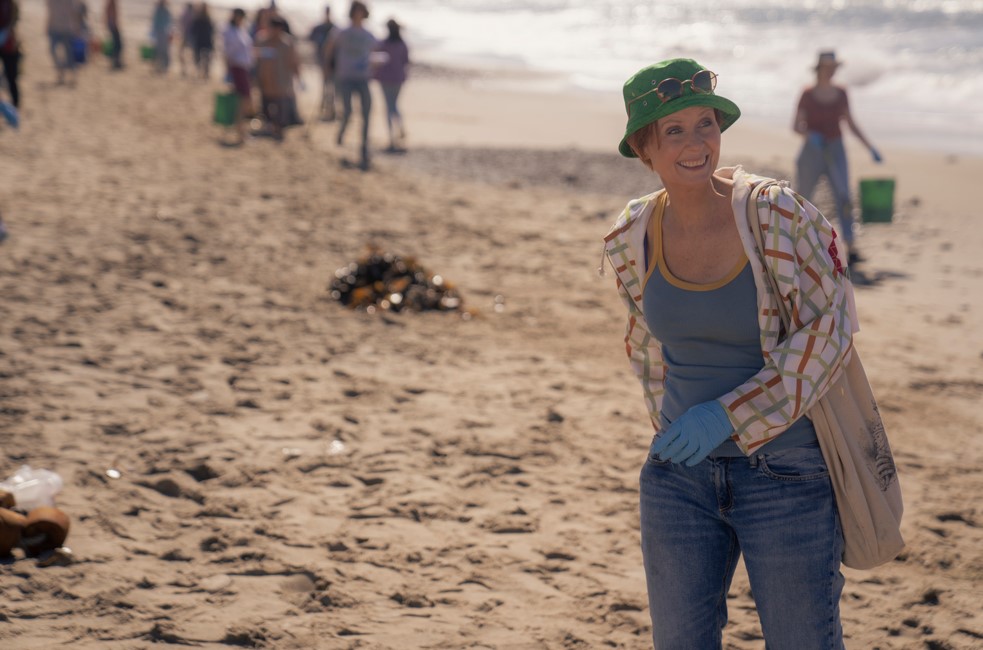 The ladies prepare to attend the Met ball. Carrie's plus one is Seema, whereas Charlotte is supposed to go with Anthony Marentino (Mario Cantone). But Seema is invited to dinner with Zed, his son, and his former wife, so she has to cancel on Carrie, and Charlotte's husband, Harry (Evan Handler), expresses his desire to attend the Met ball, erroneously believing that he will get to climb the stairs and meet celebrities. When Anthony learns he has been replaced, he protests about the injustice, but the women placate him by promising him he can go with Carrie.
However, during the dinner, Seema discovers that Zed still lives with his former wife and promptly leaves. She calls Carrie to let her know that their plan is back on. This makes Anthony once more the odd one out. Fortunately, Harry decides not to go after learning that he will not get to interact with Rihanna, making Anthony Charlotte's plus one once again. Meanwhile, Lisa and Herbert have no choice but to walk to the gala after the former forgets to book a van. At the last moment, Carrie has a dressing disaster, and she has little choice but to wear the only dress she has with a headpiece — her wedding dress from the 2008 movie 'Sex and the City,' where she was left at the altar by Mr. Big.
In episode 2, Carrie discovers that she has to find a way to make herself comfortable with the idea of promoting a vaginal wellness product. Herbert discovers that despite his privilege of wealth, he is as vulnerable as any other person belonging to a minority group in certain instances. Lily sells off her dresses to buy a keyboard, making Charlotte accept that her children are growing up. Nya becomes infuriated after her estranged husband, Andre, suggests that he can potentially cheat on her in the future and that they should try surrogacy to save the marriage. Meanwhile, Seema briefly reunites with Zed, but when he tries to get her to agree to be an equal partner in a club in Manhattan, she walks out on him again. Miranda discovers that Che used to be married to a man, and Che meets Tony Danza, who is set to play their father in their self-titled series.
And Just Like That…Season 2 Episode 2 Ending: Do Carrie and Franklyn Break Up?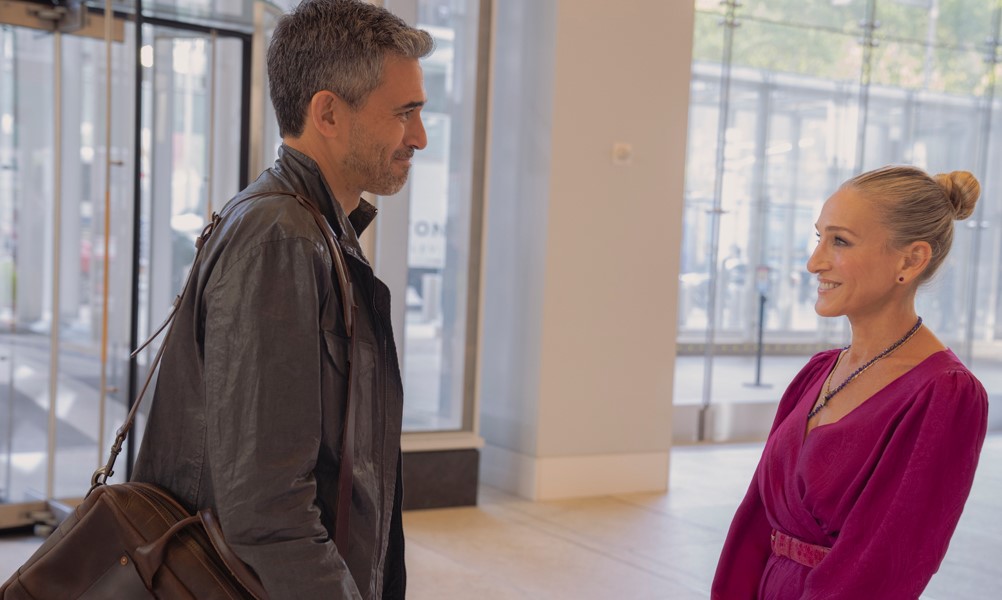 Yes, Carrie and Franklyn break up toward the end of season 2 episode 2 of the series. Carrie lost Mr. Big in season 1, and from her perspective, what she had with Franklyn was always meant to be casual. They recorded their podcasts every Thursday, and they had sex afterward. Carrie was fine with this arrangement. But when Franklyn asks her to accompany him to a gathering with his friends on a Tuesday, she seems to realize that she isn't at that place yet psychologically and emotionally to commit to a relationship. And she immediately tells Franklyn, who seems to accept her decision. But toward the end of the episode, he acknowledges that he can't continue to be in a relationship that has no future. The two part ways amicably, with Carrie observing that she has freed up her entire week just like that.
Is the Sex and the City Podcast Canceled?
Yes, the 'Sex and the City' podcast gets canceled. They had a successful first season, but business moves at light speed in this constantly evolving sector. Carrie first gets over her discomfort of promoting a vaginal wellness product and then comes up with the words she feels most at ease in saying. By the time she does that and returns to the studio with Franklyn, the studios have sold to Apple or an equally big corporation. Afterward, Carrie suggests they can sell the podcast to other parties – something Franklyn proposed earlier. But as he tells her, it's hard to tell something that has already been canceled. As their professional relationship ends, so does the personal one.
Read More: Is Miranda Gay in And Just Like That…?