The entire student community of the UCLA campus in Westwood, California, was devastated when one of their star students, Andrea DelVesco, was found brutally murdered in September 2015. Luckily, the ensuing investigation was relatively quick, thanks to a neighbor's prompt response and a careless mistake by the perpetrators that eventually led to their arrest. Hulu's 'Death in the Dorms' chronicles the events surrounding Andrea's tragic death and how her killers were soon brought to justice. If you're interested in knowing all the details about this harrowing case, we have you covered.
How Did Andrea DelVesco Die?
Born on June 29, 1994, in Chicago, Andrea DelVesco did her schooling in Austin, Texas. In the fall of 2012, she enrolled at the University of California Los Angeles (UCLA), where she pursued a double major in Spanish and Psychology. Loved ones describe Andrea as a kind-hearted and empathetic individual who had an innate understanding of people and loved helping those in need. Besides, she was an avid animal lover and an active member of the Pi Beta Phi sorority, awarded numerous honors for her contribution to the community.
In September 2015, the 21-year-old had just commenced her senior year and lived with her beloved rescue dog, Shay Panda, in an apartment in Westwood. While Andrea had great hopes for a bright future dedicated to helping all living beings, her dreams were cruelly cut short in a cruel twist of fate. On September 21, 2015, her upstairs neighbor and sorority sister, Sarah Muhr, returned home at around 5:30 AM from the airport. Around 7:00 AM, she heard a loud noise from below and rushed to her balcony to see a man jump down from Andrea's apartment, which seemed to be on fire.
Fearing the worst, Sarah called the police, and a nightmarish scene awaited them when they arrived. A woman's body was found lying badly burnt on the bed in Andrea's apartment and was eventually as her through dental records. Not just that, her dog, Shay Panda, was found with severe burn injuries, alive but having labored breathing. Andrea's autopsy later revealed that since she had low carbon monoxide levels, she was likely killed before being set on fire. Soon, it was concluded that the 21-year-old had been stabbed around 19 times, including two cuts to her neck, which were rapidly fatal. Unfortunately, even her pet canine had to be euthanized a few hours later.
Who Killed Andrea DelVesco?
Interestingly, when Sarah called the police to report the fire, it was not the first time she had called them that morning. When she returned from the airport earlier, she reportedly saw a strange man wearing a baseball cap run down the stairwell. At around 6:18 AM, Sarah called the police when she heard noises of a woman screaming and a dog barking loudly. Realizing that Andrea was the only one with a pet in the complex, she called her but did not receive any response.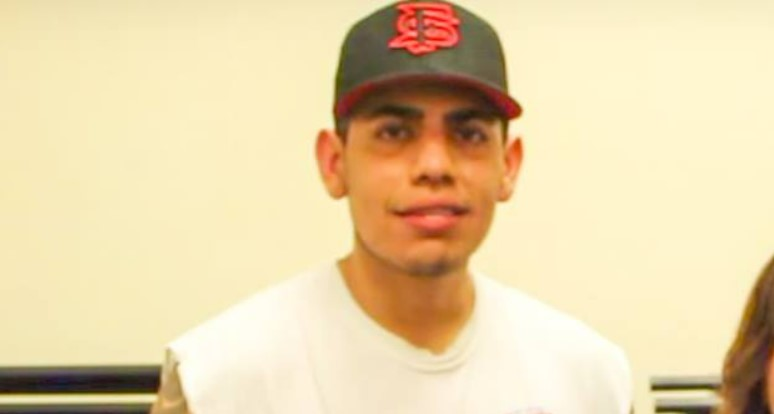 Hence, Sarah rang the police, yet when they arrived, they allegedly left after a hurried external check of the apartments, ruling out any signs of a break-in. This baffled her, as they did not knock on any doors or check anyone. Nevertheless, Sarah was anxious to sleep and kept looking out her window. Half an hour later, when she heard a loud noise below and saw a man jumping down from Andrea's balcony, she noticed he was covered in a red blanket. Furthermore, he ran out of the street and drove away in his red car; this proved to be a crucial detail that helped capture Andrea's murderers.
When the police came and discovered the victim's body, they found an emptied trash can on her bed, which was used to start the fire. Given the manner of death, they realized that the culprits had deliberately set the room on fire to cover up the murder. As the investigators began looking for possible suspects on the UCLA campus, two students who lived across the street from Andrea's, reported a burglary in their apartment. Not just that, they claimed the incident had occurred around the same time when Sarah noticed the man running down the stairwell.
Stolen items included laptops and a pair of Sonos speakers, which needed to be registered online for usage. These speakers led the police to two suspects, as just a couple of days after Andrea's murder, they discovered that someone had tried re-registering the gadgets online via a new email ID. Once the email was traced, investigators found a man possessing the speakers who claimed he had borrowed them from his roommate, 22-year-old Fresno State University student Alberto Medina. He further alleged that the latter had visited a friend at UCLA that weekend and had returned with the speakers.
Once questioned, Alberto initially lied to the police but eventually confessed that he had stolen the speakers, a laptop, and some alcohol. Moreover, he admitted to being at Andrea's apartment but alleged that his friend, Eric Marquez, had killed her. The latter was a 23-year-old UCLA student who lived just a mile away from the victim, and Alberto was visiting him on the night she was murdered. However, when the police studied the surveillance footage of the area, they discovered that both men had returned to Eric's apartment around 7:06 AM on September 21, 2015.
Although, it was Alberto who was covered in the very red blanket Sarah had seen on the man who escaped the victim's apartment. Soon, his car was retrieved, which again matched the description of the vehicle Sarah had seen the man fleeing in. In it, the police found Andrea's red blanket, a pair of her underwear, as well as clothing, and a knife with the victim's blood.
Based on all this evidence and witness testimonies, the investigators theorized that Alberto had broken into Andrea's apartment and fatally stabbed her, later using an intoxicated Eric's help to cover up the crime and abscond. Both men were arrested and charged with the murder on September 28, 2015. While Eric was sentenced to two years and eight months in prison, Alberto was handed a life sentence without the possibility of parole.
Read More: Alberto Medina and Eric Marquez: Where Are the Killers Now?