'Free!' is for sports enthusiasts as it painstakingly follows a group of high-spirited young men who join hands to form a swimming club. The wannabe swimmers aim to sharpen their swimming skills before the onset of various competitions. The art and animation of the show are great and 'Free!' is a real joy to watch. Here's the list of best anime similar to 'Free' that are our recommendations. You can watch several of these anime like 'Free!' on Netflix, Crunchyroll or Hulu.
7. Haikyuu!! (2014)
'Haikyuu!!' is one of the most popular sports anime in recent years. It is a Shounen sports drama peppered with humor and fun. The series is really entertaining and even if sports do not ring a bell in your head 'Haikyuu!!' is still a decent anime to watch. The anime gets a spot on this list because it is similar to 'Free!' Both shows deal with sports and the characters are high school students. There's lots of rivalry and competitions in the midst of which we understand the values of team spirit and friendship. Shouyou Hinata, the protagonist in the anime, is inspired by a volleyball pro and decides to revive the school volleyball club. He starts practice along with his friends and together, they make it to a tournament.
But things take a turn on its head when they are defeated at the very first match by Tobio Kageyama of an opponent team. A wounded Shouyou decides to work hard on the court and become better than Kageyama. After finishing middle school he decides to enroll in Karasuno High School and join the volleyball team there. But it turns out that Kageyama is also applying for the same team and they are going to be teammates. Shouyou has a hard time settling down due to his short stature. As he struggles with his own height issues, Shouyou learns that Kageyama grapples with similar problems. The young men have two options in front of them, to set aside their rivalry and work together improves themselves or fight it out in the court.
Read More: Anime Like Naruto
6. Tsurune: Kazemai Koukou Kyuudoubu (2018)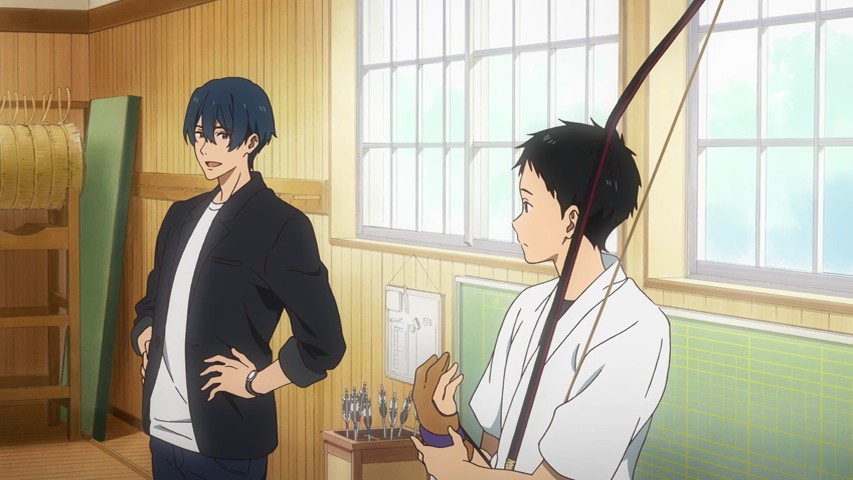 'Tsurune: Kazemai Koukou Kyuudoubu' is a sports anime with great animation and an engaging plot. This one is a nice pick for people who like sports drama. The series is similar to 'Free!' when it comes to certain things. Obviously, one of the first similarities is that they are both take us into the high-spirited, sweaty and power-packed fields and courts. Other than that there are a couple of things that they agree upon too. They both hold high the values of friendships and connecting with others. Perseverance and hard work are another two important qualities that they highlight.
'Tsurune: Kazemai Koukou Kyuudoubu' explores the sport of Kyudo, which is a popular entertainment in Japan. Kyudo is a sport involving a longbow and arrow. It is a recent martial art and various tournaments are held every year. Tsurune refers to the sound which one hears when the arrow leaves the bow. Our protagonist, Minato Narumiya is fascinated by it and decides to practice Kyudo. But something happened when he was in middle school and he left the sport behind. But now he is back and joins the new Kyudo club. The story is about five friends who love the sport more than anything. It showcases how people bond over a sport and the importance of friendship.
5. Prince of Stride: Alternative (2016)
Billed as a sports anime about free running and parkour, 'Prince of Stride: Alternative' sounds great on paper. Where do I sign, right? I mean it will be exciting to see some great animation involving parkour. But the reality is a bit different. Don't get me wrong because the show is kind of entertaining and if you love sports anime then you will dig it. I felt that the execution of the idea was a bit shaky. Like 'Free', 'Prince of Stride: Alternative' also focuses on the importance of hard work, team spirit and a bunch of friends who bond over the sport as the central characters.
The anime revolves around Stride which is an extreme sport involving free running, parkour, etc. Nana Sakurai loves the sport and is fascinated by the performance and stardom of the Honan Academy stride team. It prompts him enroll in the academy where he befriends another fellow admirer of the sport. But after joining the team, they learn that the club is no more stand-alone and works under the Shogi club due to a steep decline in the membership. So, Nana and his friend Takeru decide to do their best to revive the club and make the team reach out the past glory once again.
Read More: Anime Like No Game No Life
4. Tsuritama (2012)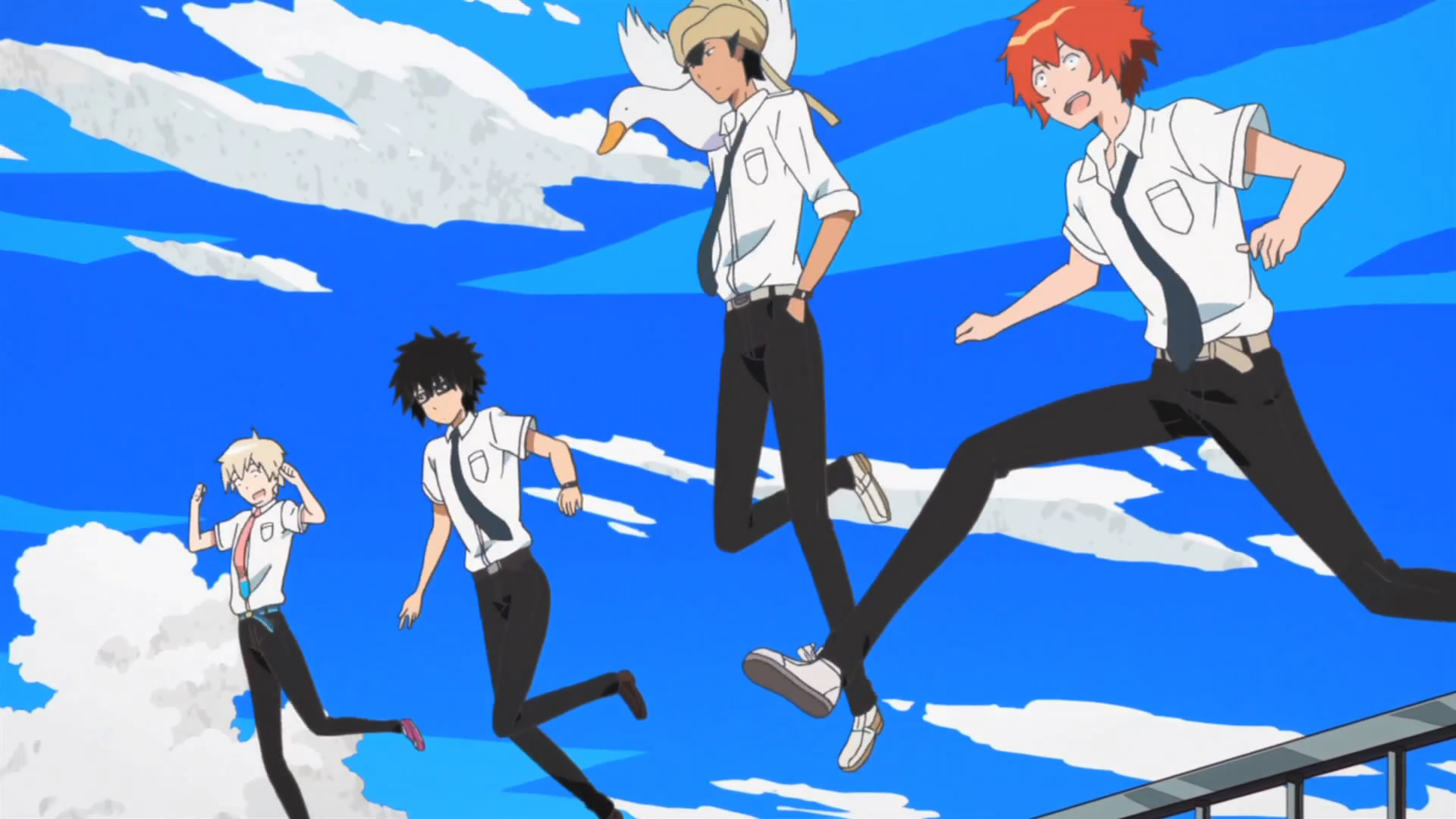 'Tsuritama' is a nice little slice-of-life anime coated with humor. The show explores a number water-themed activities and that lands the show a spot on this list. But the similarity between 'Tsuritama' and 'Free!' goes beyond that. Basically, while watching one of the anime you get a feel of the other. The animation and art style in both the anime are pretty colorful and makes the male characters look quite sexy. Also, it seems that they sort of try to hint same-sex appeal in the anime.
The protagonist of the anime is Yuki Sanada. He has to move around a lot with his grandmother because of her job. Such a uncertain lifestyle makes him a rootless person who cannot make bonds with people. Moreover, he develops an unexplainable fear about interacting with people. He always finds himself at loss for words when asked to speak publicly. When Yuki moves to Enoshima, he meets a boy named Haru. The new friend claims that he is an alien. He also tries to force his friendship on Yuki who, on the other hand, completely disregards the offer. They also rope in a fellow classmate and fisherman, Natsuki while some wild adventure and lots of fun are in the offing for the trio.
3. K-On! (2009)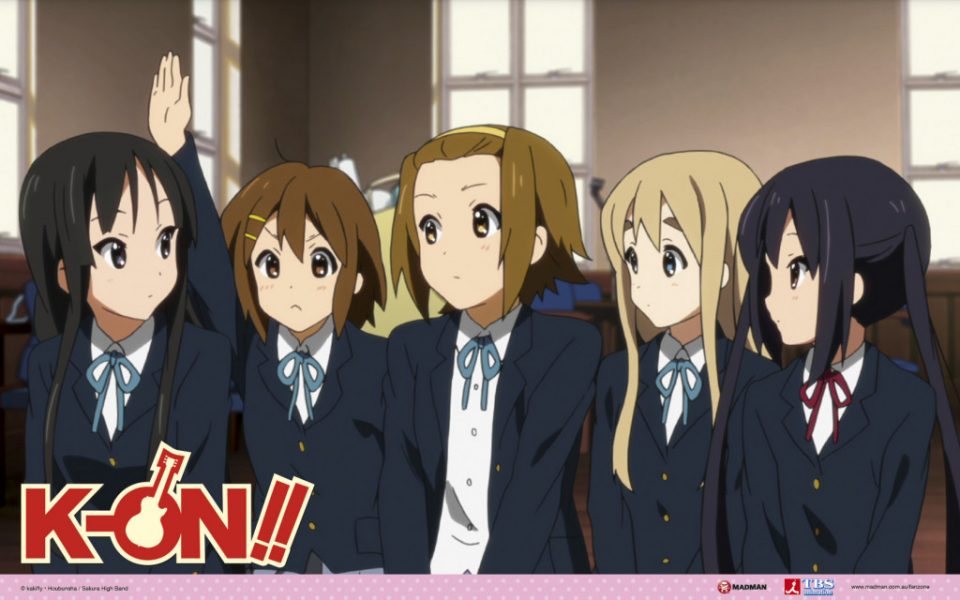 'K-On!' is a popular anime and you might be wondering what does a music genre anime has to do with a list which should be predominantly sports anime (Okay! That was a mouthful!). But hear me out. Both anime are very similar when you look at the premises. A bunch of characters getting together to form a group to compete and achieve something special or a common cause. In 'K-On!' it's a band while in 'Free!,' it is the swimming club. Both anime are funny and don't take themselves too seriously which is why you will end up finding a few tropes.
Hirasawa Yui, one of the main characters of the anime, decides to join the Light Music Club at her school. But she isn't a musician or anything. She is excited, and given her carefree attitude it isn't a wonder that she applied. After finding out the truth, the band members feel bad but they cannot let her without being disbanded. So, they decide to teach her the guitar. Thought she works hard, can Yiu be ready in time for the school festival?
2. Yuri!!! on Ice (2016)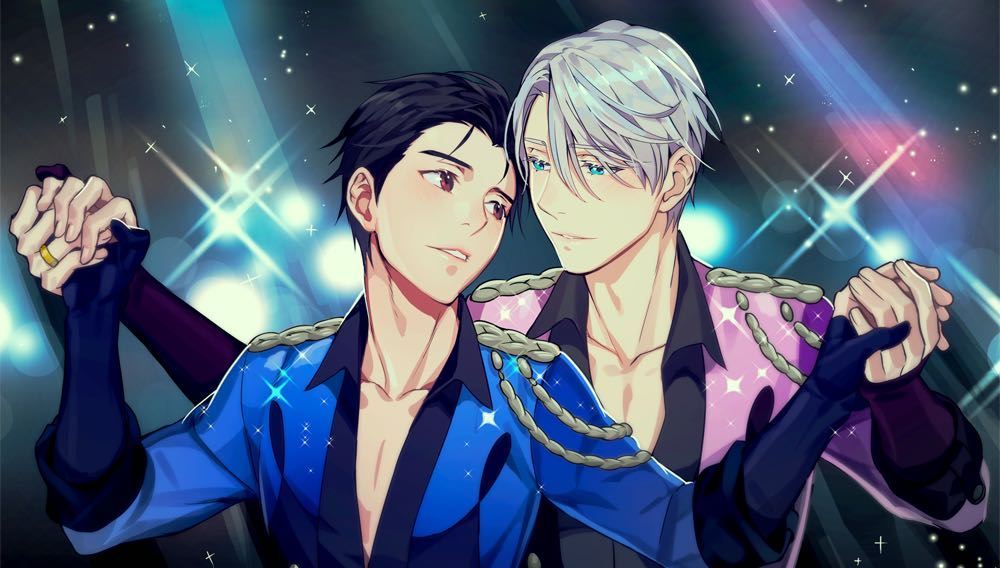 'Yuri!!! on Ice' is one of the most beautiful sports anime out there. The actual performances are so well animated and the art style is just so appealing. Also, this anime has great music. So, if you are a fan of those, you should definitely check out this one. This anime is also for people who want to watch a nice Yaoi work of art. The series is similar to 'Free!' in various aspects. We can see the rivalry, the friendship and then the final performances in both. Again, this is an anime you can watch even if you don't like sports anime.
The anime revolves around figure skating. Yuuri Katsuki used to be one of Japan's topmost figure skater before he has slowed down over the past few years. He is 23 and needs to get back into the game since time is against him. Then a video of him performing a routine of five-time world champion Victor becomes quite popular that Victor himself drops in and asks to mentor him. Yuuri agrees and his career catapults into new heights. But the world of figure skating is known for its cutthroat nature of competition and he will have to deal with so many challenges and rivals, especially, Yuri from Russia.
Read More: Anime Like Fushigi Yugi
1. Kuroko no Basket (2012)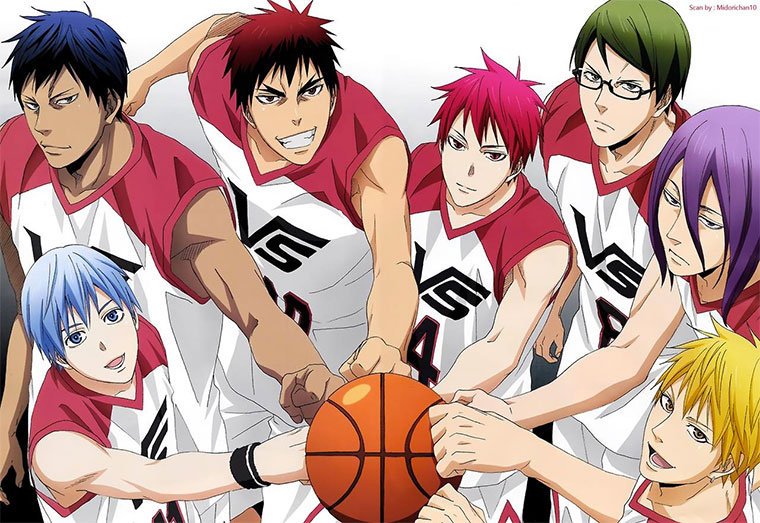 'Kuroko no Basket' is a sports anime revolving around Basketball. The show is pretty similar to 'Free!' when you break it down to simpler terms. Both shows have sexy male characters striving hard to get better at a sport. For 'Free!' the sport is swimming while in 'Kuroko no Basket', it is Basketball. It is an entertaining show mainly deals with the sports and stuff related to it and does not venture towards fan service while 'Free!' does dangle in that area. Both shows are funny and entertaining. So, if you liked 'Free!' check 'Kuroko no Basket' out.
The anime follows Teikou Junior High School Basketball team which is popular for the five players. The highly skilled team members are real giant killers when it comes to decimating the opposition. But after their graduation, each went his own separate way. The story mainly focuses on the basketball team at Seirin High School and the hard work and struggle as the team strive to be the best. But obstacles are many and might even include the top 5 players from Teikou Junior High School.
Read More: Anime Like DanMachi