If you have ever wondered how a relationship with someone from the Caribbean might pan out, '90 Day Fiance: Love in Paradise' might be up your alley. This exciting '90 Day' spin-off show follows US natives who have fallen in love with people from the Caribbean and are even ready to travel to their significant other's country to build a happy relationship.
Similarly, season 3 of '90 Day Fiance: Love in Paradise' introduces us to Houston, Texas, resident April Carter and her boyfriend, Valentin (AKA Valentine), who belongs to the Dominican Republic. Although April fell in love with Valentin after a chance encounter, their relationship was always under doubt due to their massively differing lifestyles. However, with cameras now turned away, let's jump in and find out if Valentin and April are still together, shall we?
April and Valentin's 90 Day Fiance: Love in Paradise Journey
A resident of Houston, Texas, April Carter currently works as a physician specializing in critical care medicine. On top of it, she is a registered attorney and even operates her chain of fitness studios in Houston. However, once April realized the prospect of building a business overseas, she did due research and chose to start a luxury car dealership in the Dominican Republic. Naturally, starting a business required April to take several work trips to the foreign country, and she had a chance encounter with Valentin during one of these tips. While he belongs to the city of Santo Domingo in the Dominican Republic, he was working as a personal trainer at the same resort April was staying in, and the two came face-to-face in the gym.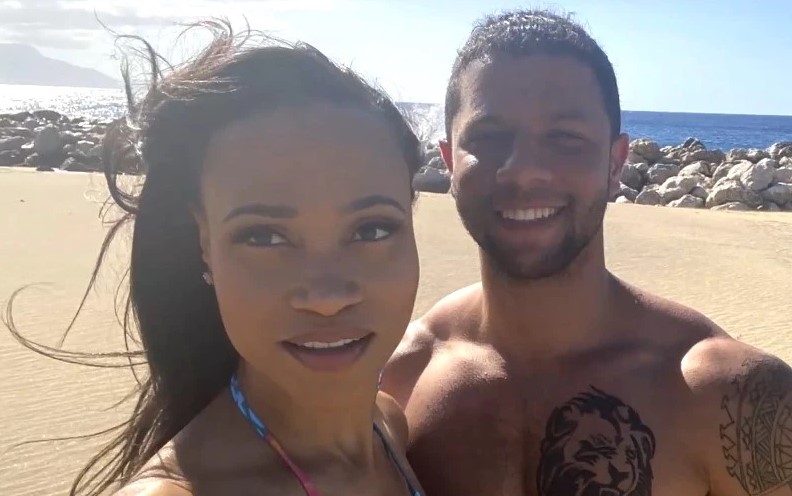 Being extremely successful, most of the men April met previously gave her special treatment because of her wealth. Yet, Valentin offered a refreshing change as he did not seem to care much about her money or success. Instead, the Dominican Republic native tried his best to be a friend, and the two did not take long to fall for each other. Although April was utterly in love with her boyfriend and even planned to marry Valentin, she had to face her family's apprehension, who believed that the foreign national might use her for her money and green card. On top of it, she herself had a few doubts about the relationship, as she had no idea if adjusting to Valentin's lifestyle would be easy.
Unfortunately, things began going downhill once April decided to go to Santo Domingo to meet Valentin's family. For starters, the US native had extreme germophobia, which came into play when she realized the hotel was not as clean as she expected. Moreover, April had to face the harsh truth in Valentin's house, as she realized that apart from being financially weak, her boyfriend and his family had a lifestyle that did not give much preference to hygiene and cleanliness. In fact, she could not bear to be inside their bathroom for over a minute, and it was apparent that Valentin was unhappy with his girlfriend's behavior.
Hence, once April and Valentin returned to the resort they were initially staying in, he suddenly vanished, and the US native had no idea about her boyfriend's whereabouts for four days. Still, once she located him with the help of a local, he claimed it was impossible for him to stay with her because she always threw her success and wealth at his face. Besides, Valentin even disapproved of April's behavior in his parents' house and insisted that breaking up would be the best course for them as a couple.
Are April Carter and Valentin Still Together?
Although April and Valentine are pretty private regarding their personal life and haven't revealed much about their relationship, we believe they have since gone their separate ways. While on the show, the two parted ways during a massive altercation, and it was evident that neither wanted to apologize or own up to their mistakes.
Furthermore, Valentin seemed pretty intent on a breakup, and April did nothing to dissuade that train of thought. Incidentally, her recent social media posts indicate she is back in the United States and leading a single and independent life. There is also zero mention of Valentin on April's profile, which, coupled with how the couple left things on the show, makes us assume they have broken up.
Read More: Are Ana and Matthew From 90 Day Fiance Still Together?