TLC's 'Love in Paradise: The Caribbean, A 90 Day Story' is an interesting reality show that tries to determine whether cross-border relationships sustain geographical, traditional, cultural, and lifestyle differences. While De Juan VaLentine and Barranquilla, Columbia native Carlos Jiménez appeared for the first time on the '90 Day Fiance' spin-off, their relationship was a true rollercoaster. Hence, fans were quite interested when the US native went on a date with Carlos Jiménez, who turned out to be a gorgeous gentleman. The spin-off explores Carlos and VaLentine's relationship further, and fans are eager to find out if they are still together. Well, let's find out, shall we?
Carlos and VaLentine's 90 Day Fiance Journey
Online dating can be scary, and this was the case for Carlos Jiménez and De Juan VaLentine, who met online in 2020 during the COVID-19 pandemic and instantly had a connection. After exploring and deepening their bond and eventually falling in love over video chat, the couple decided to meet in person after two years of dating. VaLentine came down to the beautiful island of Barranquilla, Columbia, to meet his lover, who was excited and scared at the same time. The moment they did, they instantly realized their dream and were the happiest in each other's presence.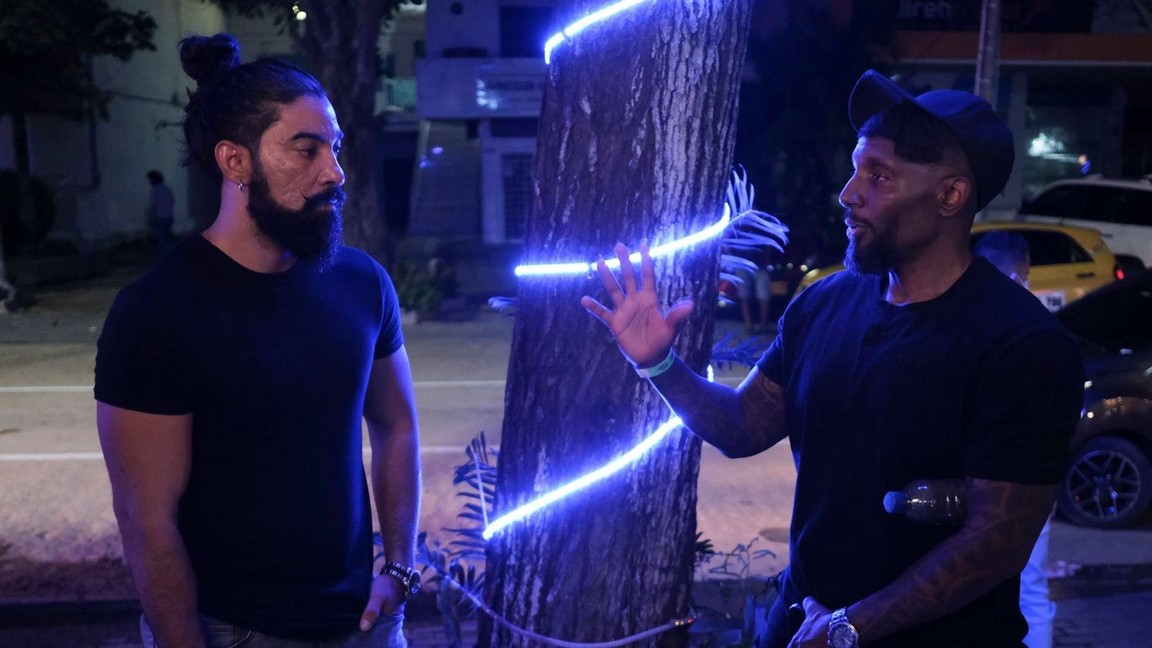 However, the journey of the pair was far from an easy one. Being in an openly gay relationship was not easy for Carlos, who had not yet come out to his family. Their relationship saw several ups and downs on the show, including differences of opinions and cultural shocks. VaLentine was out and proud and was living his best life as a polyamorous person, while Carlos still had to open up about his sexuality. In an episode, Carlos said, "This is a big deal for me because I'm planning to tell my sister that I'm homosexual. I have never talked about my sexual preference with members of my family."
The Columbian native is very close to his only surviving family member, his sister, to whom he wanted to show his real self as he is with his partner. When Carlos opened up about his sexuality and his relationship, his sister was supportive and accepted him. The moment was truly liberating for the pair, especially for Carlos. Shortly after, the pair got engaged in a very romantic setting that brought tears to our eyes. In August 2022, the couple posted adorable pictures from their engagement night and confirmed that they were still going strong.
Carlos posted, "And I said YES!! There are not enough words to say all this emotions [sic]," He added, "Today I can proudly say that I'm the happiest gay in this whole world. I'm so lucky to have such a man by my side. Thank you very much VaLentine, for making me the happiest GAY on earth. It feels so good to be able to be who you really are." To solve arguments and to show how much Carlos meant to him, VaLentine surprised him with an early birthday party inviting all his friends. The act brought Carlos to tears, and they shared amazing moments together. However, a lot of things can change when the cameras stop rolling. Let's find out if the couple is still together.
Are Carlos Jiménez and De Juan VaLentine Still Together?
We are here with the dreaded update! We believe Carlos Jiménez and De Juan VaLentine are unfortunately not together, as the pair have deleted all their engagement pictures, and there are no posts shared with each other. By the looks of it, the two might not even be in the same country. VaLentine was also not present in any of the pictures posted by Carlos on his 30th birthday, which he celebrated in December 2022. Despite the fact that the reality TV stars respond to cute comments regarding their engagement, we cannot turn our heads away from reality.
Whatever may be the truth behind their social media presence, the two seem happy in their respective lives, growing and celebrating every milestone. Carlos is a social media influencer who helps people get into fitness and inspires them through his own journey. On the other hand, VaLentine is creating music much like the one he originally wrote for Carlos, titled "Adore You," and is focusing on his company VaLentine Entertainment Incorporation where he is the Show Runner and Producer. He also has his own podcast, 'Comedic Mines.'
Read More: Are Yohan and Danielle from 90 day Fiance Still Together?