If there's one thing absolutely no contact sports fan can deny despite their opinion on Conor McGregor, it's that he is not only an athlete but also an incredible entrepreneur and family man. After all, it has never been just Conor's love for mixed martial arts/boxing that has driven him; it has been stability, financial security, and the sense of making his loved ones, as well as fans, feel proud. It thus comes as no surprise he is loyal to a fault, as made evident through Netflix's 'McGregor Forever' — so now, if you wish to delve deeper into his romantic life too, we've got you covered.
Conor McGregor and Dee Devlin's Journey
It was back in 2008 when Crumlin native Conor McGregor first introduced himself to Walkinstown-born Dee at a Dublin nightclub, only for their undeniable initial spark to soon turn into a total commitment. The truth is the then-19-year-old plumbing apprentice turned aspiring MMA champion had seen the beautiful brunette around town before, but this was the first time they had actually conversed. "I asked her to come over, and we just started chatting," he once told Ireland-based VIP Magazine in a candid personal interview before adding, "She seemed like a nice girl, and I like good girls."
As for Dee, it was admittedly Conor's inexhaustible care, optimistic humor, as well as tireless dedication to training that pulled and kept her drawn in since it showed her the kind of man he was. In fact, that's why she chose to support him (hence his dreams) at every step of the way, whether it be mentally, emotionally, or financially — she actually worked for them so he could only train. Plus, her never feeling second best to his intense routine truly remains a testament to her willpower and kindness rather than her boyfriend's overall ability to manage his time, attention, and goals.
Of course, Conor wholeheartedly credits Dee for his success; he has even gone as far as to state, "I wouldn't be doing this if it wasn't for her, and that's for sure. I'm doing all of this for her." Moreover, he never shied away from admitting he wanted to secure a future for his coming family too — a family that involves her as his best friend, life partner, and the mother of all his children. "One day, I want myself and Dee to be able to chill on a beach and not have any worry in the world," he said in 2015, mere two years following his entry into the UFC scene. "That's why I'm doing this. I want to be financially secure by the time I have kids."
The same year, Conor also indicated to MMAFighting that he's arguably most proud of being able to spoil Dee because "she has been there since the start. She has helped me throughout this career… So definitely, I love to spoil her. She does not work anymore, I hired her to the business. She works for me now and collects the cheques. My girlfriend worked very hard… and stuck by me when I had essentially absolutely nothing… For me to be able to take her out of work, give her everything she's ever wanted, and to travel the world with her fills me with pride. It keeps me going. We've been together a long time. She's been through it all with me."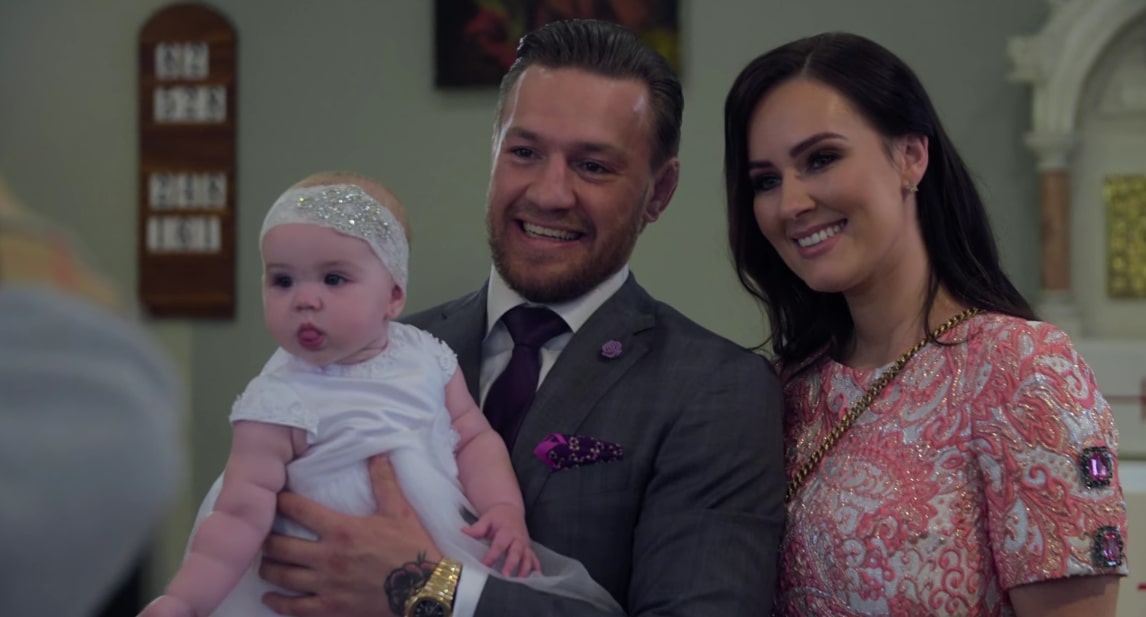 It's actually true; in the last 15 or so years, whether it be Conor's fights, tours, shoots, public appearances, or court appearances following a bit of trouble, Dee has always been right beside him. And she has never shied away from expressing her pride over his achievements through social media either, all of which made it no surprise when her beau finally decided to propose in August 2020. Though by this point, the couple already shared two beautiful kids together; Conor Jr. (born May 2017) and Croia (born January 2019) — they then welcomed their third child Rian in May 2021.
Are Conor McGregor and Dee Devlin Still Together?
Of course! Not only are Conor McGregor and Dee Devlin still together, but from what we can tell, their incredible family of five is stronger and happier than ever these days. The duo hasn't tied the knot just yet — they're still planning it all — but it seemingly hasn't caused any major issues for them since they've been able to lead life together for the past 15+ years. They understand one another's attention needs, boundaries, and communication skills, as well as the importance of space, trust, and vulnerability, making them reach new heights amongst themselves.
We should mention that Conor has actually revealed, "My wedding is going to be extravagant, that's for damn sure. We are gonna have the best of the best of the best, and then more to the best. We have got to find the location. It's going to be Ireland, I'm gonna get married in the Emerald Isle, and then figure it out, so it's a big process. Let's see what happens, I'm ready for it all."
Read More: Best Sports Biopics Ever Made