Peacock's 'Love Island USA' is a dating reality show that is packed with interesting contestants, challenges, and a truckload of drama. Deborah "Deb" Chubb and Jesse Bray were a highlight of season 4 and raised many eyebrows. Their fans were divided after the couple's strange dynamics on the show, but still supportive. The duo secured third place in the competition, and their supporters were overjoyed to see what was next in store for them. So, without any further ado, let's traverse their relationship to see whether they've made it or not.
Jesse and Deb's Love Island USA Journey
During the show, Deb was a 26-year-old assistant who hailed from Dallas, Texas, whereas Jesse, 27, came from Springfield, Ohio, and he was employed as a courier. The duo had been with each other since day one, but both of them recoupled with someone else once, yet, decided they were best for each other by the end. One of the couples in the villa became exclusive, and Deb wanted the same with her beau. She started second doubting their relationship simply because they weren't an official couple yet. The fans were worried because they felt like their favorite pair might self-eliminate.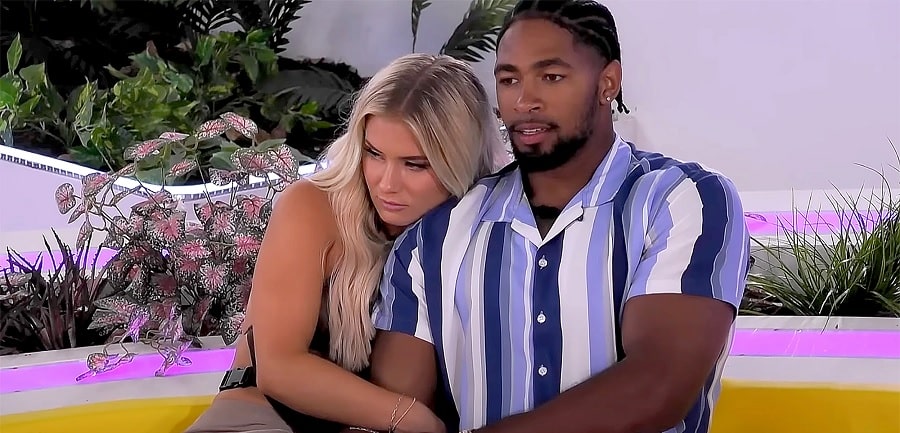 At one point, Deb felt like her relationship with Jesse was one-sided. During the baby task, she did not stick around for too long and participated in the fun. However, Jesse was seen playing with the baby and taking care of it. He was doing this because he undoubtedly had feelings for Deb, and he confessed the same to the boys in the villa. They encouraged him to propose to his partner, and so he did. He said, "I am ready for a commitment. I am a hundred percent, you know, invested in you. I think I do really want you to be my girlfriend."
Deb replied, "Yeah, I don't know if I'm, like, ready for something like that serious. We have always moved at such a different pace than everybody in here. Like that just shows that we don't need to put a label on anything right away." She added, "Like, I mean, obviously, I would love to be your girlfriend one day. Like that would be amazing, but for me, I just think we need more time on the outside to see how it goes cuz I just wanna be realistic and as realistic as possible.
The rejection was a shock to most because Deb wanted exclusivity before, and when she was offered the chance, she declined it. Jesse was visibly upset after the rejection, and he decided to "put his pride aside" and move forward. Despite all the drama, the couple made it to the finale, but what exactly happened after that?
Are Deb and Jesse Still Together?
No, Deb and Jesse are no longer together and have decided to go their separate ways. After the show, Jesse relocated closer to Deb. The duo was trying to figure out the next move in their career, it was difficult to see each other every once in a while, but they were sailing smoothly. However, on November 15, 2022, Deb posted a story on her Instagram. She wrote, "I just wanted to let you all know that Jesse and I have made the difficult decision to go our separate ways. We have decided that we work better as friends and will always have love and respect for each other."
She added, "We will always cherish our memories and time together as we went through this incredible experience. We are so grateful for all of the love and support and hope you will continue to support us in our individual journeys. We were hopeful that being closer geographically would help our relationship grow stronger but realized we're better off being friends who will support each other in this next chapter of our lives." Shortly after, Jesse re-shared her post on his story. He penned, "I wanna thank you all for the kind words and support through it all. You all helped me grow a lot this summer! You guys mean the world to me."
Nonetheless, the ex-couple seems to be on good terms because they follow each other, and Deb hasn't deleted any pictures. She has secured brand deals and photoshoots and is also active on her YouTube channel. Meanwhile, Jesse is meeting all his fitness goals and supporting an environmental cause through his influence. So is there a possible chance of reconciliation? Only time will tell, but until then, we want the individuals to do the best for themselves and succeed at anything they put their hands on.
Read More: Is Love Island Real or Scripted?