Like most '90 Day Fiance' spinoffs, '90 Day Fiance: Love in Paradise' also revolves around US natives who have fallen in love with a foreign national. However, instead of the foreigner coving over to the US, the show portrays how the American citizens journey to exotic and calming travel destinations in order to build a life with their significant others. However, like most cross-border relationships, there is a massive difference in lifestyle, habits, and customs, which often stand as a challenging obstacle.
Season 3 of '90 Day Fiance: Love in Paradise' introduces us to Wyoming native Jessica Parsons and her Colombian fiance, Juan David Daza. While Jessica and Juan met on a luxury cruise in the Caribbean, they fell in love at first sight, and the former had to depart the yacht with a heavy heart and a promise to return. Jessica and Juan's love story blossomed in the years that followed, and the show reveals how they are even expecting their first child. However, with Jessica deciding to move to Colombia to start a life together, fans are eager to know if the two stood the test of time. Well, fret not because we come bearing answers!
Juan and Jessica's 90 Day Fiance: Love in Paradise Journey
Jessica, a native of Wyoming, is an avid traveler, and she was pretty excited to experience a luxury cruise in the Caribbean. However, as luck would have it, Colombia resident Juan was the bartender on her yacht, and he began flirting with her the moment they met. Even though the situation appeared awkward for a minute, Jessica began warming up to Juan once she and a few of her friends partied with him all night long. On top of it, she also got the go-ahead from her friends, following which Jessica began toying with the idea of a relationship with the Colombian. Eventually, the two exchanged numbers, and even though Jessica had to return to the United States, she promised to keep in touch.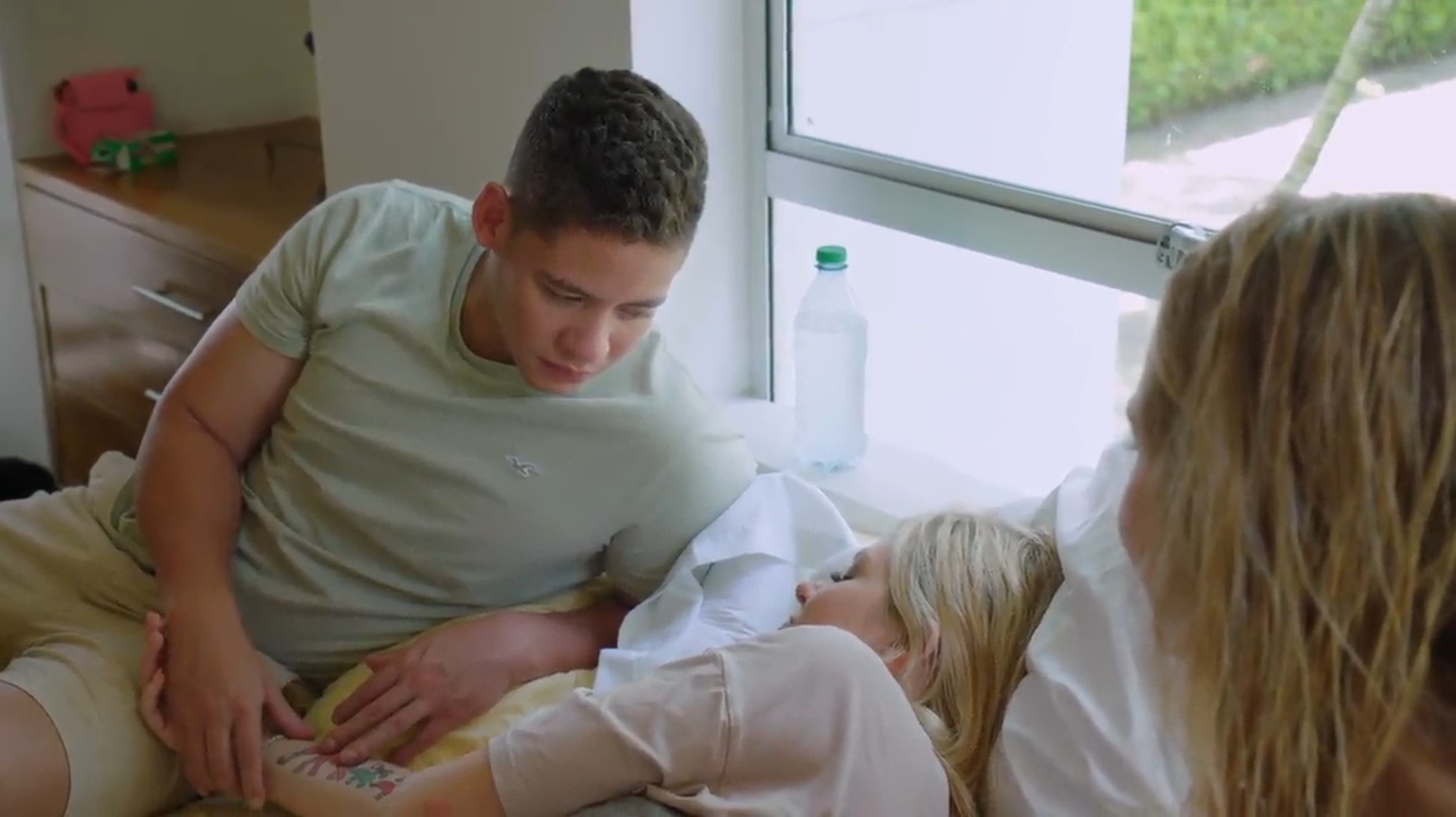 Jessica and Juan's relationship initially blossomed over phone calls and texts, but the former realized she needed to meet her beloved face to face. Hence, in the years that followed, Jessica and Juan spent multiple vacations together, sometimes in his hometown of Cali and other times on the cruise ship. Moreover, while Jessica mentioned that all the locations she met Juan in felt like paradise, the Colombian native finally popped the question on one such trip, and she was only too happy to give her consent.
Shortly after the engagement, Jessica learned she was pregnant with her fiance's child. Although this was incredible news for the two, the US native is once divorced and has been a single mother to her two boys from the previous marriage. Hence, Jessica wondered if her sons would react positively to her relationship with Juan and the news of another child. However, worrying was of no use in the United States, and eventually, Jessica decided to travel to Cali to build a life with the love of her life. The show documented how Jessica, her two sons, and her friend traveled to Cali before putting up at Juan's house. Moreover, while the Colombian native was overjoyed to be together with his beloved, he also seemed pretty affectionate toward the children and was even willing to put up with their tantrums.
Yet, everything wasn't perfect in paradise as Jessica soon revealed that shortly before coming to Cali, she was contacted by a woman who claimed Juan had hooked up with her on the cruise. She immediately confronted Juan, who denied the accusation but confessed to flirting with the woman in question. This alleged betrayal naturally shook Jessica's trust in her man, and she wondered if going ahead with the wedding was the correct decision.
Are Juan David Daza and Jessica Parsons Still Together?
Yes, we are happy to report that Juan and Jessica are together and still going strong. Although the US native was in two minds about her marriage when she learned of Juan's alleged infidelity, she decided to give him another chance to prove himself. However, the pair faced another issue in the form of Juan's work, as Jessica believed the cruise ship job would not allow him to be around the kids as much as she wanted. Yet, it seems like the two have since solved their issues and met each other halfway, as their social media accounts are chock-full of the beautiful memories they make together. It is also apparent that Juan shares an incredible bond with Jessica's sons, and the couple cannot wait to welcome their own child into this world. While Juan recently posted that they are expecting the baby in June 2023, Jessica revealed that preparations for their wedding are also ongoing. It is genuinely heartwarming to witness the love shared by the two, and we wish them the very best for the years to come.
Read More: Jessica and Juan From 90 Day Fiance: Everything We Know