TLC's '90 Day Fiance: The Other Way' is an interesting '90 Day' spinoff that follows US citizens who travel outside American borders to be with their significant others. Similarly, season 4 of the show introduced Haleyville, Alabama, native Kris Foster, who decided to travel to Columbia after meeting her Venezuelan fiance Jeymi Noguera. Even though they had a solid start to their relationship, the couple could never see eye to eye on financial matters, leading to a massive fallout. Well, with the cameras now turned away, let's jump in and find out if Jeymi and Kris are still together, shall we?
Kris and Jeymi's 90 Day Fiance: The Other Way Journey
Kris, who hails from Haleyville, Alabama, claimed she grew up in a conservating American neighborhood. Yet, she refuses to be tied down by conservatism and loves exploring new cultures and lifestyles. Moreover, readers would be surprised to know that Kris went through two divorces before meeting Jeymi, yet she does not regret her decisions, as her previous marriage left her with her son, Dayne, and daughter, Starr.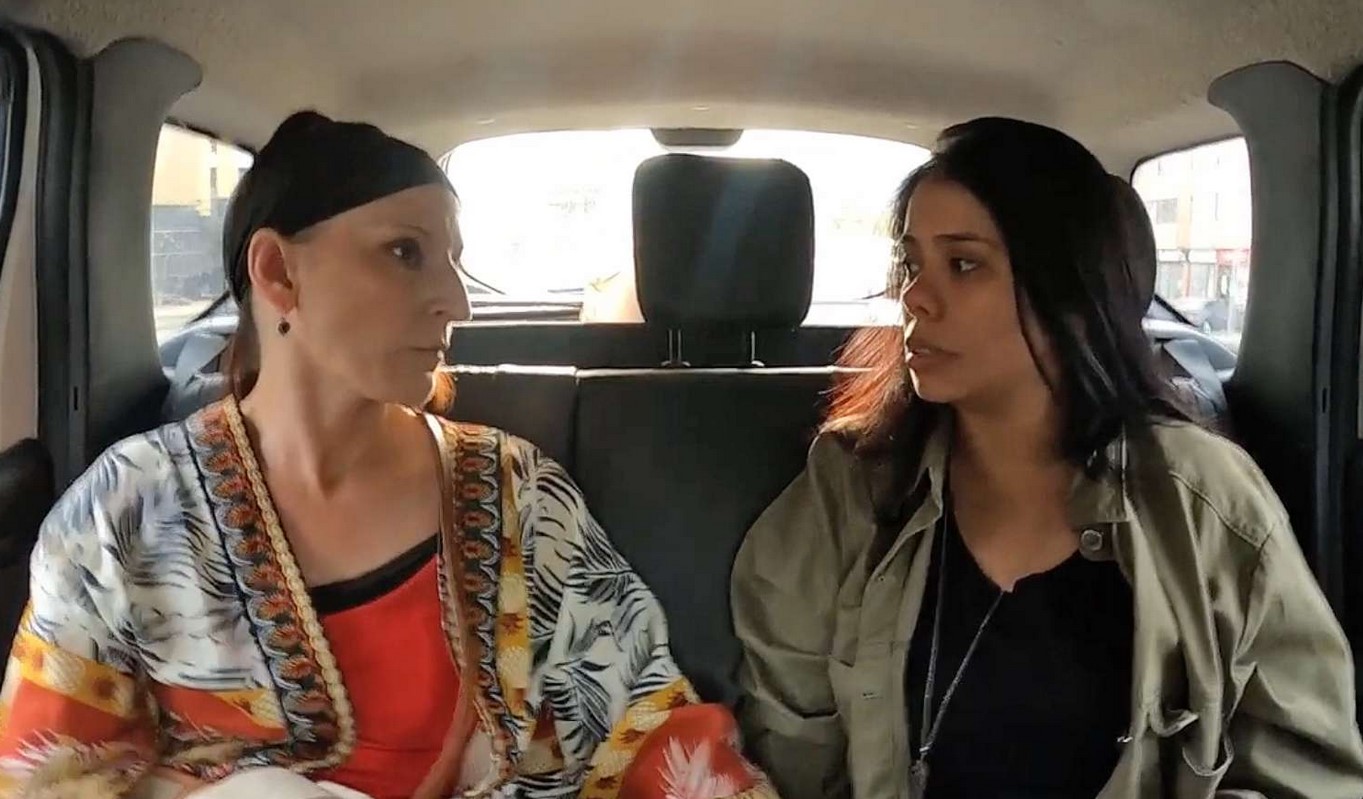 On the other hand, Jeymi, originally from Venezuela, moved to Colombia for better career options. Besides, she was tired of how Venezuelans saw same-sex relationships as taboo and was relieved to discover that Colombia has a much more relaxed stance. While there, Jeymi signed up for an international dating app, through which she met Kris for the first time. Naturally, since she was a complete stranger, the latter's children voiced their concerns during the initial stages of the relationship. Still, Kris decided to give her a chance, and the two even got engaged without meeting face-to-face.
Unfortunately, things did not remain rosy, as shortly after the engagement, Kris ghosted Jeymi and disappeared from her life. Confused, the Venezuelan native began talking to another woman, but the former soon returned and claimed her partner had cheated. On the other hand, Kris claimed she found out Jeymi was fit to go to work even though she kept complaining about her Covid-19 diagnosis. Realizing that long-distance would lead to such issues, she eventually traveled to Colombia. However, the situation barely improved as the couple often got into altercations over their finances.
For starters, the two were supposed to share the rent, but when Kris reached Colombia, she realized that the rent on the apartment Jeymi chose was more than what they had initially decided on. On the other hand, the latter claimed she had to pay for everything once her partner moved in with her, and even their lifestyles were vastly different. Nevertheless, the two somehow managed to keep their issues at bay and eventually tied the knot in a courthouse wedding. Subsequently, they even planned on starting a food truck business together, but the investment was too much for them to afford.
Even though it seemed like things would gradually settle down, Kris and Jeymi faced another obstacle when the latter had to return to the United States to keep her job. While Jeymi hated being left alone in Colombia, her wife suddenly stopped texting or calling her shortly after the move. Besides, she later complained that Kris stopped paying her share of the rent after moving overseas.
These issues finally came to the forefront in the Tell All episode, where Kris and her mother insisted they had paid Jeymi thousands of dollars. However, the Venezuelan native refuted such allegations and even showed her PayPal receipt, which showed she received a little over $1500. At the same time, Jeymi and Kris confirmed that they weren't together, and the latter even insisted that she was ready to move on.
Are Kris Foster and Jeymi Noguera Still Together?
Even though Kris and Jeymi broke up during filming and even talked about moving on to a new chapter in their lives, they mentioned nothing about getting a divorce. Nevertheless, while they both prefer to keep a tight lid on the details surrounding their relationship, the US native has dropped minor hints about a possible patch-up. The two still follow each other on social media, despite living in different countries when filming the Tell-All episodes. On top of it, Kris recently posted several pictures from her engagement and wedding, which indicate that she and Jeymi might still be in touch.
Still, despite such evidence of a possible reconciliation, Jeymi has not been wearing her engagement ring in her recent pictures, making fans doubt their relationship status. Hence, considering how the couple left things on the show, it seems like they still live in different countries and are confused about how to proceed. That said, since there is nothing to suggest a divorce, we can assume that Jeymi and Kris are legally married and trying to iron out the creases in their relationship.
Read More: Are Scott and Lidia From 90 Day Fiancé Still Together?