'Love Island' is a fun and entertaining dating reality show where bachelors couple up to stay in the game. With good chemistry and understanding, the couples survive the game's challenges. People are eliminated due to underperforming, group politics, or simply because they couldn't pair up with someone. Each season, the couple who goes through it all and convinces the audience of their true love gets crowned as the winner and takes home a whooping £50,000.
Justine Ndiba and Caleb Corprew were one such couple who triumphed in season 2 of the show and also in the hearts of the audience. After pairing up, they became the fan favorite and had a large number of viewers invested in their relationship. So, did the couple meet the same fate of splitting up as most reality show couples, or are they still together?
Justine and Caleb's Love Island Journey
Justine Ndiba and Caleb Corprew were on to a shaky start, with Justine being coupled with Jeremiah in the beginning and Caleb going out on multiple dates, which did not work out. So their romance did not brew from the first day; it was more of a slow burn. As time passed, Caleb mustered up the courage to tell Justine that he was attracted to her, and she reciprocated his feelings. They spend quality time on the show, talking about themselves and their families multiple times and getting to know each other better.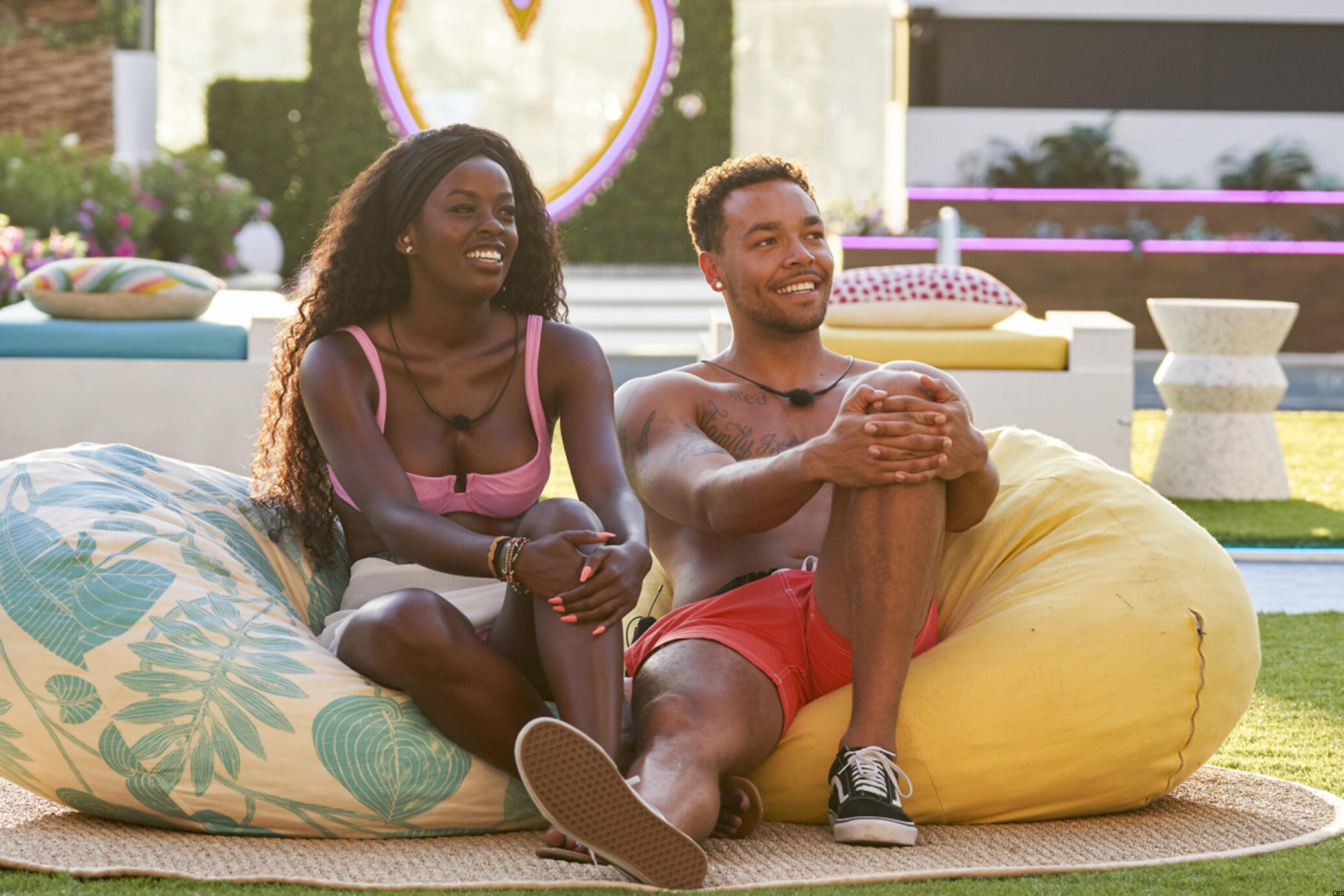 Justine and Caleb ignored the drama and negativity around them and concentrated on their relationship, having deep and meaningful conversations. They had vulnerable moments that brought them closer, where they shared their individual struggles. Not just that, the two even exchanged "I love yous." After they met each other's parents virtually, the audience was convinced that their relationship would blossom into something beautiful.
The authentic and honest connection between the then-27-year-old Billing Coordinator/Go-Go dancer and the IT Sales Consultant, then-26, quickly made them fan favorites. Thus, Justine and Caleb emerged victorious in the finale, taking home $100,000. Their victory was a historical moment in the Love Island franchise because they were the first black couple to win the show. So, after all these years, are the two still happily in love, or did they part ways?
Are Justine and Caleb Still Together?
No, Justine and Caleb are not together anymore. The adorable pair split just a few months following the conclusion of the show. Following their win in 2020, Caleb spoke about how he was excited to go outside of the villa with Justine in an interview with People. He said, "I can't wait to hang out with Justine and our friends and just see how she moves and has fun with all those people. I'm excited for some of the things that we don't get to do in the villa, like going out for a brunch date with each other and spending some time one-on-one."
In the same interview, Justine spilled the beans on how they planned to deal with the issue regarding the geographical distance between them since Justine resided in New Jersey and Caleb was based in Los Angeles at the time. "Short-term, I would definitely say we'll be booking flights back and forth for a little while. We have our phones back, we'll have the communication there, and then long-term, I would probably say the plan for me right now is maybe come out here [to the West Coast] and be a little bit closer to Caleb. But maybe I can do some convincing and have him come to me!," she had said.
To the delight of their fans, Justine and Caleb managed to steer their ship of love in the real world for a while. Fans were excited to see how the couple would preserve their relationship while living miles away. The two did not disappoint and kept the fans updated about their status, even after the show. Caleb flew to New Jersey to meet Justine, and he posted a cute picture while picking pumpkins with Justine. However, nearly four months after the show, the widely celebrated couple split up due to unstated reasons.
It was all a surprise to the fans because it seemed like they were willing to hold on to each other, even while being in a long-distance relationship. Sadly, those pictures were deleted after the breakup, and there's no trace of each other on their account. Justine spoke about being devastated after the breakup, and Caleb confirmed their split on social media. In a statement posted in January 2021, she expressed, "This is extremely difficult for me to express but out of respect for those of you who supported me, and rode for me, I want you to know that Caleb and I are no longer together."
Justine added, "I do ask for time as I continue to go through the process of heartbreak and healing as this has all been very hard for me. I cannot thank you all enough for the love and support to this point and I hope that it may continue as we move forward as individuals." Meanwhile, Caleb stated, "As many of you already know, Justine and I are no longer together. I wish her the absolute best and much continued success as God blesses her with new opportunities and adventures."
He continued, "This announcement has been one that we have wrestled with for some time now. Not knowing exactly when or how to deliver it. The nature in which we met and fell for each other comes with a unique set of obstacles that nothing in life can ever prepare you for," he continued. "We genuinely appreciate those of you who have supported us, and thank you in advance to those of you who will continue supporting us as individuals moving forward." Following their split, several rumors emerged of Caleb cheating and allegedly having a girlfriend before he entered 'Love Island.'
However, these speculations were never substantiated, so it's better not to jump to conclusions. Seemingly addressing the rumors, Caleb wrote, "Myself, Justine, our love ones, etc. are all real people with real emotions who love and hurt hard. Unfortunately, when you choose privacy…others often feel it is their place to tell your story for you. Speculation or not. Even with that in mind, I am still choosing privacy for the sake of my own personal peace. I kindly ask that you please respect any of Justine's or our loved ones desire for privacy as well."
After two years, it seems like Justine and Caleb were stern on their decision because there hasn't been a single update about the situation since then. They have also kept the details surrounding their respective dating lives away from the public eye. From what we can tell, they are thoroughly enjoying their single lives and putting all their focus on furthering their careers.
Indeed, both Justine and Caleb have made significant progress in their individual lives. Justine, who resides in Los Angeles at present, recently participated in another reality TV show called 'The Challenge' and secured brand deals from major companies. On the other hand, Caleb seems to be enjoying his modeling career and supporting black communities through his influence. He also runs a video and audio playlist titled 'No Bad Days,' where he gives his honest opinion on social and political issues and other topics.
Read More: Is Love Island Real Or Scripted?