Mary Fitzgerald has been a regular on Netflix's 'Selling Sunset' since its premiere. Although she had a brief relationship with the Oppenheim Group co-owner, Jason Oppenheim, it did not work out, and the two decided to separate but remain friends. In the meantime, Mary met and fell in love with French native Romain Bonnet, and the two soon decided to move in together. Season 6 of 'Selling Sunset' recently brought the realtor's relationship to the forefront, making fans question whether she and her husband are still married. Well, fret not because we come bearing answers!
Mary and Romain's Selling Sunset Journey
Readers will be surprised that Mary lived with her former colleague Christine Quinn when she met Romain Bonnet after he visited Los Angeles to see some properties. Although it did not take long for the real estate agent to introduce him as her boyfriend on Instagram, she mentioned how he would often stay over at her and Christine's house, despite a shortage of space. Hence, Mary and Romain finally decided to move into their own place and got engaged soon after.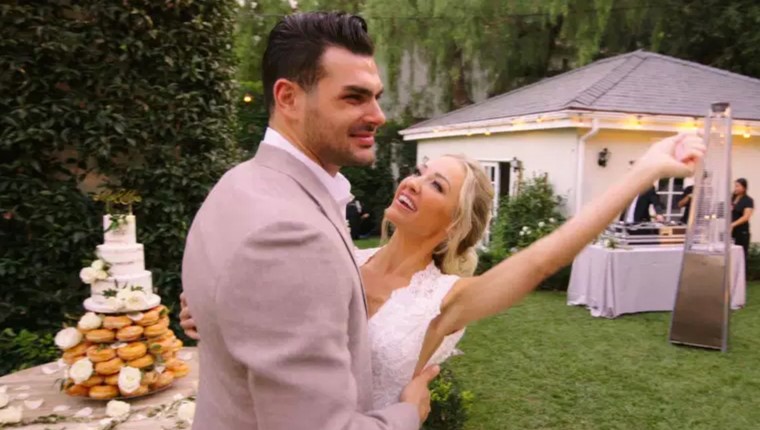 While the two kept featuring on each other's social media accounts since July 2017, Mary and Romain eventually tied the knot at a courthouse wedding in March 2018. Besides, the real estate agent even explained their decision behind a courthouse wedding, claiming they were keeping the news secret as they needed time to plan a massive celebration. When 'Selling Sunset' debuted on Netflix in 2019, most employees at the Oppenheim Group believed Mary and Romain were only engaged.
However, since Romain used a moissanite engagement ring during his proposal, a few of Mary's co-workers, especially Davina Portaz, made fun of the cheap material. Naturally, the couple was disappointed at such a reaction, and he even refused to invite Davina to their public wedding celebration on October 12, 2019. Nevertheless, the celebration ultimately turned out to be a massive success, and Mary could not wait to start her new life with her husband.
Romain, who originally hails from France, modeled for a bit under the agency Wilhelmina Models before taking on a position as a Project Manager at the Interior Design Studio, White Glove Estates. Furthermore, with Mary involved in real estate, their careers complemented each other, and Romain has taken charge of the interior design at several Oppenheim Group properties. On top of it, readers would also be pleased to know that the couple developed a wonderful friendship with Jason, and they often go out on double dates with him and his girlfriend, Mary Lou.
In the meantime, Romain and Mary moved into a new house in January 2021, and the former even proved his commitment a few months later by throwing a great birthday party for his wife's pups, Nico and Zelda. Not just that, as the two were spotted attending several events together, they never hesitated to showcase the love they shared, and their Instagram accounts are chock full of the memories they made.
Are Mary Fitzgerald and Romain Bonnet Still Married?
Yes! Mary and Romain are still married and are enjoying a wonderful life together. Since their public marriage ceremony occurred right in the middle of the Covid-19 lockdown, the two finally took time at the beginning of 2023 to enjoy a wonderful honeymoon in Bali. On February 2, Mary officially changed her last name to Bonnet and announced her decision through an adorable post where she wrote, "FINALLY! I officially changed my name to Mary Bonnet, and it feels SO right. I love you so much, baby."
Incidentally, even though Mary and Romain do not have a child of their own yet, the former addressed the question in a March 2022 interview and said, "We are getting ready to freeze our embryos. I feel like I've said this for about the past two years, and I just keep procrastinating. I'm not really sure. I'm still up in the air if I want to have another baby or not, but I know that I don't want him to lose out on that opportunity. So we are going to freeze the embryos. … Maybe within a couple of years, I'll be ready." However, since the first round of embryo freezing did not work, the two explained they were trying naturally.
Mary even proclaimed her husband would be a loving and responsible father. Nevertheless, the two have built a wonderful life in Los Angeles, and Romain even shares a close bond with Austin, the realtor's son from a previous relationship. On top of it, the couple recently had a wonderful time vacationing in Tulum, Mexico; while it is remarkable to witness the love they share, we hope Mary and Romain remain happy in the years to come.