Lifetime's 'Surviving R. Kelly' is an eye-opening documentary that chronicles how popular R&B star R. Kelly took advantage of and sexually abused minors between 1991 and 2019. While Kelly was later convicted of his crimes, several of his victims were too overwhelmed or scared to even speak up in front of the public. However, some of them opened up in the Lifetime show, which also includes interviews with the survivors' family members, journalists, members of the judiciary, and people acquainted with R. Kelly.
Interestingly, Kelly and Joycelyn Savage immediately hit it off after they met for the first time in 2015. While Joycelyn's parents consider her to be a victim, she chose to remain beside Kelly and was pretty vocal in her support throughout the trial. Nevertheless, with Kelly now behind bars, let's find out if he and Joycelyn are still together, shall we?
R. Kelly and Joycelyn Savage's Journey Together
There is quite a bit of controversy over the facts behind R. Kelly and Joycelyn Savage's first meeting as some sources claim they met at Joycelyn's parents' boutique, while others allege that they crossed paths at one of Kelly's concerts. Moreover, there is also a question mark over Joycelyn's age at the time of their meeting, as she was reportedly either 17 or 19. Nevertheless, it did not take long for the pair to hit it off, and once Kelly told Joycelyn that he saw great potential in her to be a star, the teenager was only too happy to do as he wished.
Reports mention that after their first meeting, Kelly had influenced Joycelyn so much that she quit college and began spending most of her days with the R&B star. Although her parents were pretty apprehensive about the developing relationship, they later mentioned that Joycelyn ended up choosing Kelly, and unfortunately, that ruined her relationship with her family.
Kelly and Joycelyn enjoyed a mentor-mentee initially, but the latter claimed that the R&B star soon started commanding her around the house and ordered her to address him as "Master" or "Daddy." Besides, around this time, Kelly also allegedly started showing his temper and would get livid if Joycelyn failed to follow his instructions. In fact, she even went on to mention that Kelly was intensely controlling, and things started getting worse as the days rolled by.
Quite surprisingly, when Joycelyn was initially termed as a victim, she refuted such claims and spoke in favor of R. Kelly. In fact, while being interviewed by Gayle King on 'CBS This Morning' in 2020, she mentioned that she was pretty happy with Kelly and accused her parents of trying to scam the singer out of his money. She was also quite vocal in his support for the singer against the sexual abuse accusations and stood steadfastly beside him during his trial.
However, Joycelyn seemingly had a sudden change of heart towards the end of 2019, as a report in November of the same year stated she had begun to consider herself a victim. That was when someone claiming to be on Patreon came forward with claims of Kelly's controlling nature and even went as far as to call him a monster. They revealed that he had gotten her pregnant before coercing her to undergo an abortion and another forced procedure at his house.
Are R. Kelly and Joycelyn Savage Still Together?
When "Joycelyn" had this change of heart towards the end of 2019 and spoke up against R. Kelly, her parents thought she would finally break free and return home. However, their hopes were dashed to the ground as she later clarified the person was not her before unwaveringly speaking up in support of the R&B star. While the Lifetime show claimed that Joycelyn was strangely elusive during Kelly's New York trial, she still appeared to support him, and it was believed that they remained in a romantic relationship — though her father claims it's purely Stockholm syndrome.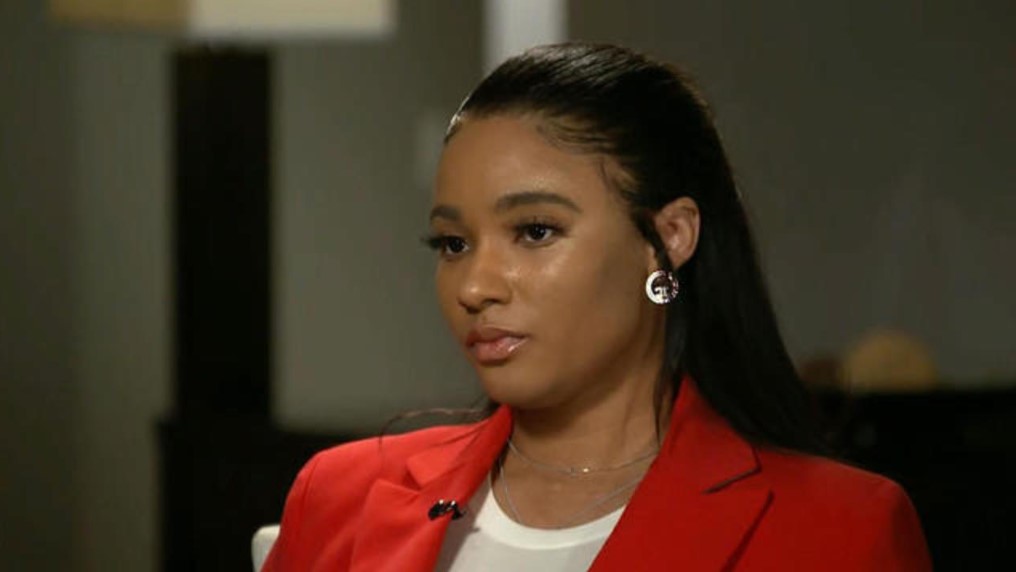 However, Joycelyn eventually cleared the air with a letter she wrote to the federal judge, requesting lenient sentencing after Kelly's conviction. In the letter, she addressed her partner as an "incredible person" and mentioned she was very much in love with him. She even went on to claim Kelly was the best thing to happen to her before revealing they were engaged. Naturally, this news shocked the world, but Joycelyn made it clear she would never stop loving or supporting the singer.
Hence, considering such developments, despite the fact he is behind bars, we can safely say that R. Kelly and Joycelyn Savage are still together and engaged. We should also mention that there have been reports suggesting a recent pregnancy, but they have since been vehemently denied by both Kelly as well as her family.
Read More: Lisa Van Allen: Where Is The Survivor Now?